/ Source: The Associated Press
In six hot, windy days of uncontrolled blazes, Greece lost more of its rapidly dwindling forestland than in any single year on record.
The massive fires, several still raging Wednesday, have killed at least 64 people and gutted hundreds of homes in scores of southern villages.
The inferno also destroyed fragile mountain ecosystems — that will require decades to revive — and an entire rural way of life, threatening to turn thousands of villagers into environmental refugees.
The fire department has not announced an overall damage assessment, but independent estimates say around 495,000 acres of forest, olive groves and scrub may have been consumed — the largest amount since official records started in the 1950s.
"These fires are worse than in any previous year," said Gavriil Xanthopoulos, a researcher at Greece's National Agricultural Research Foundation. "We exceeded the last record set in 2000," about 360,000 acres.
Up to 455,000 acres were laid waste between Friday and Monday alone — 10 times the annual average for the past 50 years, according to the European Commission's European Forest Fire Information System. A total 665,000 acres — an area almost the size of Rhode Island — went up in smoke since the start of the year.
Some say it was the worst catastrophe since a Turkish army ravaged the Peloponnese in 1825, during the Greek War of Independence from the Ottoman Empire.
Arson has been widely blamed, and 11 people charged with deliberately setting fires. Arson suspects are rarely convicted.
Where cases are proven, the motives are typically profit, revenge against neighbors, and shepherds trying to clear grazing pastures.
Greece's branch of Greenpeace estimated up to 618,000 acres were destroyed this year, mainly in the summer months when temperatures repeatedly surged well over 104 degrees Fahrenheit.
"Nobody can provide an accurate figure right now, and several fires are still burning ... It's a record year," said director Nikos Haralambidis.
About 20 percent of Greece is covered by forest, and the figure has been constantly dropping in recent decades.
Wildlife jewels scarred
Haralambidis said the massive fires ravaged fragile ecosystems in the Peloponnese peninsula and caused ecological damage in the mountains, now facing the threat of floods and landslides in inhabited areas.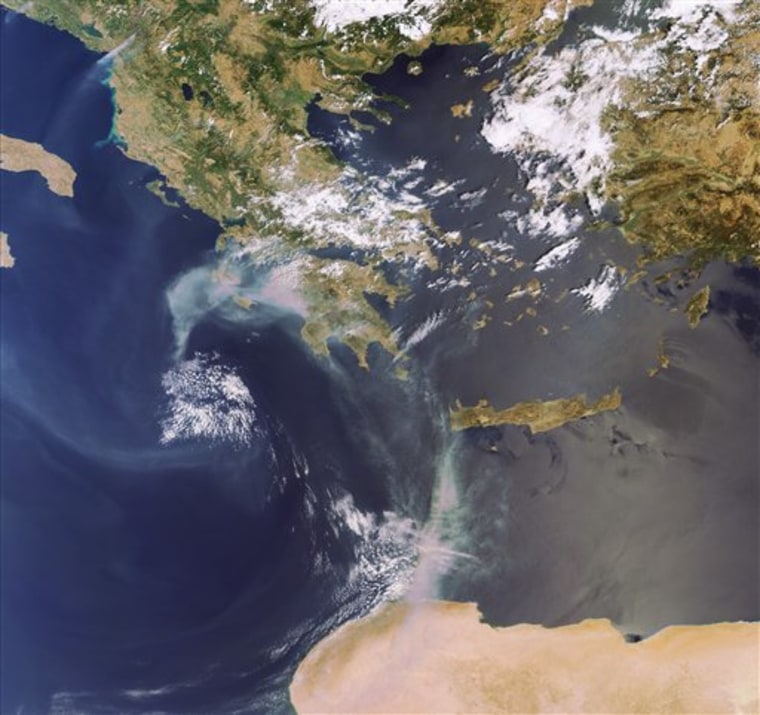 "Mount Taygetos in the southern Peloponnese, particularly as far as plant life is concerned, is Greece's diamond where many species grow that do not exist anywhere else in the world," he said.
"Mount Parnon (to the east) is — or rather was — a paradise, while the Kaiafas forest was one of the last remaining vestiges of a huge forest of stone pines that once covered all of the western Peloponnese."
Haralambidis said these forests will take decades to revive naturally, "provided we leave them alone."
Outside the forests, in low-lying land and plateaus, entire ecosystems — birds, reptiles and small mammals — in burnt fields and olive groves have vanished altogether.
"Those that could escape elsewhere may have managed to do so, but very many didn't," Haralambidis said.
'Environmental refugees' possible
The six-day inferno also caused "an irreparable social and economic catastrophe" in the small, farming-dependent villages of the Peloponnesian mountains, according to forestry expert Nikos Bokaris.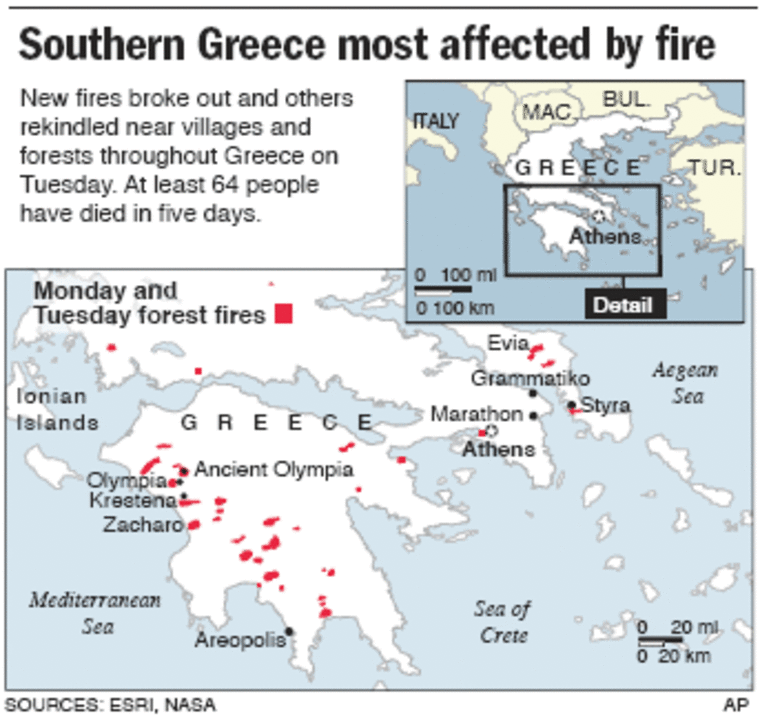 "These people lost their farmland, their flocks and in many cases their households," Bokaris said.
Greenpeace's Haralambidis warned that mountain populations could end up as internally displaced "environmental refugees."
"There will be several thousand people faced with the choice of staying in a burnt land or moving to the cities," he said.
"And if they are to stay, the conditions must be created to ensure them a decent livelihood. Their main source of income was olive oil production ... and new olive saplings need at least 15 years before they can yield a proper crop."