/ Source: The Associated Press
New ethics rules designed to cleanse spending bills of questionable pet projects have done little to quench lawmakers' thirst for them. Demand is up and the battle for them is as fierce as ever.
While House Democrats are holding to their promise to cut in half the price tag on back-home projects, familiar poobahs of pork in both parties have larded spending bills with more than 10,000 of them totaling at least $10 billion. Many more are to come.
The 435 members of the House together requested more than 32,000 pet projects this year — several thousand more than in 2006, when scandal-embarrassed Republican leaders limited how many each lawmaker could seek.
Only about 6,000 projects totaling $5 billion made it into the dozen spending bills passed by the House this summer, but members were promised they would get a chance to add military construction projects this fall.
Upon taking control of the House in January, Democratic leaders agreed with President Bush that earmarks should be cut in half from the 13,492 totaling $18.9 billion in 2005.
Democrat: We met our goal
House Democrats are congratulating themselves for reaching what they say is their share of that target.
"At the beginning of this year I told members I wanted to cut the total dollar amount of earmarks in half for appropriate accounts," said Appropriations Committee Chairman David Obey, D-Wis. "A lot of folks are unhappy about it, but over the summer we passed every appropriations bill and I'm proud to say we met that goal."
The Senate has a costlier set of earmarks. There, Appropriations Committee Chairman Robert Byrd, D-W.Va., puts the total so far for senators' earmarks also at about $5 billion — with billions more to come in a $459 billion Pentagon spending bill, always the most earmark-laden measure of all.
Byrd never bought into the Bush-House pledge, promising only to cut pet projects by an unspecified amount. As always, he hasn't been shy about shoveling federal money into West Virginia, such as $2 million in renovations to a riverfront park in Charleston and $4 million to construct a multiple sclerosis center at West Virginia University.
Byrd's totals, however, are eclipsed by those of the two top Republicans on the panel, former chairmen Thad Cochran of Mississippi and Ted Stevens of Alaska, as well as Majority Leader Harry Reid, D-Nev., according data compiled by Taxpayers for Common Sense, a Washington-based budget watchdog group.
Murtha, Pelosi reap pork rewards
New rules require House members and senators sponsoring so-called earmarks to identify themselves and attest they don't get any financial reward from them. The White House calls Congress' actions so far encouraging but is holding its applause.
"The proof of whether they are serious will be when congressional funding efforts are based on merit and the process is transparent, rather than the current congressional system, which is based on seniority and geography," said Sean Kevelighan, a White House budget office spokesman.
Not surprisingly, the list of House members claiming the greatest share of projects for their districts also reads like a Who's Who of leaders and senior members of the pork-distributing Appropriations Committee.
House Speaker Nancy Pelosi, D-Calif., has reaped $77 million worth of projects in and around her San Francisco district, according to Taxpayers for Common Sense data.
But Pelosi is far behind the most senior Appropriations Committee members, including Rep. John Murtha of Pennsylvania, the panel's No. 2 Democrat and chairman of the defense subcommittee.
Murtha is responsible for at least $186 million in earmarks, almost double the haul of Appropriations Chairman Obey, who's shipped about $95 million to his rural Wisconsin district.
Republicans who once held Obey's job rank only behind Murtha as the biggest recipients of pet projects this year. They are Reps. C.W. Bill Young of Florida, at $142 million, and Jerry Lewis of California, $120 million.
Their tally eclipses former Speaker Dennis Hastert, R-Ill., who this year won just $6 million in earmarks, including $750,000 for the Kane County Sheriff's Office.
"There's definitely a pecking order. It's the powerful, then the (politically) vulnerable, then the run of the mill," said Steve Ellis, vice president of Taxpayers for Common Sense. "If you happen to be represented by a freshman Republican in a safe seat, good luck."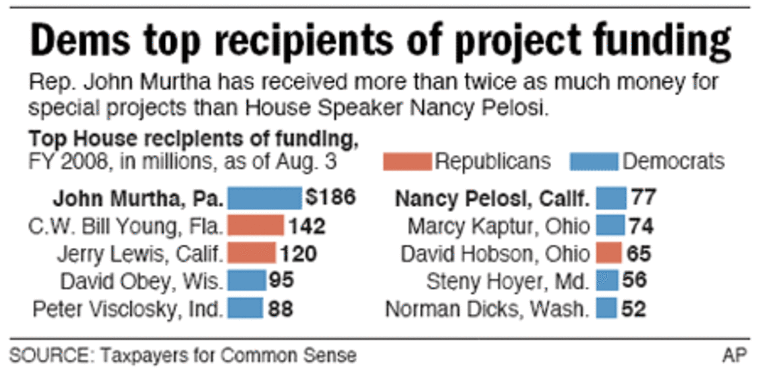 Exception to the rule?
An exception is House Minority Leader John Boehner of Ohio, who eschews earmarks even though he could reap many millions of dollars for his district if he tried.
"When I first ran for Congress in 1990, I told the people of our congressional district that if they wanted someone to go to Washington to raid the federal treasury on their behalf, they should probably vote for someone else," Boehner says.
Dems get lion's share of earmarks
The change in power means that Democrats instead of Republicans now get the lion's share, roughly 60 percent. Republicans who were accustomed to getting plenty of projects, such as Zach Wamp of Tennessee, are having to make do with far fewer.
Wamp complained earlier this year that he was denied a water and wastewater project for Claiborne County; last year, the GOP-dominated Appropriations Committee approved $838,000 for the project but it fell victim to the newly empowered Democrats' moratorium for 2007 in an earmarks-free bill passed in February.
Earmarks exploded in cost and number after former GOP leaders Newt Gingrich of Georgia and Tom DeLay of Texas advocated using pet home-district projects to help retain Republican majorities.
Until last year, GOP members running Congress were setting new records every year in loading up spending bills with pet projects. But the bribery conviction two years ago of former Rep. Randy "Duke" Cunningham, R-Calif., and outrage over the proposed $223 million "bridge to nowhere" in Alaska prompted Republican leaders last year to limit earmarks.
Cunningham took more than $2.4 million for using his influence on the House Appropriations Committee to win defense contracts for those who bribed him.
Earmarks come in countless varieties. Job training programs, grants to police departments, improvements to military bases, renovations to historic buildings and research grants for home-district colleges are just a few.
Opinions vary, but the most commonly accepted definition of an earmark is a line-item project not requested by the president but inserted into spending legislation.
Democrats like Obey say there's also plenty of politics involved in the choice of projects in the president's budget and in the awarding of government contracts and grants by GOP agency officials.
Small percent of budget
The government is functioning this year with virtually no earmarks — excluding defense — after Democrats imposed a one-year moratorium when they completed 2007 spending bills that Republicans left unfinished upon losing control of Congress last November.
Obey complains that screening lawmakers' requests for back-home projects is an enormous waste of time and energy, considering they total only 1 percent to 2 percent of the spending bills.
"The reason I hate earmarks is because they suck everybody ... into the idea that we have to be ATM machines for our districts," Obey said. The result, he added, is that all the focus then goes to "the tiny portion of most bills that are earmarks."