/ Source: The Associated Press
A 6,000-acre wildfire spread to within a half-mile of an upscale community of 1,200 homes in central Oregon, forcing residents to evacuate.
Thousands of people live on Black Butte Ranch in summer, but many had left before Monday's evacuation order.
The lightning-caused blaze was only about 5 percent contained after blackening nine square miles.
No homes were in immediate danger, though, and the wind was expected to continue weakening after dying down from Monday's 30 mph gusts, said information officer Pam Sichting.
But the region could see more lightning as well.
In neighboring Idaho, a wildfire that spread across 75 square miles near the resort communities of Sun Valley and Ketchum, leading to the evacuation of 2,500 homes, was nearly 90 percent contained Monday, said fire information officer Robert Rhinehart.
All mandatory evacuation orders had been lifted, no buildings were lost and there were no serious injuries, he said.
"Things are looking really good, but that's not to say the fire is out," Rhinehart said. "There's going to be smoke for days and weeks."
California fires
Fire crews in Southern California faced a double threat of high temperatures and low humidity Tuesday as they fought to control mostly small wildfires that threatened some rural homes and closed highways.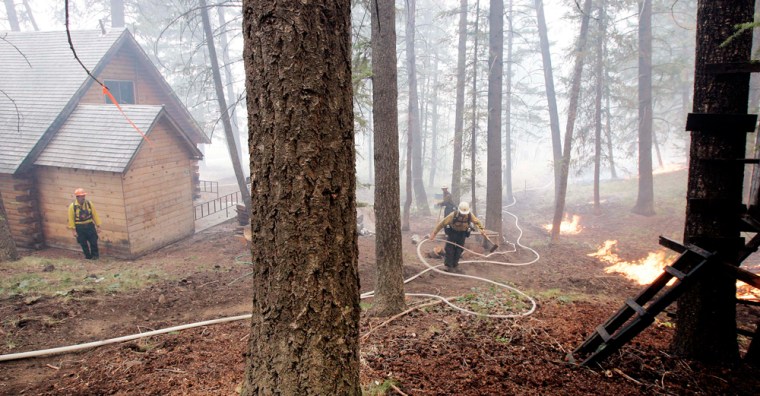 A nearly 20-mile stretch of California's coastal Highway 101 was closed while crews in Santa Barbara County fought a 200-acre blaze. The fire, which was about 70 percent contained, started Monday evening, burned across the highway and damaged railroad tracks, Fire Incident Commander Bob Dell said.
A 5-mile stretch of another highway was closed near Big Bear Lake, east of Los Angeles, while crews tackled an 85-acre wildfire in the San Bernardino National Forest. That blaze was nearly contained and the highway was expected to reopen Tuesday night, fire officials said.
Near San Jose, Calif., a wildfire in Henry Coe State Park had spread across more than 3,000 acres early Tuesday and was threatening private cabins, a California Department of Forestry and Fire Protection spokesman said.
In the Angeles National Forest near Santa Clarita, Calif., firefighters ordered the evacuations of about 25 rural homes south of Acton on Monday after a two-day-old fire unexpectedly grew by hundreds of acres.
The blaze died down and was 20 percent contained, but authorities warned flames could spread Tuesday.
"There is a potential for extreme fire growth," U.S. Forest Service spokesman Bruce Quintelier said. "This fire is a long ways from being dead and being contained."