/ Source: The Associated Press
Consumers undeterred by escalating credit problems and a weakening housing market went on a back-to-school buying spree last month, helping many retailers rebound from July's disappointing sales. But analysts are still worried that economic concerns might curtail shopping in the critical months ahead.
As the nation's retailers reported better-than-expected sales results Thursday, winners crossed all sections of the industry and included Wal-Mart Stores Inc., Target Corp., Pacific Sunwear of California and Saks Inc.
"When you look at August, there was a lot of doom and gloom," said Chris Donnelly, partner in the retail practice at the consulting firm Accenture, referring to news headlines chronicling growing numbers of mortgage defaults and financial market turmoil. "But consumers were out there spending. ... Back-to-school sales were good."
Still, Donnelly and other analysts warn, shoppers could pull back in the final months of the year.
As Mike Schenk, senior economist at the Credit Union National Association, which represents 9,000 credit unions nationwide, put it, "It's surprising, but shoppers are shopping. The question is, when are they going to drop?"
According to the UBS-International Council of Shopping Centers preliminary tally of 45 stores, August results were up 2.9 percent, compared to the 3.8 percent gain in the year-ago period. The tally is based on same-store sales or sales at stores open at least year, considered a key barometer of a retailer's health.
The August results were slightly better than the 2.6 percent pace seen in July but the tone of the retail reports dramatically improved, according to Michael P. Niemira, chief economist at the International Council of Shopping Centers, who expected no more than a 2.5 percent gain. August's pace was also better than the 2.3 percent average seen so far this fiscal year, which started in February.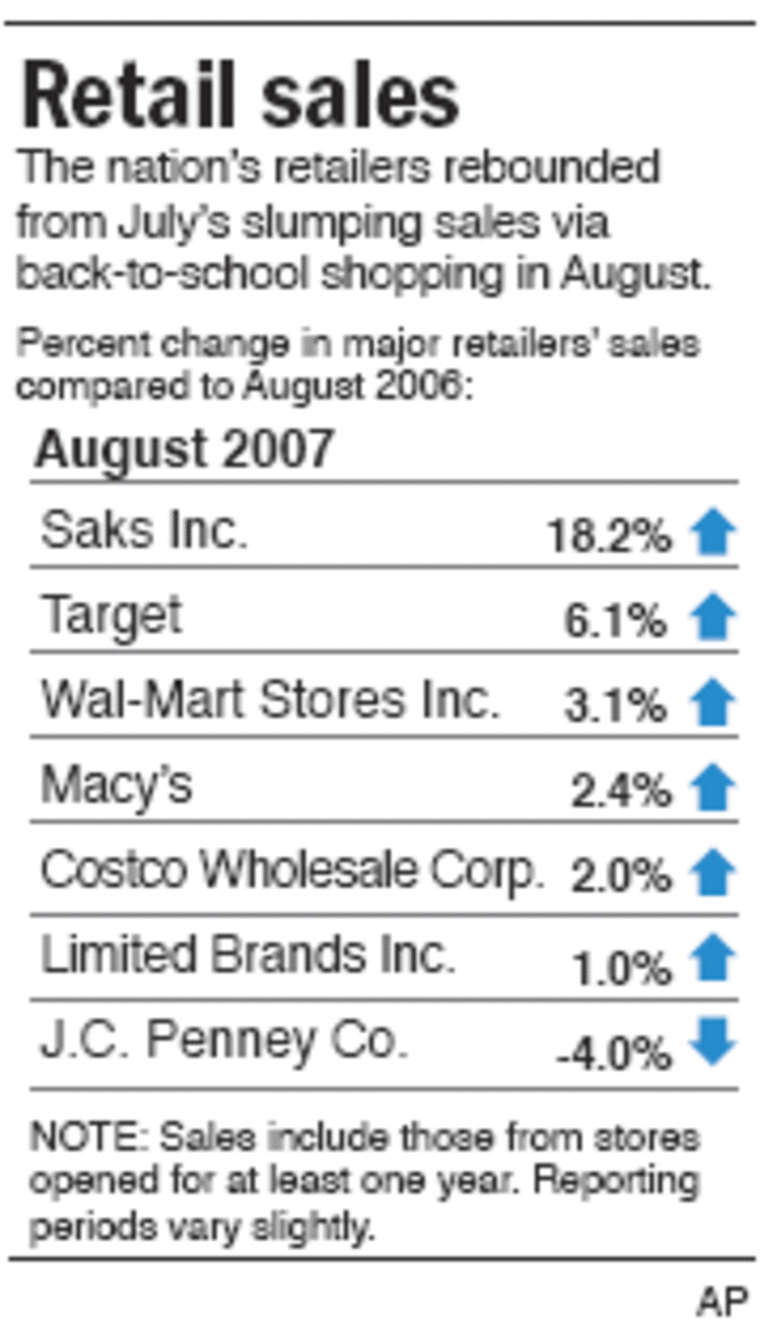 The monthly results were helped by a number of special factors. For one, there's been a growing trend among schools to start classes later, delaying back-to-school purchasing. Teens usually wait to do most of their shopping until they see what their friends are wearing. Last month's business was also boosted by a shift in a tax-free sales week to August in two critical states, Florida and Texas. Cooler weather in the Northeast and Mid-Atlantic regions also aided sales of fall fashions.
Analysts are closely watching September sales to get a better read on the consumer's ability and willingness to spend, especially with the holiday shopping season season coming up. Many retailers hope to make up to half their annual sales and revenue during the fourth quarter.
Wal-Mart, the world's largest retailer, posted a 3.1 percent increase in same-store sales, helped by strong sales of back-to-school items. The results, which excluded sales of fuel, were better than the 1.5 percent estimate of analysts surveyed by Thomson Financial.
Wal-Mart said electronics, school supplies and children's apparel were among the top-selling categories. It also said sales of laptops and calculators did well, as families prepared for later school start dates in some states such as Florida and Texas. The discounter said increased price cutting also helped boost sales of such items as bedding, bath towels and plastic storage and organization items.
"We are pleased with our performance during August, because it reflects continuing momentum in grocery and electronics. Home and apparel are expected to continue improving into the fourth quarter," said Eduardo Castro-Wright, president and chief executive officer of Wal-Mart Stores U.S. in a statement.
Wal-Mart projected that same-store sales will be up 1 percent to 3 percent in September.
Rival discounter Target also posted strong results, turning in a 6.1 percent gain in same-store sales, better than the 5.0 percent estimate.
Luxury stores again did well as shoppers splurged on status handbags and other expensive items. Saks Inc., which operates upscale Saks Fifth Avenue, reported a robust 18.2 percent gain in same-store sales, beating the 9.2 percent estimate. Nordstrom Inc. posted a 6.6 percent gain in same-store sales, slightly exceeding analysts' expectations for a 6.3 percent increase.
Macy's Inc. posted a 2.4 percent gain in same-store sales, better than the 0.3 percent estimate.
Gap Inc. had a 1 percent drop in same-store sale, less than the 2 percent analysts expected.
AnnTaylor Stores Corp., citing improving sales at both its namesake stores and its lower-priced LOFT division, posted a 2.9 percent gain in same-store sales in August. Analysts had expected a 1.9 percent decline in same-store sales.
Limited Brands Inc. had a modest 1 percent rise in same-store sales, below the 1.4 percent forecast.
Teen retailers scored a strong rebound from sluggish results in July. Wet Seal Inc. reported a 1.7 percent gain in same-store sales, better than the 0.6 percent estimate. Abercrombie & Fitch had a 6 percent gain in same-store sales, better than the 2.1 percent projection.
Pacific Sunwear posted a 9.6 percent gain in same-store sales, surpassing the 0.9 percent forecast.
On Wednesday, J.C. Penney Co. reported a 4 percent drop in same-store sales, though results were better than the 5.3 percent decline Wall Street expected. Penney said monthly results were distorted by a change in the calendar that moved sales from the first few days of August into the July reporting period, when same-store sales jumped 10.8 percent.