Friday's report on the job market in August — showing the first monthly drop in four years — raised concerns that the recession afflicting the housing sector  may be spilling over into the wider economy. The much weaker-than expected employment report puts added pressure on the Federal Reserve to cut interest rates at its next scheduled meeting Sept. 18.
But it's still too soon to assess just how much long-term damage will be caused by the downturn in housing prices and the mortgage mess that has rocked the financial markets.
Friday's employment report was a stunner: Economists and market watchers had expected the report to show some 110,000 new jobs created in August. But the government tallied a net loss of 4,000 jobs, the first monthly drop since August 2003. The government also revised job gains reported earlier for June and July, cutting the numbers for those two months by 81,000 jobs.
With the latest report, payroll growth has been averaging just 44,000 jobs a month over the past three months, well below the second-quarter average of 162,000.
As the economic numbers for August begin to roll in, the impact of the financial storm that hit global credit markets last month is slowly becoming clearer. An already-slowing economy seems to have weakened further.
Most economists say it's too soon to forecast a recession, but the consensus view is that the odds of one are rising.
"A recession is still avoidable in my opinion, but the Fed will need to act promptly and with authority to right this sinking ship," said Scott Anderson, a senior economist at Wells Fargo Bank.
Even before Friday's report, economists had been trimming their growth forecasts. The latest survey of 50 economists by the Blue Chip Economic Indicators newsletter, conducted Aug. 1 and 2, found the consensus GDP growth forecast dropped a tenth of a percentage point to 2.0 percent for this year and 2.8 percent next year.
Before the meltdown in the credit markets last month, the Blue Chip consensus pegged the odds of recession in the next year at about one in four. That number recently jumped to one in three, according to Randell Moore, the newsletter's editor.
Friday's jobs report slammed stocks and raised the volume of calls for the Federal Reserve to cut rates again soon help stimulate growth.
The Fed cut its mostly symbolic discount rate in August but is expected to cut the more important federal funds rate by at least a quarter-point this month and another quarter-point in the fall, which would make many loans cheaper for consumers and businesses. Some Fed watchers say a third quarter point cut may be needed by year-end.
The Fed funds rate affects a wide range of consumer and business lending rates including rates on credit cards, home equity credit lines and some mortgages.
The growing signs of economic strain have consumers feeling more pessimistic — especially since most no longer have rising equity in their home to help fund their shopping trips. Consumer confidence dropped sharply in August, based on a widely watched University of Michigan survey.
Still, while consumers say they are more worried, they seem to have kept spending in August. Car sales showed surprising strength, and sales also held up relatively well at big chain stores like Wal-Mart. As long as job and wage growth continue to provide the cash to keep consumers spending, say many economists, the drop in housing prices won't necessarily bring a wider pullback.
Some economists caution that Friday's jobs report was at odds with the Federal Reserve's periodic economic review released earlier this week. The so-called "beige book" survey of business conditions by the Fed's 12 regional banks found that while the ongoing tightening of credit continues to weigh on the housing market, the impact on the rest of the economy so far appears to be limited.
And while the last big housing downturn in the late 1980s pushed the economy into recession in 1990, some economists make the case that the economy is less vulnerable now for several reasons. With inflation at or close to the Federal Reserve's assumed target level of about 2 percent, the central bank has fairly broad latitude in cutting interest rates if GDP growth slows sharply. And as long as the global economy continues on a strong growth track, the U.S. economy is getting an unusual boost from outside its borders.
A lot depends on how long it takes the housing market to get back on its feet.
"You still need binoculars to find the bottom," said Stuart Hoffman at PNC Financial. "It's not in sight."
With the inventory of unsold homes at double the levels seen during the housing boom, some market watchers and builders say recovery is at least a year away. The National Association of Realtors reported this week that an index tracking pending home sales fell in July to its lowest level in six years.
The impact of the housing recession has been widespread, but like everything else about real estate, a lot depends on where you live. While mortgage defaults and foreclosures are setting records, more than half of them are coming from four states: California, Florida, Nevada and Arizona. Michigan and Ohio also have been hard hit.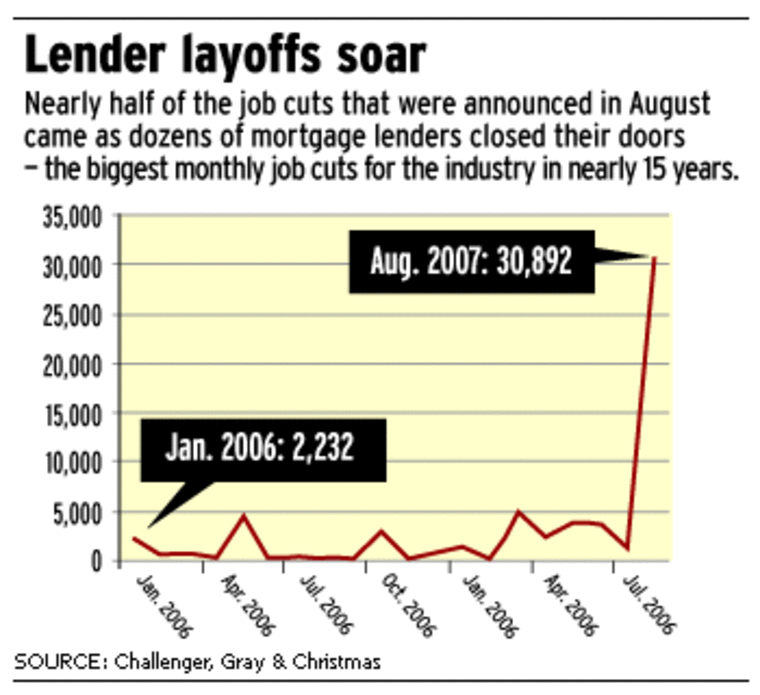 Just as the economy's strength varies from one region to the next, some industries are faring better than others. Not surprisingly, much of the current weakness is showing up in housing-related industries – from a slowdown in construction to weak sales of home furnishings.
Despite the drop in jobs in August, the fallout from the collapse of dozens of mortgage didn't account for big job losses in the government's August figures; the steepest drop came in government jobs.
But there are signs that steeper housing-related layoffs may be coming. Financial firms announced more than 35,000 job cuts in August — the biggest monthly total for the industry in nearly 15 years, according figures compiled by the employment firm Challenger, Gray and Christmas.
Still, it's too soon to assess the long-term damage from the financial storm that swept through the global credit markets last month and brought an abrupt tightening of credit. To calm the markets and free up credit, the Fed already has cut the so-called discount rate — the price of loans made directly to big banks. That seems to have restored some confidence to lenders and investors who had been spooked by problems stemming from mortgage loans made to borrowers with poor credit.
Now many economists and investors expect the central bank to use its next regular meeting to follow that easing with a quarter-point cut in federal funds rate — the broadest pricing for short-term borrowing under the Fed's control.
But as long as the economy continues to post slow, steady growth, it's not clear those rate cuts will be needed. While such cuts would be welcomed by financial markets, they also could taken as a sign that the Fed has succumbed to political pressure and eased up too soon, said  Brian Wesbury, chief economist at First Trust Advisors.