/ Source: The Associated Press
Presidential candidate Fred Thompson said Thursday he's a Republican who has never strayed from his conservative beliefs, a jab meant to highlight differences with chief rivals Rudy Giuliani and Mitt Romney.
In his first appearance as a full-fledged candidate, the actor-politician touched on the array of issues - smaller government, a strong defense, free markets, individual freedoms, border security - that he has talked about for months in the run-up to his official entrance. He addressed a polite crowd of a couple hundred people in the early voting state of Iowa.
"This is what I believe and have believed and will continue to believe," Thompson said as he sought contrasts with Giuliani and Romney.
Multiple leaders
The former Tennessee senator enters a GOP race in flux, with Giuliani, the former New York mayor, leading in national polls and Romney, the one-time governor of Massachusetts, holding the edge in Iowa and New Hampshire.
In 1994, Giuliani espoused liberal-to-moderate positions on social issues and endorsed Democratic Gov. Mario Cuomo. Romney was a moderate challenging Sen. Edward M. Kennedy in liberal Massachusetts. Today, some conservatives question Giuliani's and Romney's credentials - and Thompson sees an opening for himself.
At the first of two Iowa appearances, Thompson spoke about his upbringing in tiny Lawrenceburg, Tenn., in a family of modest means as well as his first run for the Senate in 1994. That year the GOP seized control of Congress and Thompson triumphed in Tennessee.
"I'm that same guy. I haven't changed," he said.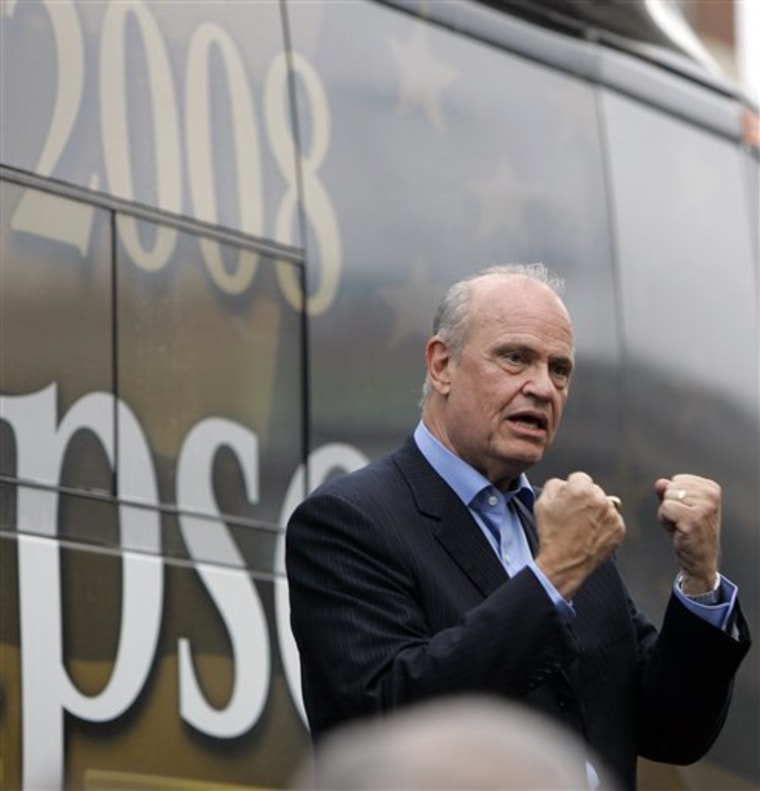 Getting in 'late'
Republican rivals who greeted his made-for-television candidacy with barbed humor Wednesday night were far more biting in their criticism on Thursday.
Mike Huckabee said he was the "authentic conservative" in the race, and cited Thompson's past work as a lobbyist for a family planning group wanting to relax an abortion rule. The former Arkansas governor also suggested Thompson skipped a GOP debate Wednesday because he can't meet expectations.
"Frankly, sometimes the reason somebody doesn't show up for the game is they're not sure they can perform well enough to win," he said in a conference call with reporters.
In Minnesota, Giuliani played down Thompson's entry into the race. "I don't run against any other Republican, I run against Democrats," he said.
Romney, a former venture capitalist and Olympics chief, hinted at how he plans to contrast himself with Thompson.
"The biggest difference is that I've been in the private sector all my life. I've been managing and leading enterprises, and that's something that's new to him," Romney said on Fox News' "O'Reilly Factor."
Evolving campaign
Thompson's campaign, meanwhile, reported that more than 150,000 people visited his Web site in the 24 hours since he announced while more than 3,000 people donated online and 16,000 new supporters signed up to volunteer. Still, signs of an evolving campaign showed as Thompson's chief spokesman from early on, Mark Corallo, became the fourth communications aide to part ways with him in a month.
In Iowa, Thompson stressed the need to win in Iraq and in the larger war against terrorism, saying: "If we show weakness and division, we will pay a heavy price for it in the future."
On domestic matters, Thompson chastised Washington for "spending the next generation's money," bemoaned a fragile economy, and argued that politicians are failing to do anything about it.
At his first event in Des Moines, Thompson walked on stage with his wife, Jeri, and their two young children as "Heartland" by George Strait blared. The stage was erected a third of the way into the exhibition hall to make the room appear smaller, and better attended. Campaign signs - some slickly designed with Thompson's logo as well as handmade ones with some variation of "Iowa Wants Fred" - dotted the convention center venue.
Two blue-and-gold campaign buses were parked outside. They were emblazoned with a giant photograph of Thompson, arms crossed with a stoic facial expression, and the campaign themes "United By Our Core Beliefs" and "Security. Unity. Prosperity."
Aides sought to lower expectations for an enormous turnout befitting the "Law & Order" star, noting that Thompson was holding his first event in the middle of a work day. The crowd, including some Thompson backers and undecided Republicans, cheered at the appropriate times but hardly fawned over the celebrity in its midst.
Meeting the crowds
Thompson found a new supporter in Larry Anderson, 49, of Bondurant, who has been unenthused about the other choices. "He seemed to reflect my beliefs," he said after Thompson's appearance.
Added another backer, John Craggs, 60, of Altoona: "I just think he can beat Hillary."
At an evening event at a park in Council Bluffs, Thompson - mistakenly introduced as "Senator Roberts from Tennessee" - stood on a platform in front of his campaign bus, gave a shortened version of his pitch and fielded a handful of questions from a few hundred people.
"I have the same conservative views I had in 1994," he asserted again. He drew spurts of applause when he added: "I believe the Second Amendment means what it says ... I believe in right to life ... I believe in lower taxes ... I believe in less government regulation ... I believe in free markets."
Pressed about his position on abortion, he said he was against it. Then, mentioning his children, he said: "That's a totally different dimension when you see that first sonogram."