/ Source: The Associated Press
Employers sliced payrolls by 4,000 jobs in August, the first such decline in four years and a stark sign that a painful credit crunch that has unnerved Wall Street is putting a strain on the national economy.
The latest snapshot of the employment climate, released by the Labor Department on Friday, also showed that the unemployment rate held steady at 4.6 percent, mainly because hundreds of thousands of people left the work force for any number of reasons.
The surprisingly weak report provides the Federal Reserve with a reason to lower interest rates when it meets next on Sept. 18.
Job losses in construction, manufacturing, transportation and government swamped gains in education and health care, leisure and hospitality, and retail. Employment in financial services was flat. The weakness in payrolls reflected fallout from a deepening housing slump, a credit crisis and financial turbulence that has made businesses more cautious in their hiring.
"I think a lot of businesses are moving to the sidelines to wait and see how things shake out," said Ken Mayland, president of ClearView Economics.
Economists were expecting a much stronger report. They were forecasting payrolls to grow by 110,000.
The drop of 4,000 jobs in August was the first decline since August 2003. Payrolls fell by 42,000 at that time as the job market was still struggling to recover from the 2001 recession.
Federal Reserve Chairman Ben Bernanke, in a speech last week, said the Fed stands ready to do all that is needed to keep the credit crunch that has rocked Wall Street from damaging the economy.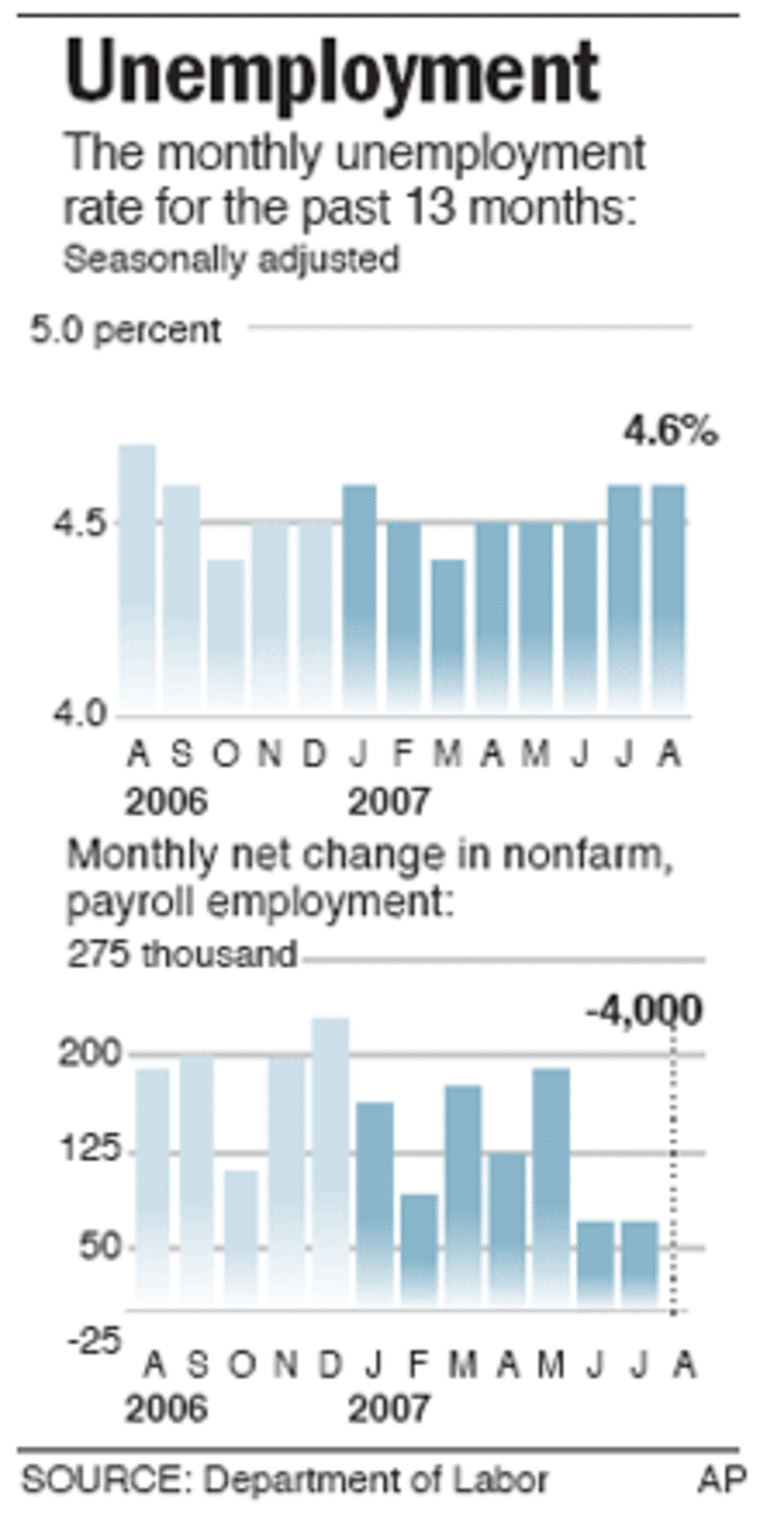 Economists increasingly believe the Fed will cut a key interest rate, now at 5.25 percent, by at least one-quarter percentage point at the September meeting. The Fed has not lowered this rate in four years.
"Clearly the economy is struggling, and this is the kind of evidence that really makes a strong case for a Fed easing move," Mayland said.
Rep. Barney Frank, D-Mass., chairman of the House Financial Services Committee, called the employment report "deeply troubling" and urged the Fed to lower rates. "A strong response is required — specifically a meaningful interest rate cut," he said.
Those with jobs, however, did see modest wage gains.
Average hourly earnings rose to $17.50 in August, a 0.3 percent increase from July. That matched economists' forecasts. Over the past 12 months, wages are up 3.9 percent. Wage growth supports consumer spending, a major ingredient for a healthy economy. If the job markets continues to lose steam, however, wage growth will eventually slow, too, economists said.
The modest wage growth could ease inflation fears, giving the Fed more leeway to cut interest rates.
On the payrolls front, job gains in June and July turned out to be smaller. The economy added 68,000 new jobs in July compared with 92,000 reported a month ago. For June, 69,000 new jobs were created, less than the 126,000 previously reported.
The 4,000 jobs cut in August are from both private and government employers. The government actually cut 28,000 jobs, while all private employers added 24,000.
Credit problems began with "subprime" mortgages held by people with spotty credit histories or low incomes. The problems have spread to some more creditworthy borrowers and intensified in August, unnerving Wall Street. In reaction, the Fed has pumped tens of billions of dollars into the financial system and lowered an interest rate that it charges banks for loans.
Credit is the economy's life blood. If it becomes more difficult to obtain, people might tighten their belts and companies might spend and invest less, including cutting back on hiring. That would crimp overall economic activity.
Under a worst-case scenario, the economy could slip into a recession this year. Earlier this year, former Fed chief Alan Greenspan had put the odds at one in three.
Commerce Secretary Carlos Gutierrez, in an interview with The Associated Press on Friday, said that was a "low likelihood" and that the "most likely scenario is that we will get through this dip and we will continue to see growth."
The economy, which grew at a brisk 4 percent pace in the April-to-June period, is expected to slow to half that pace in the three months from July through September. Against this backdrop, the unemployment rate is expected to creep higher, reaching close to 5 percent by the end of the year.
The unemployment rate, which is derived from a different statistical survey than the payroll figures, held steady as 340,000 people left the work force. Fewer people in that survey reported finding employment in August compared with July.
President Bush's handling of the economy has gotten lukewarm ratings from the public. Only 41 percent approved of the president's economic stewardship in early August, according to an AP-Ipsos poll.
Mindful of political backlash heading into the 2008 elections, the administration and Democrats on Capitol Hill have been scrambling to help millions of homeowners in danger of losing their homes and looking for other ways to limit the fallout.
Sen. Hillary Clinton, D-N.Y., who is vying for her party's presidential nomination, called the new employment figure disappointing and said it was evidence that "the Bush administration's simplistic supply-side economic strategy is not working for working Americans."