/ Source: The Associated Press
Rescue crews searching for famed millionaire adventurer Steve Fossett stumbled upon another false lead Sunday when they discovered what they thought was a downed airplane — but didn't find the missing aviator.

"Once again, you had your hopes raised and dashed, just as we have," Nevada Civil Air Patrol Maj. Cynthia Ryan told reporters during a news conference.

Rescue crews spotted an object southeast of the private ranch where Fossett was staying when he took off Monday for what was supposed to be a three-hour flight. They did not say what the sighting was, only that it wasn't Fossett's plane.

At least six times during the search rescue crews have spotted wreckage they thought might be Fossett's only to learn they were from crashes years and sometimes decades ago.
The sighting occurred within a 50-mile radius of the airstrip about 80 miles southeast of Reno, said Kim Toulouse, a spokesman for the Nevada Department of Wildlife assisting in the search operation.
At least six times during the past week search and rescue crews have spotted airplane wreckage they thought might be Fossett's only to learn they were from crashes years and sometimes decades ago.
While Toulouse declined to give the location of the new sighting, she indicated that sheriff's deputies were assisting from Mineral County, which is east and south of the airstrip on a ranch owned by hotel magnate Barron Hilton.
Missing since Monday
The 63-year-old Fossett has been missing since Monday, when he took off from that airstrip for a three-hour flight.
Search teams have spotted nearly one uncharted wreck a day since the search began Tuesday in the rugged, concealing landscape of western Nevada. To some, that is an ominous sign of how hard it will be to find Fossett.
"That's always a possibility — that he may never be found," Lyon County Undersheriff Joe Sanford said. "But I'd like to believe that with our state-of-the-art technology, the chances of finding him are much better."
That technology has included precise airborne imaging equipment and infrared scanners. A boat equipped with sonar was even used to examine the depths of Walker Lake.
The search teams tried to remain optimistic but acknowledged the futility was beginning to take a toll.
"It's not frustrating, but tiring," Nevada National Guard Capt. April Conway said.
Leaders of the search-and-rescue operation have tried to put the best face on the discoveries of previously unknown crash sites. At the very least, they say, the finds have demonstrated that crews can indeed spot small planes from the air.
The search has spread across an area of 17,000 square miles, twice the size of New Jersey. Crews will continue combing sections of that vast landscape, but on Sunday they began focusing on the territory within 50 miles of the ranch. Most crashes occur within that radius during takeoffs or landings, Nevada Civil Air Patrol Maj. Cynthia Ryan said.
"We've got close to 100 percent covered, at least in some cursory fashion," Ryan told reporters Sunday. "We have to eliminate a lot of territory."
The discovery of at least six previously unknown wrecks in such a short time has been a stark demonstration of the odds against finding Fossett's single-engine Bellanca Citabria Super Decathlon.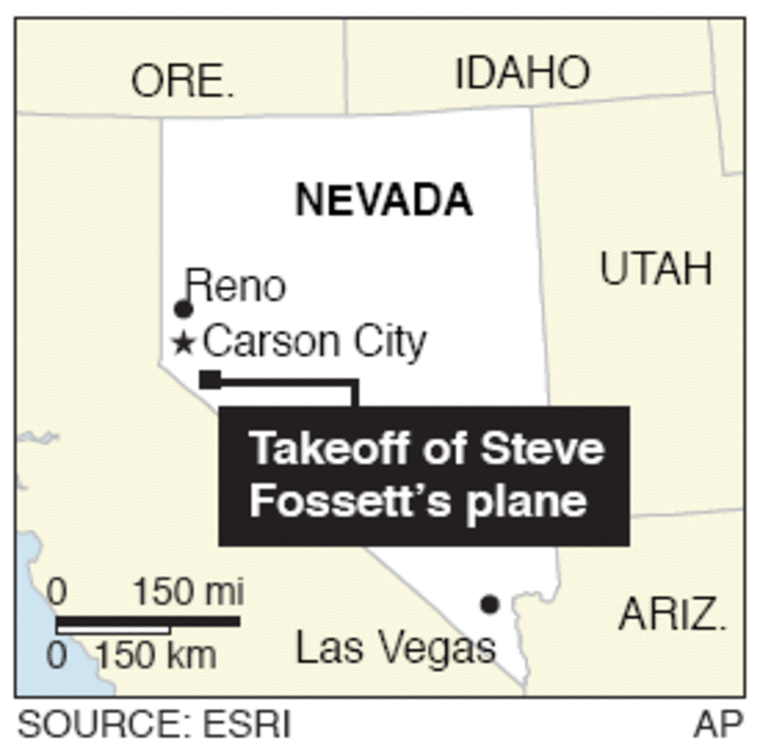 The Florida-based Air Force Rescue Coordination Center, which is helping coordinate the search, maintains a registry of known plane wreck sites.
The registry has 129 entries for Nevada. But over the last 50 years, aviation officials estimate, more than 150 small planes have disappeared in Nevada, a state with more than 300 mountain ranges carved with steep ravines, covered with sagebrush and pinon pine trees and with peaks rising to 11,000 feet.
"The mountains are quite rugged, and things don't always get found," said Maj. Cynthia Ryan of the Nevada Civil Air Patrol.
Once the search for Fossett is over, or significantly scaled back, inspectors from the Federal Aviation Administration likely will be sent to each of the newly discovered wrecks. They will try to identify the pilots and bring closure to their families, agency spokesman Ian Gregor said.
No human remains have been found at any of the crash sites discovered so far. But that's not a surprise, given their age and that the region is populated by coyotes and mountain lions.
News of the old wrecks has prompted inquiries from people wondering if the pilots or passengers may be long-lost family members.
"We received an e-mail from (a Florida man) and he said 'You know, that could be the wreckage of my father's airplane and it dates back to 1964.' He said if we can possibly find out any more he'd be happy to know about it," Ryan said.
Searchers are holding out hope of finding Fossett, said Sanford, the Lyon County undersheriff.
"With the resources and assets we have, I feel comfortable we'll find the plane in the near term," Sanford said. "Whether it'll be by us, a hunter or a skier, we'll find it. I like to believe the glass is half full."