/ Source: The Associated Press
A huge U.S. Navy hospital ship brought state-of-the-art medical care to the Western Hemisphere's poorest country this week during a regional goodwill mission aimed at countering leftist Venezuelan President Hugo Chavez's influence.

The USNS Comfort, a 900-foot-long floating hospital built for wounded American soldiers, carries more than 600 medical volunteers who have provided free vaccinations, eye exams, dental treatment and surgical procedures to more than 85,000 patients in a dozen countries during the ship's tour of Latin America and the Caribbean.

The volunteers also train local doctors, build clinics and treat sick animals, trying to generate goodwill in a region the Bush administration has been accused of slighting as it focuses on U.S.-led wars in Iraq and Afghanistan and terror concerns at home.

"We are here to try and make a difference, not just in the short term but in the long term as well. It's a win-win for all involved," Capt. Bob Kapcio, the Comfort's commanding officer, said during the ship's arrival ceremony in Haiti.

Some critics question the long-term impact of the Comfort's four-month voyage. The American ship only stays in port for a few days in each country and at the moment has no firm plans to return to the region.
'The big question ... is sustainability'
"It is a clever move and likely to win the U.S. some goodwill in the short term. But the big question of all these missions is sustainability," Dan Erikson, a Caribbean expert with the Washington-based Inter-American Dialogue.

In Haiti, the ship is an apparition off a coastline dotted with crumbling shanties and smoldering trash piles. Fishermen paddling homemade boats stare up in awe at the white ship emblazoned with red crosses.

At Port-au-Prince's seaport, dozens of patients strapped on life vests and boarded ferries to reach the Comfort, a converted oil supertanker whose gleaming surgical center, dental ward and pediatrics unit provide a level of medical care beyond most Haitians' wildest dreams.

Haiti is so poor that public hospitals are strewn with patients on floors for lack of beds. Private hospitals turn away even gunshot victims who cannot afford to pay.

"If I went to a hospital in Haiti, this would have cost a lot of money so this really is a miracle for me," said Gertrude Fortune, 49, lying on a hospital bed before undergoing hernia surgery.

The Comfort's mission has been earning rave reviews, from impoverished villagers to heads of state.

In July, the Comfort stopped at El Salvador. About 1,000 farmers were treated and some 15 operations were performed aboard ship. "It's helping the people a lot," Salvadoran President Tony Saca said.
Move to counter Chavez's growing influence
When President Bush announced the Comfort's mission in March he promised more U.S. help for health and education in a region oil-rich Venezuela has been showering with aid. Chavez's government has pledged more than $8.8 billion to the region this year, although it isn't known how much has actually been delivered.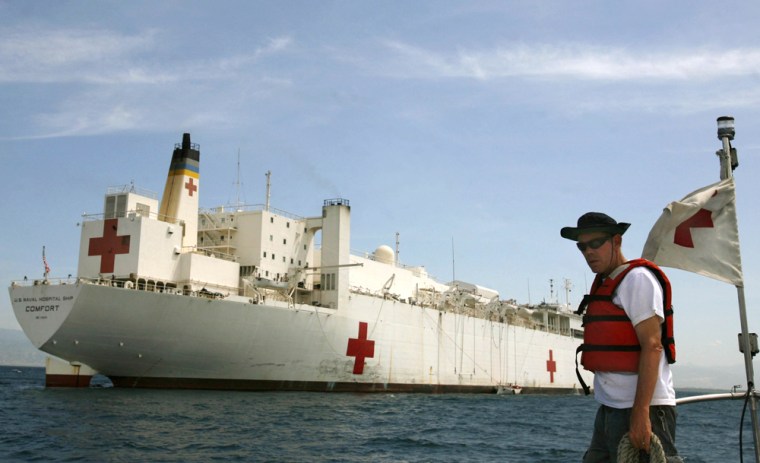 By comparison, $3 billion in American grants and loans reached the region in 2005, according to the most recent figures available.
As Washington raises the profile of its assistance to the region, the U.S. military is helping victims of natural disasters. On Wednesday, it diverted the U.S. Navy amphibious ship USS Wasp from military exercises off Panama to help Nicaragua recover from Hurricane Felix. Venezuela also sent aid to Nicaragua, and 57 Cuban doctors and nurses already established on the Miskito coast on medical missions were helping as well.

U.S. military medics also rushed to Peru after last month's 8.0-magnitude earthquake devastated towns and villages.

The Comfort has visited nine countries so far -- Guatemala, Belize, El Salvador, Nicaragua, Panama, Colombia, Ecuador, Peru and now Haiti. It sets sail next for Trinidad, Suriname and Guyana before wrapping up its tour.

Haiti, in particular, has been the focus of U.S. aid.

Washington is Haiti's single largest donor, giving more than $850 million between 1995 and 2003, according to the State Department's Web site. The U.S. has donated more than $390 million to help Haiti rebuild since a 2004 uprising ousted then President Jean-Bertrand Aristide.

But Chavez also has become a huge donor for Haiti, promising $221 million in aid projects so far this year.
Source unimportant to cyst sufferer
Jean Francois Wisline said she could care less about the U.S.-Venezuelan rivalry. She was simply grateful to be getting surgery to remove a painful cyst in her chest.

"I'm just happy to finally get it taken care of because I've really been suffering," Wisline said. "I'll take any help I can get."

As many as 1,000 Haitians lined up beneath a blazing sun outside Port-au-Prince's University of Peace Hospital, hoping to see a team of U.S. doctors and dentists who came ashore from the Comfort. Mindful this may be their only chance for free medical care, there was jostling as people struggled to keep their places in line.


"Seeing a doctor isn't easy in Haiti so I really I hope I get in," said Nobious Robert, a 24-year-old street peddler who arrived at dawn to have a groin pain looked at.

Doctor diplomacy has long been practiced in Latin America, most notably by Cuba's communist government, which each year sends thousands of doctors to provide free care in poor countries in the region. Venezuela funds a growing number of these missions. Many students from the region also study for free at Cuba's School of Latin American Medicine.

Cuban leader Fidel Castro himself criticized the Comfort's mission, saying "You can't carry out medical programs in episodes."

But U.S. officials say the Comfort's mission is designed for maximum effectiveness, with most medical procedures performed on patients requiring little or no follow up. They also say that by training medical staff and building clinics and schools, these countries will be better able to help themselves in the future.