No one enjoys dragging a suitcase around the airport. But, as business travelers know, it's living out of luggage for months on end that can be real torture. Unless, that is, they are doing so in a luxury corporate apartment.
Since the niche market was born 10 years ago, the $2.5 billion, international temporary-apartment industry continues to expand. There will be around 80,000 units in the U.S. by the end of this year, according to Furnished Quarters' CEO Steven Brown. That's an increase of 10,000 units in the last two years.
"It's a big industry, but it's still growing," Brown says. "A lot of people are not aware that [extended-stay apartments] are out there."
That's a shame, since many corporate apartments were designed to attract and accommodate executive travelers with facilities that rival high-end resorts in the heart of the world's business capitals.
"The primary amenity in most of these apartments is location," says Francois Thomas, general manager of Hyde Park Residence in London, which is nuzzled next to the Dorchester Hotel on Park Lane. Paris' La Reserve, home to duplex and triplex apartments, is located in the 16th arrondissement, known for its chic exclusivity and views of the Eiffel Tower.
The array of available services today is not bad either. A 'round-the-clock concierge, weekly maid service, grocery delivery and a fully equipped gym are all on offer at the Lofts du Vieux-Port in Montreal. Other apartments have on-call chefs, drivers and personal trainers, and most include washer/dryers, loaded kitchens and valet-attended parking garages.
Luxury extended-stay apartments also provide two things most hotels cannot—space and privacy. On average, corporate apartments have three times the space of a hotel suite at a third to 50 percent less cost, according to Brown. They are widely used by professionals in the entertainment and fashion industries who want to keep a low profile, as well as government employees, those who need access to local hospitals and people in the process of moving from one city to another.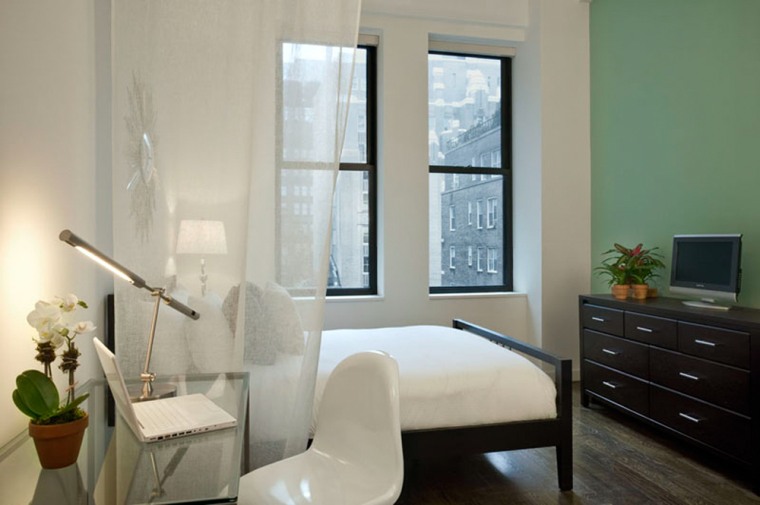 "Corporations really need to put together a package that's going to make a relocating employee happy and give them an incentive to relocate," says Brown. "When you can put an employee in a really terrific apartment in a great neighborhood, the move becomes more appealing."
Furnished Quarters, which specializes in corporate and temporary housing, works with relocation companies to ease the transition for new residents, finding them the right blocks, schools and churches. About half of all Furnished Quarters' 20,000 annual guests are in the process of relocating.
Whether you're moving for a new job or spending a few months in a foreign city trying to move sales figures, a luxury corporate apartment can go a long way toward making you feel comfortable and helping you focus on what's important—your work.
These apartments, Thomas says, "are meant to become a second home."