/ Source: The Associated Press
Upstart American TV maker Vizio Inc. has been nipping for three years at the heels of household names such as Sony and Samsung.
Quietly selling its affordable line of flat-panel sets in wholesale club stores instead of electronics retailers, it knocked its foreign competitors from the top spot in the second quarter to become the largest seller of flat-panel TVs in North America.
It is too early to say the company will bring an American brand back to the top ranks of TV makers for good. But Irvine, Calif.-based Vizio is poised to benefit from a variety of trends, including the rising popularity of flat-panel sets and the need for all Americans to upgrade to a digital TV by the federal government's February 2009 deadline.
And CEO William Wang's experience as a supplier and then consultant to PC maker Gateway Inc. convinced him that consumers who might spend big for a feature-laden set for the living room would want a more affordable alternative to replace sets in other rooms.
Aided by a few one-time boosts in retailer inventories, Vizio grabbed 12 percent of the flat-panel market in the second quarter. That was more than four times its share in the year-ago quarter and enough to propel the private company, which had been the nation's 15th-largest flat-panel TV supplier in the second quarter of 2005, past rivals such as Sony Corp., Samsung and Sharp Corp., according to market researcher DisplaySearch.
Vizio has also broadened its offerings, adding more full-featured sets along with basic models.
Vizio now offers four, 42-inch LCD sets, for instance, ranging in price from $1,399 for a fully loaded set to a $979 model, which offers lower resolution and fewer features.
A 40-inch LCD set from Sony ranges from $1,279 to $2,069 on Amazon.com.
Cory Porter had never heard of Vizio before walking into a Costco in May to look at more established brands. After researching customer comments and reviews online, he decided to take a chance and bought a 42-inch model.
"I wanted to be sure if I decided to go with the cheaper version that it was good quality as well," said Porter, 31, of Washington, D.C. "I was pretty nervous about that, to be honest."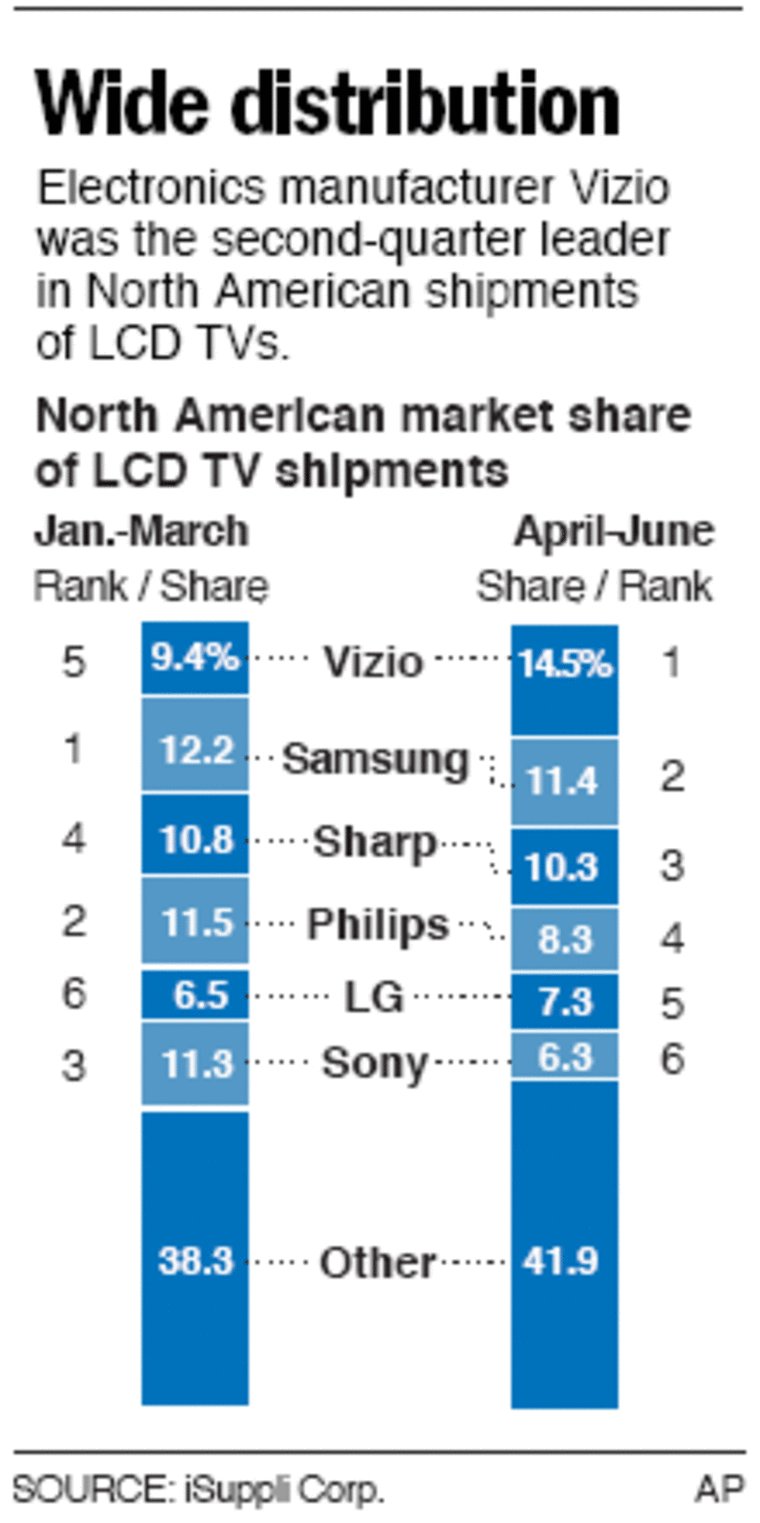 Staying No. 1 will be a challenge for Vizio, however.
Analysts wonder whether the company can sustain its performance, especially as rivals take aim at the once nearly invisible competitor.
"They have been really clever, but they also benefited from fortunate timing," DisplaySearch President Ross Young said.
Even CEO Wang concedes it may be impossible to stay on top.
"I think it's going to be a major battle for us to maintain our spot," Wang said. "My goal is to be in the top three for the year. I never expected we would hit the No. 1 spot in the second quarter."
The cornerstone of Vizio's strategy has been selling at warehouse club stores such as Sam's Club and Costco, which can pass volume discounts along to consumers.
By avoiding retailers that typically add as much as 30 percent to the price of a TV, Vizio has escaped the retail-channel conflicts that can shackle larger brands, Young said.
If a major brand sells a flat-panel TV through Best Buy for $1,999, for instance, and then sells the same set at Costco, it can't pass along a lower margin to consumers without angering Best Buy, Young said.
"Vizio is able to pass along the lower margins at the club channel because they don't have those conflicts," he said.
That strategy has led to Vizio steadily increasing its market share over the past two years, according to research company iSuppli.
Still, the sudden jump to No. 1 was the result of one-time events that are unlikely to be repeated.
Some retailers boosted inventory from one week to three in reaction to worldwide flat-panel supply problems.
In addition, Vizio added two huge retail clients in the second quarter — Sears and Circuit City — boosting its normal deliveries by more than 150,000 units.
Meanwhile, Wal-Mart Stores Inc., the nation's largest retailer, added new models to its existing line of Vizio offerings.
Wang was a supplier of computer monitors in 1989 when he began selling screens to Gateway Inc.
In 2002, he launched his own company, then called V Inc., with $600,000 from friends and a mortgage on his Newport Beach home.
But instead of immediately entering the TV market, he was persuaded by Gateway co-founder Ted Waitt to serve as an adviser on manufacturing and sales strategies in its bid to sell TVs in its retail stores.
"Being small, you don't have a lot of choice," Wang said. "When someone knocks on the door, you say yes."
When Gateway exited the TV business and shuttered all its retail stores in 2004, Wang struck out on his own. He changed the name of the company to Vizio and adopted the slogan "Where vision meets value."
What he took from Gateway was the emphasis on marketing to cost-conscious consumers and the strategy of not relying on a single supplier or assembler, but outsourcing widely to keep costs down.
"I'm a geek. I love technology. But I believe technology shouldn't be super expensive," Wang said.
Today, the company runs a lean operation, with only 85 corporate employees. About 10 percent of assembly work is done in Mexico, the rest in Asia.
The company plans to do more assembly in Mexico but so far has no plans to bring the work into the U.S., as low-cost rival Syntax-Brillian Corp. has. So in that way Vizio won't take on the all-American feel of former American TV stalwarts like Zenith or RCA.
Last year, Vizio spent about $5 million on marketing to build its brand. The company has boosted its ad budget to $35 million to lure sports fans, who are big buyers of high-def sets.
Vizio has also broadened its line, offering high-definition sets in the highest quality and adding the kind of high-tech features normally found on more expensive name-brand sets.
Wang believes Vizio will benefit as cable and satellite companies boost their high-def content and consumers replace their analog TVs with digital.
"I believe we'll still enjoy the growth rate we've been having the last 12 months because this segment will explode," Wang said.
Young agrees, adding that that people may buy a more expensive set for the living room but will likely look for cheaper flat-panel TVs to replace sets in other parts of the house.
"The strategy has legs," Young said.