If you want to experience Frank Gehry's award-winning architecture first-hand, you can inquire about one of the 400 luxury condominiums he's designed in a downtown Los Angeles development that's expected to begin construction this fall.
Or you can jet to Rioja, Spain, and stay at the Marques de Riscal. Gehry designed the 43-room hotel, which features a pink, silver and gold metal ribboned roof and oval-shaped rooms with slanted windows overlooking vineyards and curved wood walls.
It's one of several dozen hotels worldwide luring travelers with distinctive design and top-notch amenities.
"Nowadays, more hotels have unique style elements or are being designed by well-known architects," says John Clifford, a hotel specialist and owner of International Travel Management, a luxury travel consultancy in San Diego. "Travelers tire of ordinary hotels and want properties with more personality."
The Keating in San Diego, created by Pininfarina, the design company behind Ferrari and Maserati, and the Inn at Price Tower in a Frank Lloyd Wright-designed skyscraper in Bartlesville, Okla., are two such places. Both opened in the last year.
Rooms at The Keating are called "stanzas" and all 35 boast bright red lacquered walls, open-air bathrooms and stainless-steel fixtures and chairs. The Inn at Price Tower is situated in a concrete and copper building said to be shaped like a pinwheel; interiors boast features such as contemporary desks made of copper mesh and glass, and copper-framed beds.
Distinctive decor
It's this kind of individuality that attracts travelers tired of cookie-cutter lodging. Experts say the trend took off when W Hotels, which features minimalist designs such as custom-made contemporary furniture, monochromatic color schemes, rooms with high ceilings, stainless-steel doors and dimly lit lobbies entered the scene in 1998. It set the standard for high-design hotels, typically boutique boites with less than 100 rooms, that often attract travelers on their looks alone.
"A design property becomes a destination in its own right," says Diane Hilliard, a hotel expert and co-owner of Hilliard & Olander, a Stillwater, Minn., luxury travel consultancy. "Sometimes, travelers will build an itinerary around a certain area just because there is an architecturally designed hotel there, and they want to experience it."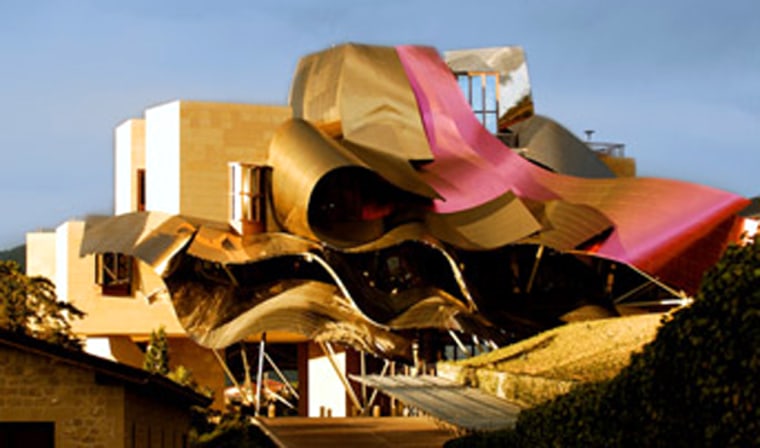 Visitors to Asia are finding an increasing number of high-design hotels available. One, The New Majestic Hotel in Singapore, which opened last year, appears unassuming. Beyond the front doors, however, a white-walled lobby greets guests with vintage Compton fans and a copper ceiling. The hotel's 30 loft-like rooms, each designed by local artists and architects, feature free-standing, glass-encased bathtubs, four-poster beds suspended from above by poles, vintage furniture and pop-art murals. Rooms start at $105 a night.
The property is part of Design Hotels, a company in Berlin that has a portfolio of 150 hotels worldwide, including the Chambers in New York City, Bel-Ami in Paris and The Pure in Frankfurt, Germany, with unique design elements.
Those looking for unique lodging stateside might want to head to the recently opened Winvian in Litchfield, Conn., an area boasting numerous hiking, biking and horseback-riding trails. The 113-acre wooded property features 18 cottages designed by 15 architects, each embracing a separate theme.
The Helicopter cottage is assembled in part using the cockpit of a 35-foot-long restored chopper. The bi-level Treehouse cottage is suspended 35 feet above the ground. Both cottages have flat-screen televisions, oversize Jacuzzi tubs, steam showers and Bose sound systems.
The only downside to a stay at one of these properties? A stay at any other might seem oh-so Plain Jane.