The Opportunity Mars rover is once again preparing to descend into a half-mile-wide (800-meter-wide) crater, after spending weeks waiting out waves of dust storms, NASA said Friday.
Opportunity is scheduled to start rolling into Victoria Crater as early as Tuesday, the space agency said in a mission advisory. Meanwhile, the rover's twin on the other side of the planet, Spirit, climbed onto a plateau of layered bedrock nicknamed Home Plate this week to renew scientific observations.
In July, Martian dust storms blocked so much sunlight that researchers feared the solar-powered robots would run completely out of power and freeze to death. NASA put the rovers into a low-energy survival mode, and the skies have been clearing gradually since early August — clearing the way in turn for higher levels of activity.
NASA said beneficial wind gusts removed some of the dust that built up on Opportunity's solar arrays.
"These rovers are tough," Alan Stern, NASA's associate administrator for science, said in the advisory. "They faced dusty winds, power starvation and other challenges — and survived. Now they are back to doing groundbreaking field work on Mars. These spacecraft are amazing."
Checking for damage
The rover team at NASA's Jet Propulsion Laboratory in Pasadena, Calif., will spend the next few days determining whether the dust damaged Opportunity's microscopic imager. If that tool is working, the team will used the imager to check whether a scanning mirror for the rover's miniature thermal emission spectrometer can function accurately.
"If the dust cover or mirror is no longer moving properly, we may have lost the ability to use that instrument on Opportunity," said Steve Squyres of Cornell University in New York, who is principal investigator for the rovers' science instruments. "It would be the first permanent loss of an instrument on either rover. But we'll see."
The rovers, which were built with a "warranty life" of 90 days, have survived for three and a half years. In that time, they have sent back unprecedented data about Martian geology, including the best evidence yet that the Red Planet was once wet enough to sustain life.
Squyres has said the descent into Victoria Crater could well be Opportunity's last stand. The crater contains an exposed layer of bright rocks that may preserve evidence of interaction between the Martian atmosphere and surface from millions of years ago. The layer is about 40 feet (12 meters) from the rim of the crater, where Opportunity is now being positioning for the downward drive.
"We chose a point that gives us a straight path down, instead of driving cross-slope from our current location," said Paolo Bellutta, a rover driver planning the route. "The rock surface on which Opportunity will be driving will provide good traction and control of its path into the crater."
Victoria is the biggest crater Opportunity has encountered during its mission.
First picture from lander
Meanwhile, another NASA probe notched a milestone on its way to Mars. The Phoenix Mars Lander, which was launched Aug. 4, took its first picture during the months-long cruise and sent it back to Earth on Thursday.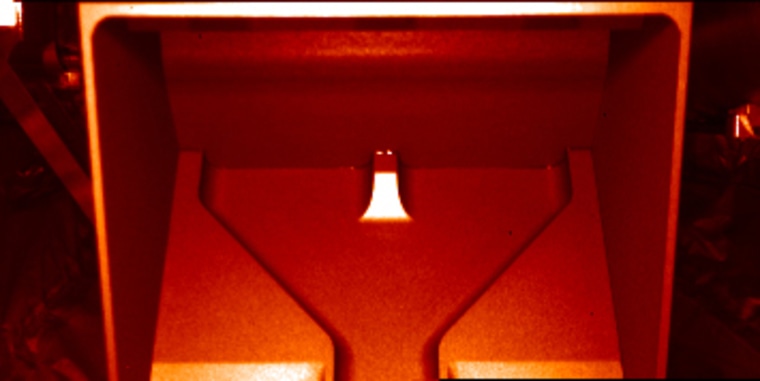 A camera mounted on the lander's robotic arm took the photo, looking into the arm's scoop. Both instruments are encased in a protective barrier to ensure that no earthly organisms are carried to Mars.
"It is a nice, clean picture with good sharp focus. One of these days it will be filled with Martian dirt," the University of Arizona's Peter Smith, principal investigator for the Phoenix science mission, said in a university news release.
Phoenix is due to land in Mars' northern polar region next May and look for traces of water ice as well as other chemicals that could play a part in supporting life. Once it's on Mars, the robotic arm camera will snap close-up, full-color pictures of Martian soil and ice — including samples collected by the scoop.
This report includes information from NASA and the University of Arizona.