/ Source: The Associated Press
Four months of extreme togetherness have come to a close for a dozen adventurers who've been exploring the Chesapeake Bay much like John Smith did -- sailing, and sometimes sleeping, in a replica of his small, open work boat. Their journey ended Saturday where it began: Jamestown, America's first permanent English settlement, which Smith helped found 400 years ago.
The ship's voyage was an educational initiative of Sultana Projects Inc., a nonprofit organization in Chestertown, Md., that used mostly traditional tools to build the 28-foot boat, called a shallop.
The intent was to provide a focal point to teach people about the bay's history and ecology and hopefully inspire them to take better care of it, Ian Bystrom, the boat's admittedly tired captain, said this week in Norfolk, the shallops' last official stop before heading up the James River to Jamestown.
1608 circuit retraced
The shallop retraced 1,500 miles of Smith's 1608 exploration of the bay and inaugurated the Capt. John Smith Chesapeake National Historic Trail, America's first national historic water trail. Along the way, the boat took part in festivals in Virginia, Maryland, Delaware and Washington, D.C.
"It all worked out," Bystrom said. "We never got towed anywhere, we made it to all of our places on time and had really great events everywhere we were."
Happily, the crew also avoided serious illness and injury.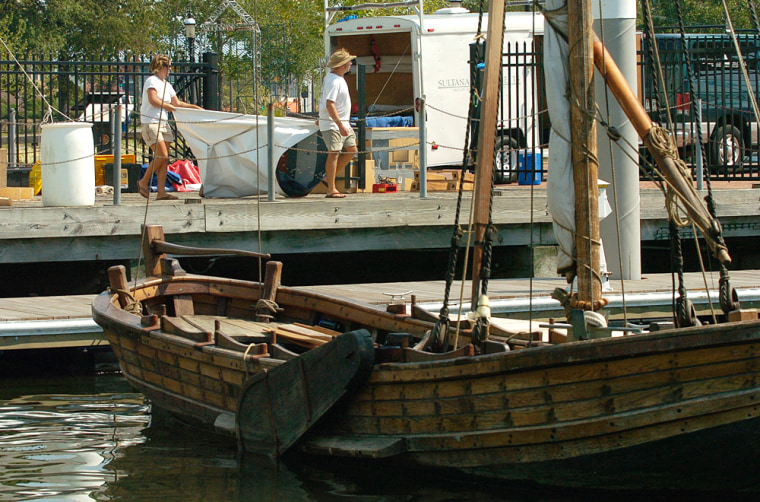 Smith and 14 men spent three months sailing and rowing more than 1,700 miles to the headwaters of nearly every major bay tributary. The journey yielded a comprehensive map that guided English settlers for nearly a century.
While the modern-day crew successfully completed their trip propelled entirely by oar and sail, just like Smith's crew, they didn't try to recreate all aspects of the 1608 journey.
They mostly wore shorts and other comfortable, modern clothes, donning historical costumes for some public events. And, unlike Smith's crew, the modern group included women.
The boat was launched in Norfolk in late March. That involved lowering it into the Elizabeth River to spend a couple weeks filled with water so its oak planks would swell and become watertight. The planks had shriveled a bit while the shallop was in dry storage.
The bay journey began May 12, when the boat left from Historic Jamestowne during festivities commemorating the settlement's founding in 1607.
Early starts, long days
Days often started around 6 a.m. or earlier, depending on weather and water conditions.
The crew sailed the boat about 60 percent of the time and rowed the rest, at a slow place that allowed them to "see every creek, every bird, every fish that jumps -- everything," Bystrom said.
They stayed in hotels a few nights, but mostly they either slept on the floor of the boat or camped in parks or along docks.
Sometimes, they'd ask residents near waterways for permission to sleep on their land. The people often also ended up inviting them inside for a home-cooked meal or whisking them off to restaurants.
"That was one of the things that was most enjoyable about the trip that we didn't expect, the hospitality along the way," Bystrom said.
Crew members got some days off, but mostly they passed their time as one big group, with little privacy. Going to the bathroom on the boat meant having to sit on a bucket, surrounded by a sheet.
All that togetherness could be trying, but crew members managed to keep their spirits up and tempers in check, Bystrom said.
"It stands for itself: 12 people started this trip, 120 days in an open boat or a tent, and nobody left," he said. "Something had to go right."