/ Source: The Associated Press
A bit of American history — quirky and curious, but history nonetheless — huddles next to old Highway 59, past the tractor dealers and the rice mills, just before a green sign that proclaims Wharton's population of 9,237.
It's easy to miss. But it is there, just around the bend: a row of 10 freshly painted, sand-colored teepees.
As in the Tee Pee Motel, a throwback to the 1940s and '50s, when taking a drive was still in style and roadside businesses used gimmicky architecture — like a gas station that looked like an oil derrick — to lure customers. The Tee Pee Motel is one of just a handful of teepee-themed lodges left in the country.
For years, however, Wharton's Tee Pee Motel was little more than eleven gutted shells engulfed by a tangle of overgrown weeds and a broken sign that once beckoned guests with neon lights and an image of an American Indian chief.
Then, a diesel mechanic named Bryon Woods won $49 million in the Texas lottery in July 2003.
Four months later, Woods and his wife, Barbara, were driving by the ruins of the Tee Pee Motel, about 50 miles west of Houston, when Barbara Woods piped up.
"I want to stay there. Let's buy it and renovate it."
Barbara Woods had dreamed of staying in the Tee Pee Motel ever since she was a little girl. And now, she was an adult with nearly $50 million to spend.
After waffling for a few months, Bryon Woods gave in. He bought the 10-acre property for $60,000 _ and spent the next two years and $1.6 million sweeping away the cobwebs and debris, remodeling, painting and fixing the neon sign.
"This wasn't about making money. It's having something no one else has," said Woods, 42, whose grandmother was Comanche. "This is a piece of Texas history."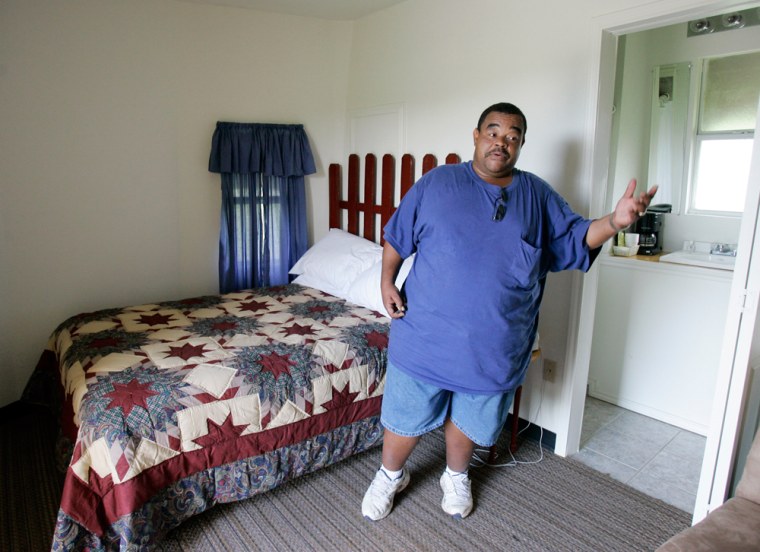 Barbara Woods and her sister decorated — adorning each of the teepees with Native American artifacts purchased at powwows and covering the full-size beds with handmade quilts.
Modern conveniences were added: barbecue grills outside each room, air conditioning units jutting from the exterior walls and high speed Internet and satellite TV in each teepee. One of the units was retrofitted to accommodate wheelchairs. An eleventh teepee, probably used as a coffee shop, has not been renovated.
The Tee Pee Motel reopened for business in October 2006.
Woods decided not to advertise, instead relying on a Web site, a page on MySpace and word of mouth. And it didn't take long for word to spread.
Soon, couples who had spent their honeymoon at the Tee Pee Motel were paying the $52.50 a night to celebrate their Golden Anniversary there. Adults who had pined to sleep inside the teepees as children came back to fulfill that long-ago yearning.
Girl Scout troops, a Houston classic Chevy club, and families holding reunions have also booked rooms. Then, there are the children who spot the teepees from the road, and beg their parents to pull over.
Usually, Woods said, once a family stops to get a motel brochure, they're hooked.
"We see a lot of families come out here. The kids love it," said Woods. "They are running around, saying 'I'm staying at the Tee Pee Motel!'"
Although most guests are local, Woods has also housed visitors from as far away as Canada and Australia, who want to sample a bit of Americana.
That's not surprising, said Greg Smith, National Register Coordinator for the Texas Historical Commission. After years of disfavor, in which buildings like the Tee Pee Motel were viewed as tacky or in bad taste, interest has surged in the architectural style.
A string of teepee-themed motels were designed by Frank Redford, who built seven Wigwam Villages across the country in the mid-1930s. In addition to the Tee Pee Motel, only three Wigwam Villages remain. Two are on Route 66, in Holbrook, Ariz., and in Rialto, Calif. A third is located in Cave City, Ky., near Mammoth Cave National Park.
Texas has its share of attractions that were once considered tacky, like the replicas of Stonehenge and Easter Island in Kerrville, and the Eiffel Tower topped by a cowboy hat in Paris (Paris, Texas, that is).
"This is a young country. This is a young state. A lot of our fantastic story is the 20th century story," Smith said. "These things are a tribute to
American creativity and business savvy. They are also fun."