Six years ago, lower Manhattan was filled with smoke, debris and the lingering smell of destruction after the Twin Towers collapsed into the streets of the city's financial hub. Today the area is filled with new construction, new faces and a sense of normalcy. Tom Winter, an NBC News assignment editor and new downtown-Manhattan resident, went out to talk to his new neighbors, who describe what it is like living near the scene of an attack that will forever be seared into Americans' memories.
I moved to Lower Manhattan at the beginning of 2007 after accepting a job to return to NBC News. I live on John Street, just a few blocks from the World Trade Center site — you can see the World Financial Center as soon as you leave the building (and would surely have seen the World Trade Center before 9/11).
My roommates and I looked down here because it is an up-and-coming neighborhood and close to every subway line. (It also was within walking distance to work for one roommate.) In addition, the rents are slightly cheaper than much of Manhattan.
It's been a humbling and rewarding place to live.  In the days immediately following the attacks it was hard to believe that the area could ever come back to life, but it seems to be doing just that — and then some.
A desirable area
"I like it down here — there's not the hustle and bustle, yet it's convenient," said Ashleigh Ross, a young professional who described the virtues of lower Manhattan on a recent late-summer evening.
Ross wasn't waiting for a bus or subway after work, and she wasn't lost, either. Instead, she and a friend, Meiko Boynton — and about 150 others — were enjoying an after-work cocktail on Stone Street, a quaint cobblestone street first developed by Dutch settlers in the 1600s about eight blocks from Ground Zero.
Ross, a resident of lower Manhattan for two years, talked about how convenient her new apartment was to work, how nice her renovated building was, and how beautiful the parks are. I was surprised that she didn't once mention what happened here just six years ago.  Instead it was a conversation people have all over the world — an explanation of the pros and cons of her neighborhood.
Todd Mitchell and Morgan Geyer were also on Stone Street, celebrating not just the rebirth of the neighborhood but also an upcoming birth closer to home – Geyer had just learned she was pregnant. Both agreed that the "apartments, water views, and parks" make lower Manhattan very desirable.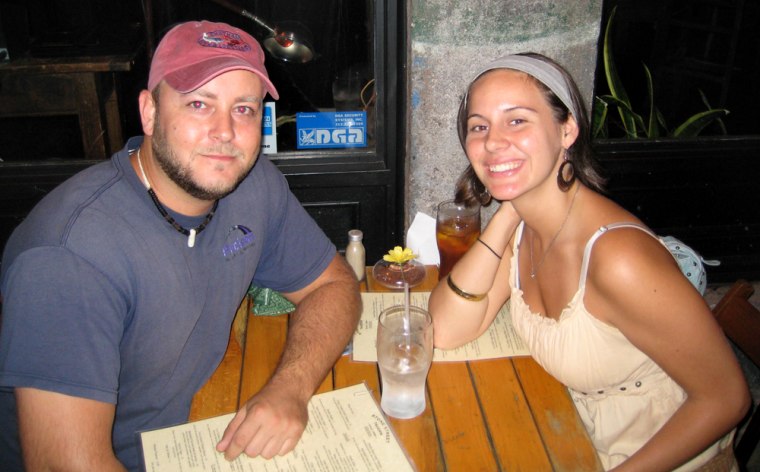 Neither are originally from New York, but moved here after they were "intrigued about New York City" after the attacks of 9/11. The couple, who both work in the restaurant business, live just blocks away on West Street, near the waterfront. Geyer pointed to the outdoor concerts staged in the area, as well as the convenience — most subway lines converge downtown — as particular draws. Again, their conversation focused on the benefits of the neighborhood, with no specific mention of what happened just blocks away.
'Awful smell of smoke'
For others, though, the events of 9/11 are ever-present. "I remember being covered with ash," said Sandra Muto, who works in the area. "Even now I never take the train on 9/11, I guess it's superstition."
Muto recalls traveling in from Brooklyn to her job in the Financial District soon after 9/11,  remembering how people traveled with bibles and the "awful smell of smoke."
"You could always smell it," she said.
When asked about the neighborhood now, though, she said that she feels very safe and really likes it.
Jen Rubins, an aspiring actress who has a temp job near Wall Street, echoed those sentiments. "I feel cozy here," said Rubins, adding that the area seems more intimate and "neighborhoody."
A new normalcy
That "neighborhoody" feel is starting to return to business owners, too, after a number of lean years.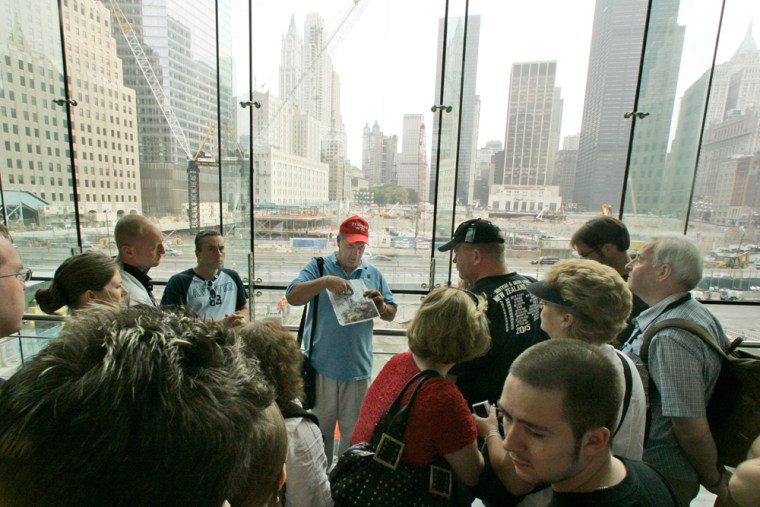 Mike Keane, the owner of O'Hara's Bar, which was literally in the shadows of the Twin Towers, said that business has gone up considerably after what was initially a "tough five years after 9/11."
As for shopping, the crowded aisles inside the re-opened discount clothing store "Century 21" across the street from the World Trade Center site indicate a return to normalcy there, too.
'Pretty emotional'
It is the visitors who have the strongest feelings, such as Michele Adlon and her family, visiting from New Jersey. "It was pretty emotional walking up [to the site]" said Adlon, whose husband watched the towers being built from across the Hudson River.
Oduniyi Michael, also visiting Ground Zero for the first time, talked about the message of rebuilding. When asked if he would ever move to the area, he enthusiastically replied, "Why not? This rebuilding shows the great courage of America."