By passing along privileged information to gamblers, former National Basketball Association referee Tim Donaghy made point spreads move in Las Vegas. Little did he expect his illegal activity last season might move another line — the chances of an NBA franchise landing soon in Sin City.  

A little-examined impact of the recent scandal involves Las Vegas' desire to land a pro franchise, in particular an NBA one. For years, the booming desert city of about 550,000 and a greater metropolitan area of nearly 1.8 million, has patiently — yet passionately — tried to persuade the NBA it would be the perfect spot either to relocate an existing franchise or to house a new one.   

The lengthy effort, led by Las Vegas Mayor Oscar Goodman, seemed finally to be paying off. A few years ago, the NBA agreed to stage its 2007 All-Star Game in Las Vegas, the first time the event would be held outside a franchise city. Vegas primped for the big occasion, and visitors flocked to town in February, filling hotels and casino floors.

However, the off-court chaos that weekend — exemplified by NFL player Pacman Jones tossing an estimated $81,000 into the air in a strip club and the subsequent shooting of one of its bouncers, who ended up paralyzed — dealt a setback to Vegas' wishes.

Enter the Donaghy scandal. There is only one reason Las Vegas — whose population is more than double that of Orlando, which landed the Magic way back in 1989 — lacks an NBA franchise: sports betting. It is legal in only one U.S. state out of 50, Nevada, and betting on sports is every pro league's biggest nightmare. Major League Baseball barely survived the 1919 Black Sox gambling scandal, where players were accused of fixing games, and Pete Rose, despite having the most hits of any player in history, is not in the Hall of Fame because he bet on baseball.
The integrity of any sport is based on players trying hard to win and referees making fair calls. If either is in doubt — meaning outcomes are essentially preordained — the raison d'être for sports will have vanished, fans will flee, and leagues will tumble.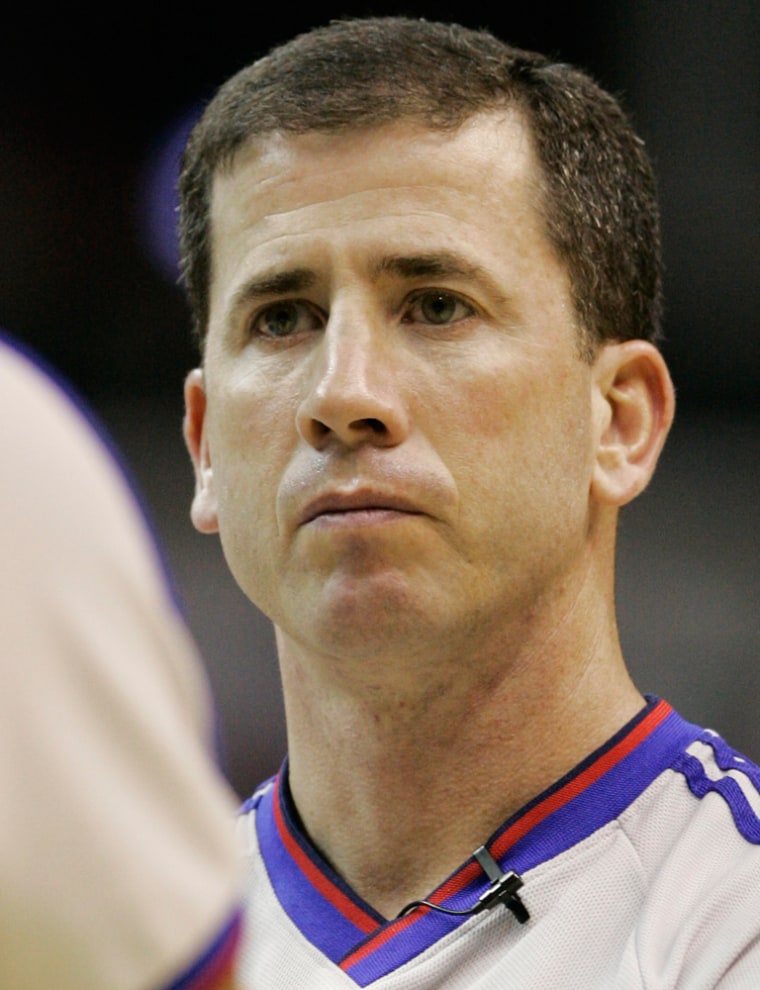 In its history, the NBA — whose reputation has been singed by fights and other and behavior — had avoided a gambling taint until this summer. True, Chicago Bulls' great Michael Jordan had often been spotted in casinos late into the night, and the NBA has allowed Sacramento owners Joe and Gavin Maloof to also control the Palms casino in Las Vegas. But nothing shook the league's core until the allegations against Donaghy were made public, which prompted Commissioner David Stern to call the situation the biggest nightmare of his nearly quarter-century tenure. He promptly canceled a meeting that had been scheduled to address putting a team in Las Vegas.

David M. Carter, principal of the Sports Business Group in Los Angeles,does not believe the gambling scandal is a fatal blow for a Vegas franchise.
"I think it's a short-term setback," he said. "The Donaghy situation reinforces all the sensitivity the league and sponsors (have about gambling), but they'll find a way to get a team in there."
However, Carter sees any hesitation by the NBA because of the scandal as a big problem, because it may open the door for the National Hockey League to plant a franchise in Vegas first. If that happens, the venue housing that team will quickly secure dates for hockey games, conventions and other events and may not be interested in hosting an NBA team down the line. Also, sponsors would be tougher to come by in Vegas for a Johnny-come-lately NBA team if an NHL franchise nabs companies' money first. Though two arenas with 20,000-plus seating — one proposed by REI Neon downtown and another championed by Harrah's and AEG on the Strip — could be built, after the Donaghy scandal, the motto "If you build it, they will come" may be easier said than done.

According to reports, during the first 15 games Donaghy refereed last season where the spread changed 1.5 points or more, the teams in whose favor the line moved covered each time. The chances of a perfect 15-of-15 betting record in that situation are astronomical.
And the odds of the NBA heading to Vegas anytime soon after one of the biggest gambling scandals in sports history are not far behind.
David Sweet, a sports business writer in the Chicago area, can be reached at dafsweet@aol.com.