/ Source: The Associated Press
The U.S. trade deficit declined slightly in July, helped by record exports that offset the biggest foreign oil bill in nearly a year. But even a spate of recalls did not stop the deficit with China from climbing to the second-highest level on record.
The trade deficit edged down 0.3 percent in July to $59.2 billion, compared with $59.4 billion the month before, the Commerce Department reported Tuesday. It was the lowest monthly imbalance since April.
So far this year the deficit, which hit $758.5 billion last year, is running at an annual rate of $711 billion. Many private economists believe stronger economic growth overseas, a weaker dollar that makes American exports more competitive and slower growth at home will help lower the deficit after five consecutive years of record imbalances.
The narrowing of the deficit, however, has not satisfied critics of President Bush's trade policies. They are pushing legislation that could impose economic sanctions on China and vowing to block free trade agreements with Colombia, Panama, Peru and South Korea that the administration hopes Congress will pass this year.
The administration, however, said the latest trade figures show that Bush's policies are working and American companies would be helped even more if the pending free trade deals were approved.
"Today's numbers clearly show the positive impact of exports and trade on the American economy," said Commerce Secretary Carlos Gutierrez, who on Wednesday will head a congressional delegation on a four-day trip to Panama, Peru and Colombia to build support for passage of the trade deals.
The administration agreed to include provisions sought by Democrats to bolster worker rights and environmental protections, but some opponents say the changes don't satisfy their concerns that U.S. workers are facing unfair competition from low-wage countries with lax environmental laws. The United States has lost more than 3 million manufacturing jobs since 2000.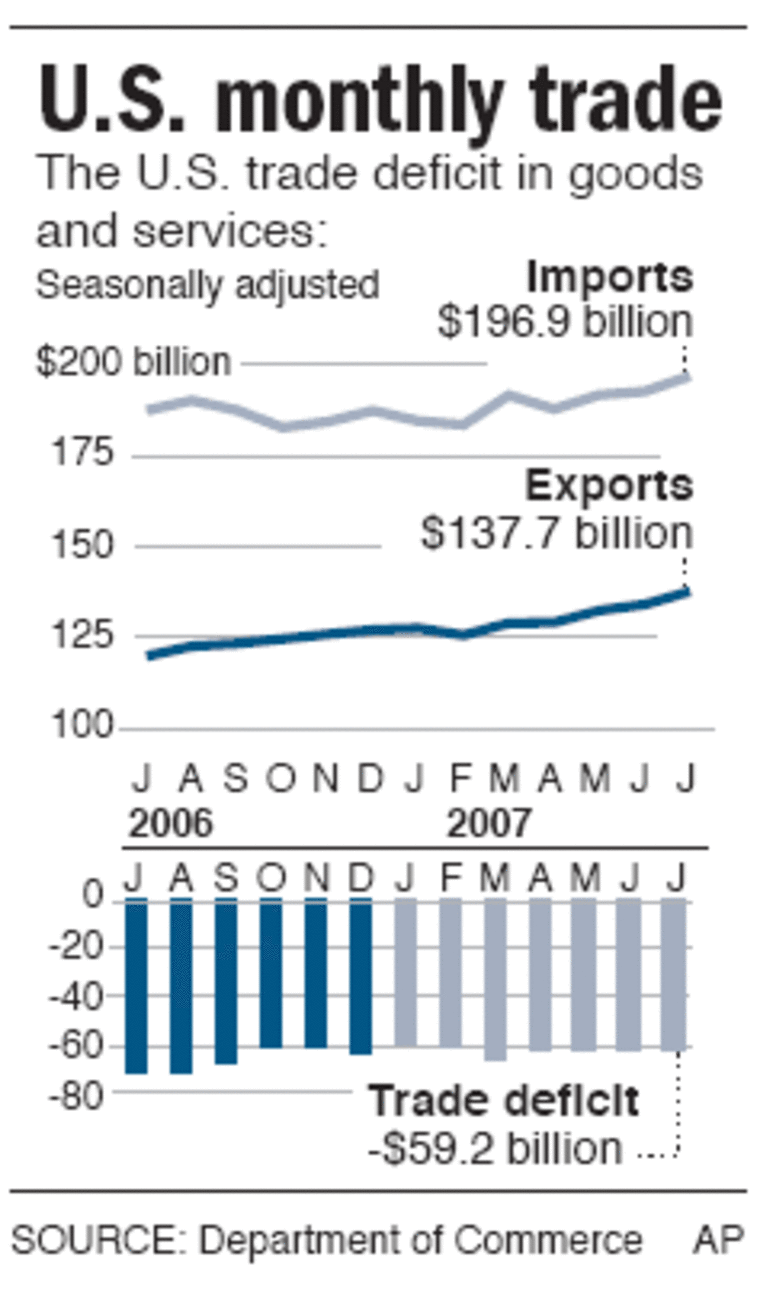 "Job killing trade agreements, weak safety standards, exploitation of developing nations and their workers — it is time for a new direction," said Sen. Sherrod Brown, D-Ohio, who is fighting all four free trade deals.
The agreements with Peru and Panama are seen as having good chances for approval this year, but the measures with Colombia and South Korea face wider opposition.
For July, U.S. exports rose 2.7 percent to an all-time high of $137.7 billion as sales of American farm goods, autos and auto parts and U.S.-made capital goods all set record highs.
Imports also rose to a record in July, climbing 1.8 percent to $196.9 billion. This increase was led by a 2.3 percent jump in petroleum imports, which hit $27.2 billion, the highest level in 11 months. The average price of a barrel of crude oil jumped to $65.56, surpassed only by a $66.13 per barrel price set in August 2006.
The boom in exports is helping cushion the U.S. economy from the adverse effects of the worst downturn in housing in 16 years and a serious credit crunch stemming from growing losses in subprime mortgages. Without continued export gains, some analysts worry that the country could be pushed into a recession.
The improving trade performance added more than a percentage point to the 4 percent overall economic growth in the April-June quarter, and many analysts predicted further positive contributions in the final half of this year.
America's deficit with China jumped 12.5 percent in July to $23.8 billion, the second-highest level on record, surpassed only by a $24.4 billion imbalance in October. So far this year, the deficit with China is running at an annual rate of $242 billion, putting the country on track to surpass last year's record deficit with China of $233 billion, the highest ever recorded with a single country.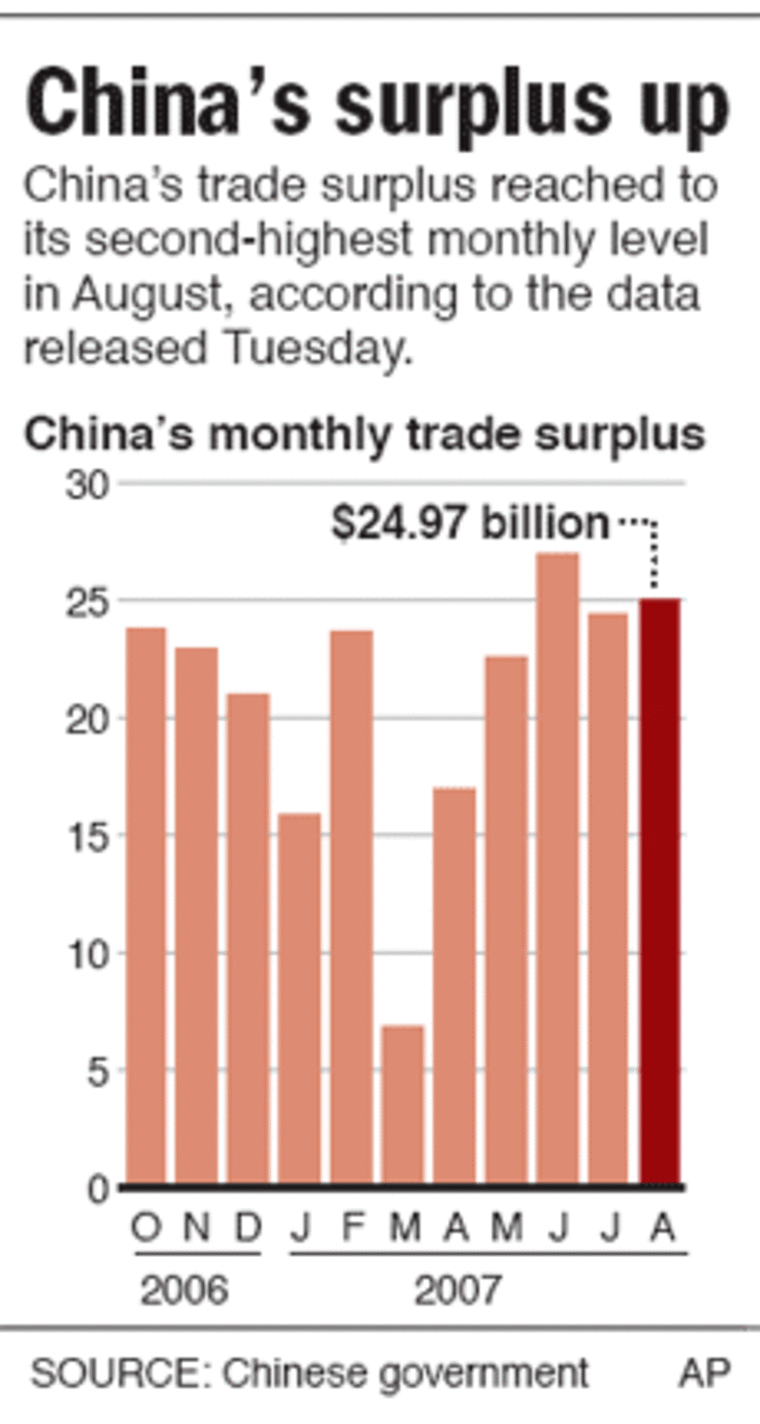 The July imbalance reflected a 19 percent plunge in exports to China, as sales of commercial airplanes fell, and a 5.6 percent jump in imports, including higher shipments of cell phones, toys and clothing. The rise in imports is occurring despite a number of high-profile recalls this year of unsafe products including tires, toothpaste, pet food ingredients and millions of toys recalled by toy giant Mattel because of such problems as lead paint and tiny magnets.
A presidential panel said Monday that the country's import-safety system has not kept pace with the huge increase in imports and recommended that federal agencies do a better job of coordinating oversight of imports. China on Tuesday signed an agreement to prohibit the use of lead paint on toys exported to the United States.
Members of Congress are pushing for legislation that would punish China for what critics contend are unfair trade practices such as keeping the Chinese currency unfairly low against the dollar, which boosts the competitiveness of Chinese goods.
The Bush administration, led by Treasury Secretary Henry Paulson, has opposed these measures warning that they could lead to a protectionist backlash by the Chinese against U.S. exports, but critics contend Congress must act to protect American jobs.
"As long as China keeps cheating, the U.S. trade deficit with China will keep rising," said Auggie Tantillo, executive director of the American Manufacturing Trade Action Coalition, which represents textile companies that have been hard hit by Chinese imports.
The United States also recorded big deficits in July with Japan, $8 billion; Canada, $5.7 billion; Mexico, $5.6 billion, and the European Union, $13 billion.