/ Source: National Journal
When Senate Minority Leader Mitch McConnell (R) said earlier this year that his party would be fortunate to break even in the 2008 elections -- holding onto 49 seats -- the shock of a party leader sounding anything but optimistic was jarring.
But as events have unfolded over the last eight months, it would be a major accomplishment for Republicans to break even in the Senate. Things are looking uglier, and this is happening to a party that lost virtually every break in the last election.
First there are the open seats. The first retirement was that of GOP Sen. Wayne Allard in Colorado, a state that once tilted Republican but has been edging closer and closer toward Democrats. While former Rep. Bob Schaffer might be able to hold the seat for Republicans in fending off Democratic Rep. Mark Udall, the odds look worse than 50-50.
Right before Labor Day, Republican Sen. John Warner of Virginia announced he was retiring, and the conventional wisdom is that popular former Democratic Gov. Mark Warner will announce his candidacy this week.
Mark Warner would be considered an almost prohibitive favorite over another former governor, Republican Jim Gilmore, who left the job somewhat inauspiciously. A much more competitive race could be waged by GOP Rep. Tom Davis, who could cut into growing Democratic margins in Northern Virginia and the Tidewater region.
A possible GOP fight over whether to have a convention or a primary (a decision the state party makes) and then another fight between Davis and Gilmore would waste time and resources in a state that has become more mid-Atlantic than Southern.
The state GOP will have to choose between their hearts (Gilmore) or their heads (Davis), and the answer is far from clear.
Now comes the most recent GOP retirement -- Nebraska Sen. Chuck Hagel. Jon Bruning, the state's Republican attorney general, entered the race long before Hagel's Monday announcement, and the GOP field is likely to grow.
The $64,000 question is whether former Democratic Sen. Bob Kerrey runs. Kerrey, president of the New School in New York City, conducted a poll several months ago and is said to be undecided but seriously looking at the race. Kerrey would be the best shot for Democrats, but there are other reputable potential contenders, including Omaha Mayor Mike Fahey, waiting in the wings should Kerrey decline to enter the fray.
Putting aside the mess involving GOP Sen. Larry Craig in Idaho, where Republicans can be expected to end up with a reasonably strong appointed incumbent, no other retirements are expected. But at least four incumbents either have or are very likely to have significant opposition and that number could rise to a half-dozen or more.
In New Hampshire, former Democratic Gov. Jeanne Shaheen is expected to challenge GOP Sen. John Sununu, and the state has been turning further from Republicans. In 2006, Democrats won both congressional seats and held the governorship.
Next door in Maine, Democratic Rep. Tom Allen, who holds one of the two House seats in that state, is challenging GOP Sen. Susan Collins, another top Democratic target. While Collins doesn't seem quite as vulnerable as Sununu, it is still a real problem for the GOP.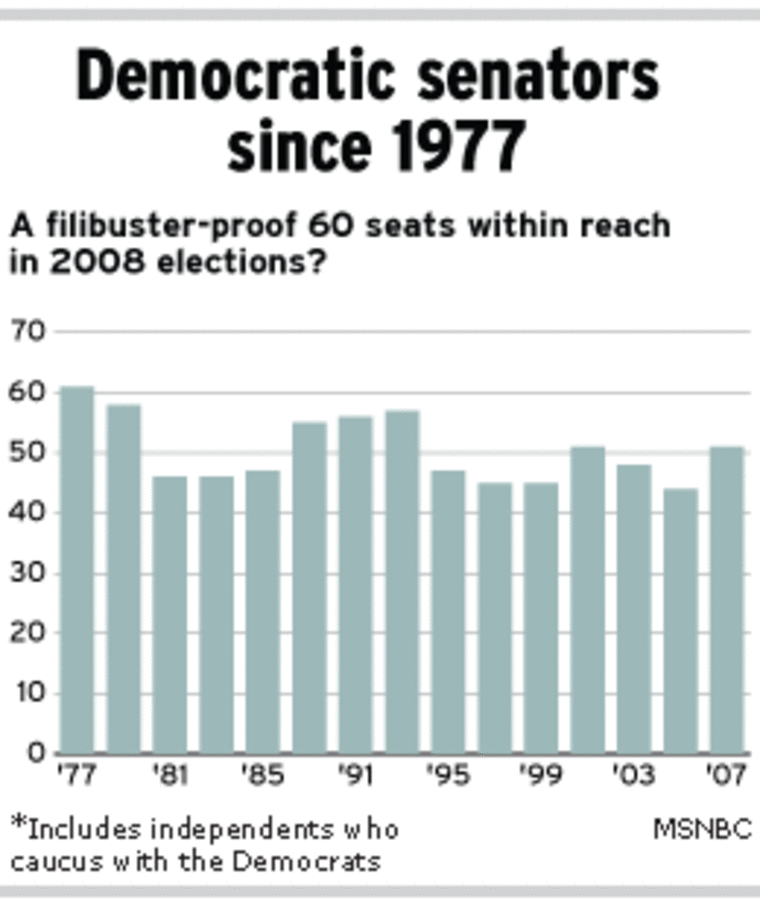 Then there is GOP Sen. Norm Coleman in Minnesota.
While he is widely considered vulnerable, a huge question mark hangs over whether the Democrats will field a strong challenger.
Competing for the Democratic nomination are wealthy trial lawyer Mike Ciresi, who lost the Democratic Senate nomination to former Sen. Mark Dayton in 2000, and former Air America radio host and comedian Al Franken, who has put together a professional effort and is raising significant money but enters the race with high negatives. There is little doubt that a strong Democrat can beat Coleman, but the question is whether the party will nominate one.
Finally there is Oregon GOP Sen. Gordon Smith, who is facing a challenge from state House Speaker Jeff Merkley. Whether this ends up a top- or second-tier race is unclear. Oregon is a problematic state for the GOP, but Smith runs smart and solid campaigns.
Then there are the two question marks: Will legal or political problems trip up Alaska GOP Sen. Ted Stevens or New Mexico GOP Sen. Pete Domenici, who are 84 and 75 years old, respectively?
Stevens is under scrutiny by the FBI as part of an investigation into influence buying in the state. For Domenici, questions have been raised about the propriety of a phone call from him to a U.S. attorney over the status of an investigation of Democratic political figures, and whether Domenici had anything to do with that U.S. attorney being subsequently sacked.
New Mexico looks tougher for Republicans, and now that they are in the minority in the Senate, Domenici doesn't have the clout he wielded just a year ago.
Taken together, that is nine potential problems for Republicans, compared to possibly two for Democrats: Sens. Mary Landrieu in Louisiana and Tim Johnson in South Dakota.
It appears that McConnell was right. The way this is playing out, Republicans would be very lucky to break even in the Senate next year.