/ Source: The Associated Press
As the search for Steve Fossett dragged into its ninth day Tuesday, experts said they doubted the millionaire adventurer could have survived more than a week in the rugged desert since his plane vanished.
While the resourceful aviator could scratch water, food and shelter from the desolate Nevada landscape, experts said his first order of business would have been signaling rescuers.
"There's no news of him signaling for help and that's a problem," said David McMullen of Berkeley, Calif., a leader of the hiking group Desert Survivors, whose members frequently venture into some of the country's harshest terrain. "He's either so injured he can't signal or he's perished."
Fossett's plane was equipped with an emergency beacon, and he was wearing a high-tech watch capable of generating a similar signal. Searchers have received no signal from either device, and haven't spotted a lower-tech distress signal such as a fire or massive X made of rocks or sticks.
Ground crews were trying to track the source of a faint signal from an emergency beacon Tuesday, but authorities don't believe it has anything to do with Fossett's plane.
"It's not his. It is a canned voice," Lyon County Undersheriff Joe Sanford said.
Betting on his 'sheer grit'
Fossett, 63, a former commodities trader who was the first to circle the globe solo in a balloon, was last heard from Sept. 3 after taking off from a private airstrip about 80 miles southeast of Reno. Authorities believe he was carrying only one bottle of water.
Fossett is a skilled survivalist who climbed Mt. Kilimanjaro and the Matterhorn, and who lived through several failed attempts to circle the globe in a balloon.
Maj. Cynthia Ryan of the Nevada Civil Air Patrol said Tuesday she's still betting on his "sheer grit and determination."
"We still find people against all odds," said Ryan, who said she was not concerned by a lack of a signal.
"Maybe he's got a couple of broken arms and can't signal," she said.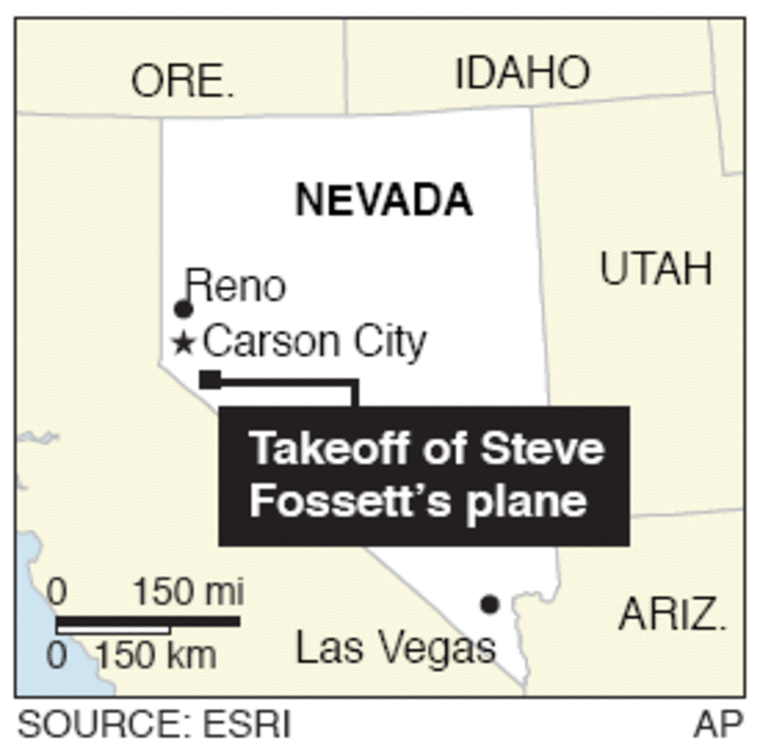 But such injuries would worsen his chances of finding the scarce water sources in the 17,000-square-mile search area — about twice the size of New Jersey.
People can go only two or three days without water in the summer, experts say, and Fossett would be hard-pressed to find water in unfamiliar country, even if he were in good health. Nevada, the driest state in the nation with less than 10 inches of precipitation a year, is coming off an unusually dry winter. Stream flows usually diminish by the late summer even in wet years.
"At this point, you'd be lucky to find him alive," said Lee Bergthold, director of the Palmdale, Calif.-based Center for Wilderness Studies and a former Marine Corps survival instructor. "No food, that's not a problem. No water, that's a problem. That's a harsh desert out there."
Temperatures in the search area have been in the 80s and 90s, with lows in the 50s and 60s.
Past survival stories
The region is home to some of the most harrowing survival stories in the West.
The most infamous, the covered-wagon Donner Party, holed up atop the Sierra Nevada during the winter of 1846-47 within 100 miles of what is now the Flying M Ranch airstrip, where Fossett took off on Labor Day.
Farther to the north near the Oregon line, a California couple, James and Jennifer Stolpa, spent eight days snowbound with their infant son just after Christmas 1992. James Stolpa trudged 22 hours through waist-high drifts to find help.
Fossett wouldn't have faced the bitter cold and snow, but he also couldn't melt snow and ice for water.
The Stolpas also had some food they were able to stretch for days. The Donner Party resorted to cannibalism toward the end of their ordeal.
'Very, very remote'
The terrain in the vast and remote search area along the California-Nevada line changes quickly from forested mountainsides to rocky canyons and dry lake beds.
One longtime backcountry hiker said the area is "very, very remote" and he doubts Fossett could still be alive.
"As kind of an adventure guy myself, I hope the other way. But I would say it would be really, really tough," said Kurt Kuznicki of Reno, a member of the conservation group Friends of Nevada Wilderness.
"If a plane didn't land on a road, I don't see how it could have held together ... You could get hurt and never be seen again."
Experts fault Fossett on no itinerary
Shelter from the sun would be just as important as water to Fossett had he survived the crash, added McMullen of the Desert Survivors.
McMullen was stranded with a severely sprained ankle for three nights in Death Valley National Park in September 2001. He hunkered down in the shade of a fig tree before he was rescued by a military helicopter, with the help of a detailed itinerary he had left his wife.
"You'll lose water faster than you can absorb it in heat, and that's why a shelter is so important," McMullen said.
He and other survival experts faulted Fossett for not filing a flight plan, which might have allowed searchers to focus on a smaller area.
"The itinerary I filed for my 2001 hike saved my life," McMullen said. "They knew where to look for me."