/ Source: NBC News and news services
Six white suspects accused of torturing a young black woman for days in West Virginia will not face federal hate crime charges, Justice Department officials told NBC News on Wednesday.
At one point, an assailant cut the woman's ankle with a knife and used the N-word in telling her she was victimized because she is black, according to the criminal complaints.
The Justice Department said it will defer to West Virginia in prosecuting the six suspects.
Logan County Prosecutor Brian Abraham said his office would pursue other charges first because they carry stiffer penalties. West Virginia's hate crime law carries a sentence of up to 10 years.
Also Wednesday, Abraham said the woman, who allegedly was sexually assaulted and forced to eat rat droppings, was not a random target.
One of the six suspects arrested in the case, Bobby Brewster, had a previous relationship with the victim, Abraham said. He said Brewster had been charged in July with domestic battery and assault after a domestic dispute involving the same woman.
"She obviously had some sort of social relationship," Abraham said. "That is based on the fact that she was present at his residence on a prior date."
If true, that evidence would undercut the hate crime law, which applies to crimes motivated by racial hatred and not by non-race-related conflicts.
Grisly details
Megan Williams, 20, was found beaten and bruised at Brewster's mother's home in rural Big Creek on Saturday.
MSNBC.com generally does not identify suspected victims of sexual assault, but Williams and her mother agreed to release her name. Carmen Williams, Megan William's mother, said she wanted people to know what her daughter had endured.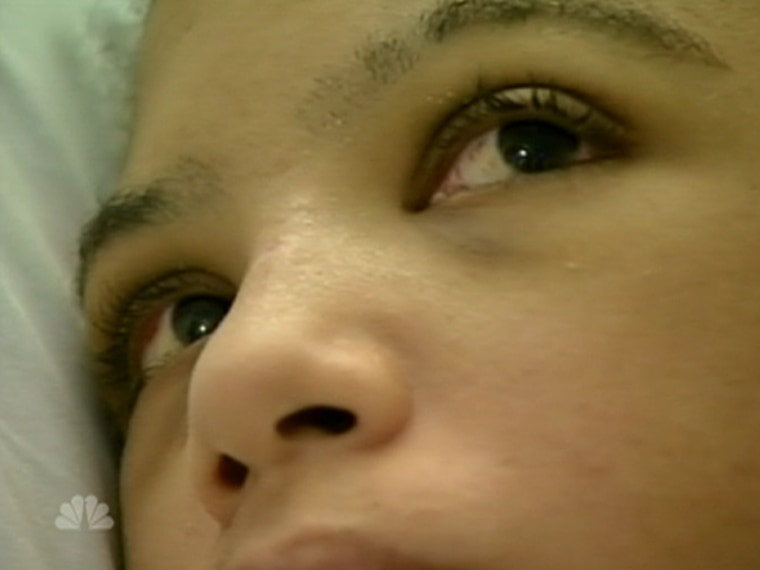 According to the criminal complaints, Williams' captors, all of them white, choked her with a cable cord and stabbed her in the leg while calling her a racial slur, poured hot water over her, made her drink from a toilet and made her eat dog feces and rat droppings.
She was also beaten and sexually assaulted during a span of about a week, according to the complaints.
It wasn't until an anonymous tip led Logan County Sheriff's deputies to the property on Saturday that her ordeal ended. She limped toward the deputies, her arms outstretched as she cried, "Help me!"
"I didn't know there were people like that out here," Carmen Williams said Tuesday from her daughter's hospital room.
Previous arrest records
Police tape now surrounds the entrances to the beige-and-brown mobile home. An extension cord runs from the home to a cramped shed where authorities believe Megan Williams was held with a portable stereo, a locker and a power saw.
The suspects in the case have previous arrest records going back several years, according to records from Logan County Magistrate Court, and Abraham said he had "some familiarity with all those individuals."
Since 1991, police have filed 108 criminal charges against the six.
Brewster's mother, Frankie Brewster, 49, faced the most serious charges among them. She was charged in 1994 with first-degree murder, but pleaded guilty to lesser charges of manslaughter and wanton endangerment. She was released from prison in 2000 after serving five years in the death of 84-year-old Polly T. Ferrell, court records show.
Six in custody
In Williams' case, Frankie Brewster is charged with kidnapping, sexual assault, malicious wounding and giving false information during a felony investigation.
Bobby Brewster, 24, also of Big Creek, is charged with kidnapping, sexual assault, malicious wounding and assault during the commission of a felony.
Danny J. Combs, 20, of Harts, is charged with sexual assault and malicious wounding.
Karen Burton, 46, of Chapmanville was charged with malicious wounding, battery and assault during the commission of a felony.
Burton's daughter, Alisha Burton, 23, and George A. Messer, 27, both of Chapmanville, are charged with assault during the commission of a felony and battery. She previously faced charges of assault during the commission of a felony and battery; in May, she was accused of striking Messer with a shovel and smashing the window of a woman's car. The charges are pending.
All six remained in custody Wednesday in lieu of $100,000 bail each.
Public Defender Dwyane Adkins, appointed to represent Bobby Brewster, declined to comment on the case. The other defendants' court-appointed lawyers were either in hearings or did not immediately return telephone calls Wednesday.
The home at Big Creek is quiet now. Newborn pups sleep in the entryway to the small shed, their mother protectively barking at approaching strangers.
Megan Williams, her right arm in a cast, may be well enough to leave the hospital within a few days, her mother said.
"I just want my daughter to be well and recover," Carmen Williams said. "I know the Lord can do anything."