/ Source: Forbes Traveler.com
Remember when lounging poolside at the hotel meant parking yourself on a flimsy plastic lounge chair (maybe even staking claim to two)? Or if there was a cabana, it was little more than a shack to store your stuff.
That was so last century. Welcome to the world of high-tech, super deluxe, seriously swanky hotel cabanas. Many of them are now designed to be serious extensions of your guest room and then some. And they often feature the same creature comforts: Wi-Fi, plasma TVs, DVDs, plush living room furnishings, stocked refrigerators, spa treatments, and a dedicated butler to tend to your every whim.
"Sometimes when you're staying at a hotel, the moment you leave your room you feel like you are disconnected from the whole experience and on your own," explains Thom Filicia. "The cabana adds another layer to the luxurious hotel experience and makes you feel part of the club." Host of the Style Network's "Dress My Nest" and the "Queer Eye" design guru, Filicia helped to redesign the W Los Angeles (which included a sleek and sophisticated makeover of the cabana and pool areas).
Indeed, hoteliers understand that patrons long for luxury on a more or less continuous loop and they're willing to comply, especially poolside. "Guests desire that same level of comfort and convenience throughout their entire day," says Jeffrey Beers of Jeffrey Beers International, designer of the Cove Atlantis cabanas. Each one has two private patios (one with an ocean view, the other with a pool view), a daybed, glass tiled bathroom and outdoor showers with teak screens. "The layout of each cabana includes three separate but connected areas," advises Beers. "Guests can lunch on the patio overlooking the pool, lounge on the oversized sofa, or sunbathe on the private beachside deck area with a beautiful teak wood trellis. If you can't choose your favorite [locale], three sides contain operable teak doors so the entire cabana opens to the view."
In fact, at the Breakers in Palm Beach the cabanas are so evolved, they are called bungalows and housed in independent stone and shell structures. "Ours are true buildings with showers, full baths, plasma screen TVs, outside terraces, DVD players, robes, stocked refrigerators and more, so it seemed like the word 'cabanas' didn't do it justice," says Nick Velardo, Director of Food and Beverage and Club Operations at the Breakers. "People usually like to spend an entire day at the ocean or pool with their families and having your own personal hideaway is important."
At some hotels, cabanas are designed to attract night owls as the fun continues way past bedtime. "Pools are the new nightclubs in Vegas and every club entity is trying to get into the pool aspect," explains Michael Fuller, Corporate Director of Marketing of Michael Morton's Las Vegas based N9NE Group, which co-owns and operates the Palms Pool & Bungalows. "The cabanas have bottle service. It's basically a three-acre adult playground packed with beautiful people." In fact, cabana table sales often mirror nightclub sales.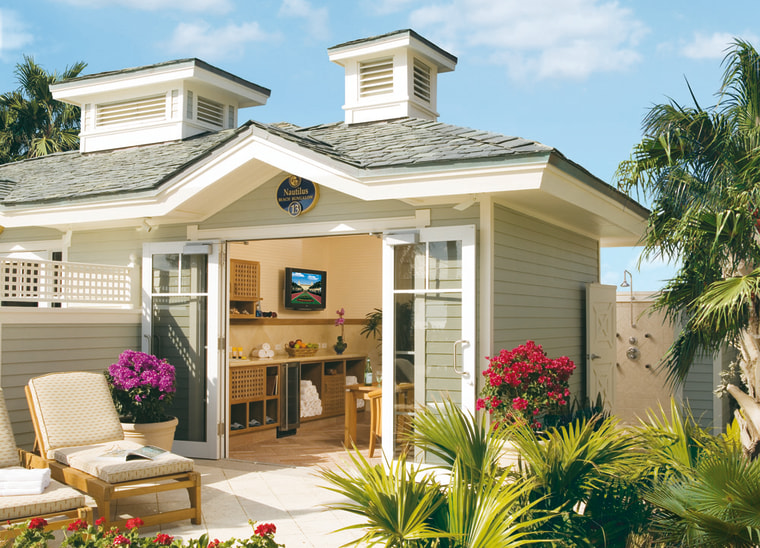 Cabanas have become so hip, they help define the perfect party vibe. Just ask the forces behindW Hotels, who joined with the Pink Elephant (the hot New York club) to create W Backyard, a temporary party venue. Set in the Hamptons, the poolside enclave is equipped with five cabanas (complete with daybeds, iPod players and W Munchie Boxes). Guests can sip Moet & Chandon Champagne or play in the adult sand box, hang on the tire swing, or master Slip 'n Slide. Accessible by invitation only, it's open every summer.
And don't miss Ditch Fridays at the Palms. "It's a poolside party with 2,500 gorgeous people, all day barbeque, DJs playing a mix of mellow, reggae, hip hop, and other sounds," says Fuller.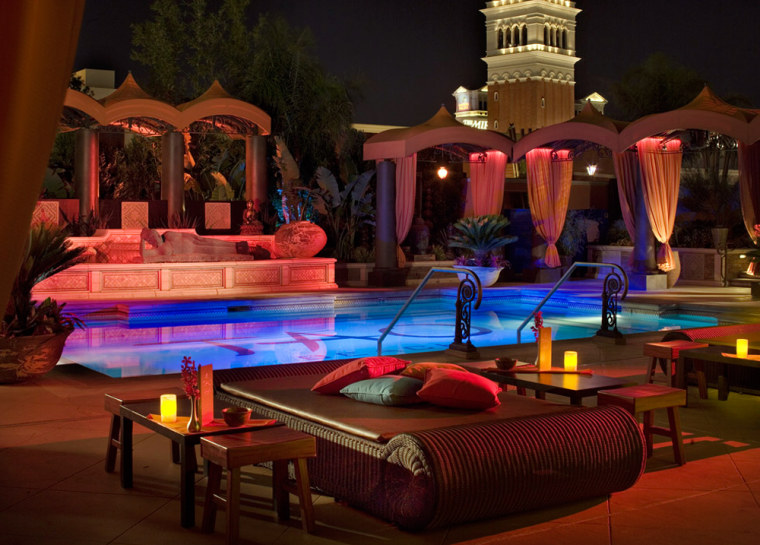 While some cabanas can get pretty expensive, for many the cachet factor clearly outweighs the cost (at the Palms' Midsummer Night's Dream party where the Playboy Mansion was replicated in minute detail, some cabanas went for $5000). "Sometimes cabanas can cost as much as a guestroom," says Albie Colotto, Director of Design for Friedmutter Group and a lead designer for the cool Red Rock Resort and Green Valley Ranch in Las Vegas. "But it's your suite at the pool where you're seen, almost like being a high roller." At Red Rock Resort, big spenders can rent three cabanas which can be combined and comfortably fit 20 (among other treats they get Red Bull, a fruit basket, an assortment of pastries and bottled water.)
And a cabana can be the ultimate flirty accessory. When noted designer Thomas Schoos created TAO Beach at the Venetian in Las Vegas this past May, the alluring orange and red cabanas resembling Bedouin tents unveiled something truly enticing for him. "It doesn't matter who you are, a cabana is a wonderful frame which allows you to put yourself in a picture with a bit of sheer covering you," explains Schoos. "And everyone is a voyeur — peeking and ogling, seeing how much money you've spent. It's like Scheherazade behind the veil or a woman in a negligee. It's very sexy. You see … but you don't."