/ Source: The Associated Press
The small air force combing the Nevada wilderness for Steve Fossett has spotted a half-dozen uncharted crash sites that may bring some solace to the families of fliers who took off into the desert sky decades ago, never to be heard from again.
William Ogle hopes some of the newly discovered wreckage will be from the plane his father was flying when he vanished on a flight from Oakland, Calif., to Reno. Ogle was just 5 at the time.
"I knew he had taken off in a plane and never came back," said Ogle, now a professor of biomedical engineering at the University of Florida. "I can remember flying in his plane. He let me hold the controls, and I remember looking out the window."
Like Fossett, Charles "Chazzie" Ogle did not file a flight plan for the business trip, so searchers didn't know where to look in the vastness that was the rural West in 1964, Ogle said.
"They did what they could at the time, and they could have done more, but they had no idea he was heading toward Reno," Ogle said. "I used to have a large map of California, and I would look at places and the routes he would fly."
Airplane graveyard
Leaders of the Fossett search operation say they have not had time to investigate the new sites in detail because their priority is finding the famous adventurer, not recovering old aircraft.
"When all is said and done, they'll send ground crews in to thoroughly investigate what is left," Civil Air Patrol Maj. Cynthia Ryan said of the old crashes.
Eventually, some of the old crashes should be linked to long-missing aviators, Ryan said. Even small pieces of wreckage can contain a serial number that can be tracked back to the manufacturer and the owner of the plane.
Nevada's forbidding backcountry is a graveyard for small airplanes and their pilots. Ryan figures more than 100 planes have disappeared in the past 50 years in the state's mountain ranges, which are carved with steep ravines and covered with sagebrush and pinon pine trees.
More than a dozen aircraft were scanning the terrain Wednesday for any sign of Fossett, who took off Sept. 3 from a private airstrip about 80 miles southeast of Reno, along with thousands of volunteers around the world who are poring over online satellite imagery.
Rescue efforts stretch into 10th day
Searchers have spent 10 fruitless days scanning for signs of the single-engine Bellanca Citabria Super Decathlon that Fossett took up to look for a dry lake bed suitable for a planned attempt to set a land speed record.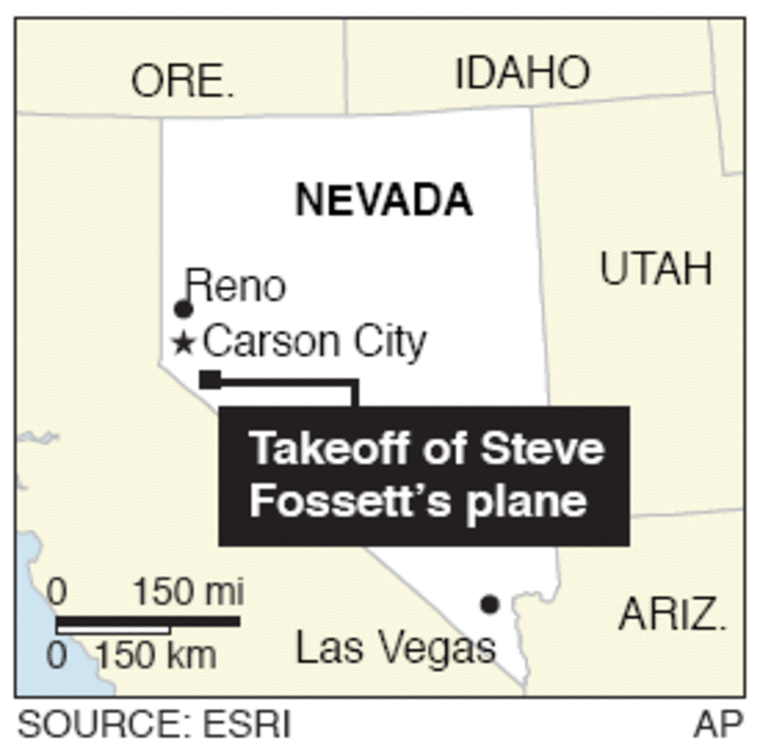 Fossett survived a nearly 30,000-foot plunge in a crippled balloon, a dangerous swim through the frigid English Channel and hours stranded in shark-infested seas. But 10 days after he took off on a routine flight and never returned, doubts were growing that he could still be alive.
The search covers 17,000 square miles — an area twice the size of New Jersey — stretching roughly from the Sierra Nevada ridge west of the Nevada-California line nearly 100 miles to the east. The region being searched extends as far north as Reno and as far south as Bishop, Calif.
Since Fossett's plane disappeared on Labor Day, authorities have received nearly two dozen calls from people across the country saying they possibly had loved ones on one of the planes discovered this week.
Difficult to track aircraft?
Most are just people looking for missing relatives with no known connection to a plane in Nevada. But one woman in Idaho said her grandparents were in a plane crash in Nevada in the early 1960s. The body of her grandmother, who possibly wandered away from the wreck, was found, but not her grandfather or the plane, Lyon County Undersheriff Joe Sanford said.
The system of tracking missing aircraft is a makeshift affair at best.
The Florida-based Air Force Rescue Coordination Center, which is helping coordinate the Fossett search, maintains a registry of known sites of plane wrecks. It has 136 entries for Nevada, said Maj. Cliff Hicks, director of operations.
The registry of known wrecks is designed to help searchers who come across old crash sites while looking for newly downed aviators.
The nation's aviation regulatory agencies, the Federal Aviation Administration and the National Transportation Safety Board, investigate mostly only crash sites they can reach safely.
Dozens of planes have vanished
An NTSB database lists dozens of aircraft that have vanished across the country since 1982. Most were small private planes flying over deep water or rugged, remote country. Many of the pilots did not file flight plans.
Records are especially fuzzy on planes that disappeared many years ago, when both planes and search technology were more primitive. For example, there is no record in Hicks' files of Chazzie Ogle's ill-fated final flight.
Ogle hopes Fossett's plane is found quickly. He said hearing bad news would be better than hearing nothing.
"I don't want to see his family go through this," Ogle said. "It's better to know what happened. You have that uncertainty hanging over your life."