With the Olympic Games only 11 months away, Beijing officials are busily crossing off items on their to-do lists as they await the onslaught of media, tourists and sports fans.
Refurbishing the airport? Check.
Beefing up security? Check.
Opening up a Hooters? Check.
That's right. On Wednesday, the first Hooters restaurant officially opened its doors in the capital city. The Atlanta-based restaurant chain, known for its spicy Buffalo wings and scantily clad servers, has three other restaurants in China.
According to one report, the grand opening was marked by loud rock music, plenty of cold beer and a score of young Chinese "Hooters Girls" doing the hokey-pokey in the clingy low-cut tank tops and high-cut shorts.
There was no report if the menu included Buffalo egg rolls.
Lamborghini's $1.4 million ride
Back in the old days, owning a Lamborghini put you in an elite class of automobile owners. It was the ultimate status symbol in Hollywood, Saint-Tropez and other cities where status meant everything. No more.
If you want to truly belong to that privileged set, the price has gone up. Lamborghini, the Italian maker of super luxury sports cars, has just unveiled the Reventon – with a price tag of $1.4 million. And that's before taxes, dealer prep and destination charges. And undercoating.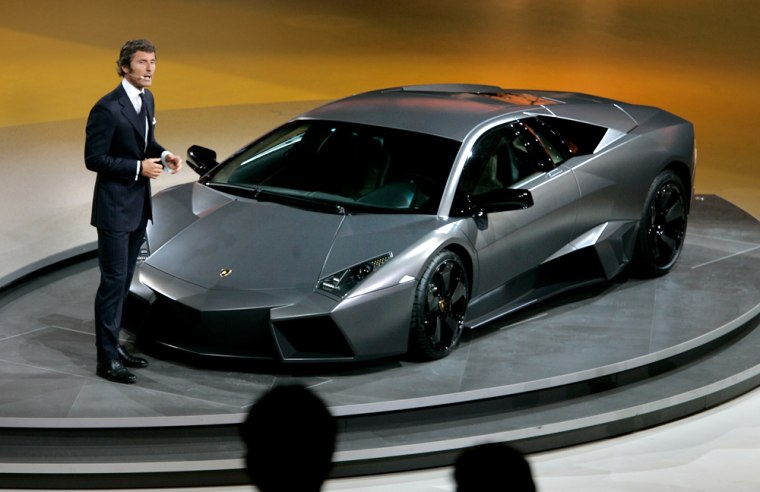 It is the most expensive car ever built — and the company has already sold the 20 it plans to build.
"As soon as the word got out, we sold out in four days," Lamborghini executive Stephan Winkelmann told Reuters at this week's international auto show in Frankfurt. Winkelmann added that they could have easily sold another 20.
Why the name Reventon? That's the name of the bull that killed matador Felix Guzman in 1943. No doubt it will kill your bank account, too.
Scream for ice cream!
Have you ever had one of those days? The boss embarrasses you in a conference call, you forget your spouse's birthday and you get a speeding ticket on your way home. What you need is some ice cream.
Inventor Demitrios Kargotis, with partial funding from London's Royal College of the Arts, has developed an ice cream dispenser that doles out soft-serve goodness — with a catch. The more stressed you are, the more ice cream you receive.
The customer speaks into a voice-activated stress analyzer. Based on the perceived anxiety level, the machine dispenses the treat.
There is one catch: What if you're really, really stressed and you still get a small serving? Wouldn't that just make you even angrier?