/ Source: The Associated Press
Someone is going to have to pay all the extra costs of making toys safer.
For now, toy makers and retailers are sharing the burden, but that's only expected to last until the holiday season. Next year, American consumers will be facing price increases of up to 10 percent to pay for the industry's increased vigilance after more than 3 million lead-tainted toys from China were recalled worldwide since June.
That means a $6.99 Barbie doll could go up to about $7.70, or a $70 child-friendly digital camera could retail next year for almost $80.
A 10 percent average increase would be the biggest one-time price hike in toys in several years, analysts say. And it's more than twice the government's measure of consumer inflation of 4.7 percent during the first seven months of this year.
Consumers could also see higher prices on other Chinese imports like fish and children's apparel, but the big price gains in toys could be more jolting.
Shoppers have become accustomed to cheap playthings from China because Wal-Mart Stores Inc. and other discounters have waged cost-cutting campaigns. Critics say real safeguards were sacrificed to keep prices low.
Analysts said the price increases are unlikely to hit until at least January because manufacturers and sellers already ordered the toys for Christmas. That's no consolation for parents, though.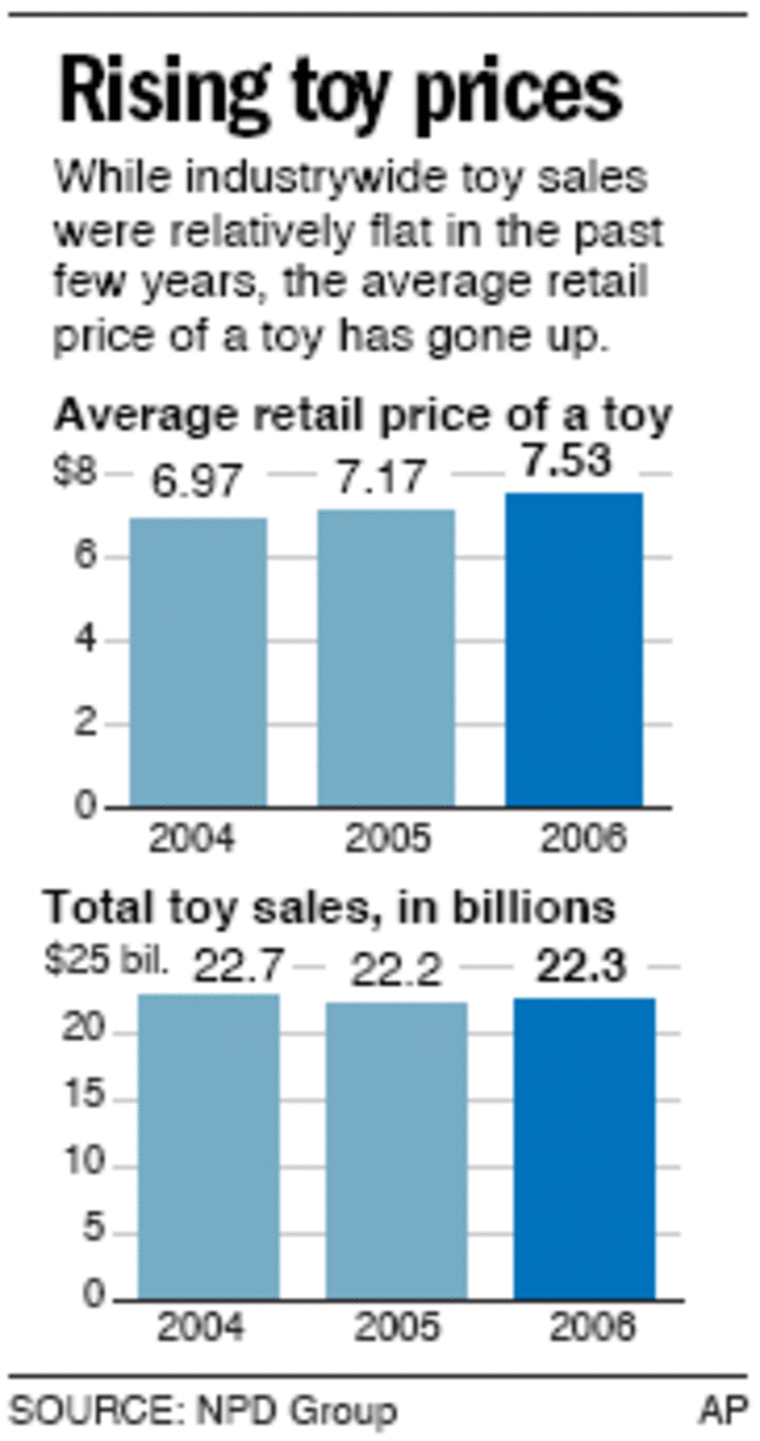 "I will pay more (for toys) because I know it will ensure safety," said Lisa Sallese, a Wilton, Conn., mother of a 7-month-old boy and a 2-year-old girl. "But it stinks. It should have been safe to begin with."
Most of the rising costs come from emergency third-party testing in the U.S. by both makers and sellers as they aim to root out any unsafe products, analysts say.
Mattel Inc.'s three high profile recalls of lead painted toys since the beginning of August have pushed product testing to a frenzied pace. Companies are removing playthings from shelves and sending them to independent laboratories to be examined. The price of labor, overtime and testing will drive up costs in the short term, analysts said, but increased regulation will likely keep them higher.
The U.S. Toy Industry Association supports a federal requirement to make safety testing and inspection mandatory and is working with the American National Standards Institute to develop industrywide safety procedures. But during Wednesday's Congressional hearing on toy safety, senators urged even more stringent measures including stepping up fines for selling or failing to report dangerous items.
This year, "both retailers and manufacturers will share the costs," said Eric Johnson, professor of operations management at Dartmouth's Tuck School of Business. "But in the longer term, costs will have to go somewhere. And consumers will see it."
Johnson estimated toy prices will rise by 10 percent next year. He said most vulnerable are mass-market toys, including die-cast vehicles, which run the risk of containing lead.
Anita Frazier, toy analyst at market research company NPD Group Inc., added that higher prices will stick around because some toy makers will shift a portion of their production from China to the U.S. or Europe, where labor is more expensive.
This week, Toys "R" Us Inc., the nation's second-largest toy seller behind Wal-Mart, said it would be using an independent laboratory to test every branded product. The retailer will be absorbing the extra costs for now, but company spokeswoman Kathleen Waugh said she believes "pricing could increase" next year.
The Walt Disney Co. — hit by Mattel's recall of 436,000 cars based on "Sarge," a character in the Disney-Pixar movie "Cars," that were believed to contain lead paint — will independently test toys featuring its characters. The tests will begin in the next two weeks and will include all categories of products from about 2,000 licensees, including Mattel, which is the largest maker of Disney-related toys.
Disney consumer products spokesman Gary Foster said Disney will absorb the additional costs, which he estimated to be about several million dollars this year. It's unclear whether future costs will be shared by licensees, he said.
Price wars led by Wal-Mart have put financial pressure on toy manufacturers, though they have been able to push through price increases in recent years as they face higher resin and other related costs.
The average toy price remains relatively cheap because the bulk of toys sold involve $1 items such as card games and miniature cars — impulse purchases that can be picked up in the local supermarket. According to NPD, which tracks prices of specific toys and categories, the average selling price of a toy increased to $7.53 in 2006, compared with $7.17 in 2005 and $6.97 in 2004.
Chris Byrne, a New York-based toy consultant, said shoppers can still expect price wars this holiday season, led by Wal-Mart.
Some shoppers say they are postponing toy buying until they are comfortable that the toys are safe.
"I am open to price increases as long as they are going to do their job," said Jenny McMorow of Buffalo, N.Y. "We've been spoiled enough by the low prices."
For her twin sons' birthday next month, McMorow will be avoiding traditional toys and looking at playswings or a sand box. "Nothing they can chew on or swallow," she said.