/ Source: msnbc.com contributor
Peruse the National Football League's financial playbook and you will discover a game plan laced with more slick twists and sweet slants than any Super Bowl strategy.
In fact, it should be required reading for all CEOs.
Page One: Go deep. From the minds of master innovators came on-field tweaks that turned a once-stodgy sport into a made-for-TV bonanza, and fresh boardroom ideas that sparked a raging revenue engine.
Page Two: Don't fumble the basics. By staying true to some thick-armed American values, the NFL's architects built a base of rabid consumers who come to worship each week with wallets wide open.
Page Three: Timing is everything. The league not only came of age alongside television in the 1960s and '70s, it blossomed in an era when sports emerged as the new American religion.
Over the past half century — as pro baseball, basketball and hockey took turns sputtering — the NFL buffed its blue-collar budget into a champagne economy by soothing labor discord, spreading the wealth to all its franchises and ensuring that midmarket teams can win on any given Sunday, or in any given season.
"What you have," said Joe Theismann, a retired Washington Redskins quarterback and former ESPN analyst, "is the perfect business model."
The financial picture is prettier than an 80-yard spiral. Five of the 32 NFL franchises are valued at more than $1 billion dollars and another 17 NFL teams are on the cusp of joining that party, according to a Forbes magazine appraisal. Only three other sports clubs on the planet are worth more than $1 billion: baseball's New York Yankees and soccer's Manchester United and Real Madrid.

In 2006, league revenue topped $5.8 billion, reports Plunkett Research, Ltd. That same season, the NFL signed the richest series of TV rights deals in history, worth more than $23.9 billion through 2013. Meanwhile, game attendance broke records in 2006 when stadiums were filled to 90 percent of capacity. In our living rooms, CBS, NBC and Fox pulled NFL TV ratings that eclipsed average primetime shows by a whopping 66 percent. Between Sept. 9, 2006 and Jan. 21, 2007, 12 of the 20 top-rated individual programs were NFL games.
(MSNBC.com is a joint venture of Microsoft and NBC News.)
And then there's the Super Bowl, a national couchfest that Forbes estimates is worth $379 million, making it the most lucrative sporting event brand in the world.
But the real story of NFL riches opens seven years before the first Super Bowl, back in 1960 when then-commissioner Pete Rozelle had a chat with Wellington Mara, then the owner of the New York Giants. Rozelle believed the league's future success was rooted in revenue sharing — the idea that NFL broadcast profits should be distributed among all teams instead of being horded by a few winning franchises that got all the network attention.
"The Giants were the dominant team in football broadcasting then, and Pete Rozelle had to get them to make an enormous sacrifice," said Marc Ganis, who runs SportsCorp., a Chicago-based sports consulting firm. "To Wellington Mara's eternal credit, he did exactly that.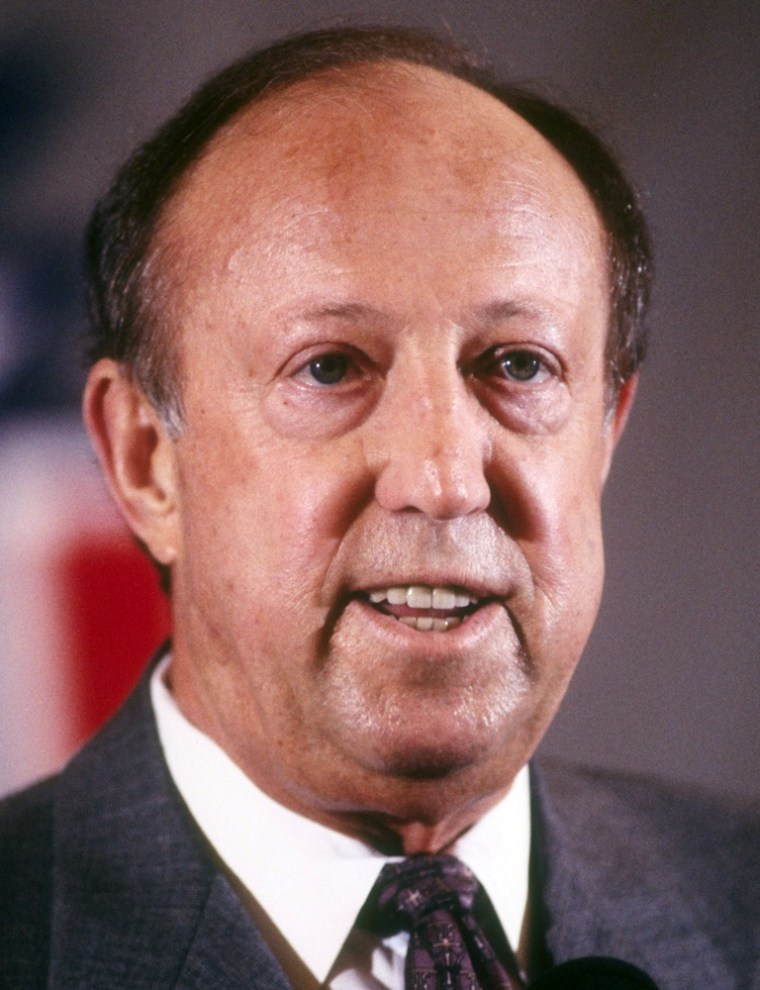 "Imagine if in the 1960s the commissioner of baseball had the same vision and had approached the New York Yankees, asking for the same cooperation," Ganis said. "Imagine how different baseball would be today."
Revenue sharing remains a backbone of NFL finances with about 75 percent of the broadcast money going to the 32 clubs. Under that system — and, later, with the help of a strict salary cap — teams and their fans could realistically dream of winning any game or reaching the Super Bowl in any season. Rozelle's long-range hope of real parity was solidified by changes in scheduling and in the college draft order — adjustments that gave slumping teams a chance at quick redemption.
Contrast those moves to Major League Baseball, where small-market Pittsburgh hasn't enjoyed a winning season since 1992. Each spring, before the first pitch, Pirates fans know their club has no crack at success given baseball's economics. Like other small-city teams, Pittsburgh can't spend enough to attract top talent.
In the NFL, Rozelle's socialistic plan was critical. But television made it matter. At first, the link between the small screen and the big game was merely happy timing, the sharing of a mutual growth spurt.
"They were siblings that benefited each other," Ganis said. "The NFL understood this before any (sports) entity out there."
By 1970, however, the NFL was fluffing its image, making an overt grab for more face time. Rozelle offered up "Monday Night Football." With colorful booth personalities like Howard Cosell and Don Meredith, the ABC broadcasts became bigger than the games.
"MNF" solidified the concept that pro football games were a vital weekly happening. And this limited exposure — compared to nightly action in the NBA, NHL and Major League Baseball — infused the action with a must-see feel, bumping up the value and the ad rates.
"In almost every other sport," Theismann said, "there are so many more games, so people say, 'I don't need to go to this basketball game tonight,' or 'I don't need to watch this baseball game.' If you miss an NFL game, you miss a lot."
Invading prime time swelled the national NFL audience and cultivated fresh fans.
"It brought a whole new person into the watching of football, and that was women," said Gil Brandt, vice president of player personnel for the Dallas Cowboys from 1960 to 1989. "Look back at pictures of NFL game crowds in 1960 and '61. There are very few women in the stands. Now, it's one-third to almost half."
Indeed, the Cowboys — telegenic, tough and cool — sat at the epicenter of this football-TV renaissance. Their shotgun offense was football poetry. Their sidelines were graced by the Dallas Cowboys cheerleaders. Their frequent appearances on "Monday Night Football" earned them the title "America's Team."
With fans spread across the country, the Cowboys epitomized the bond between a franchise and its loyal boosters. They were the first team, Brandt said, to offer mail-order merchandizing, selling hats and wristbands.
"No matter how much of a business entity it became," Ganis said, "the NFL never lost site of the tremendous passion of its fans."
In the modern game, fans still to connect with the NFL's brute action and to some of the sport's well-crafted subtleties, Ganis said. Generations of Americans were raised during the Cold War, enjoying the instant gratification of the car culture and the TV dinner. At its heart, football is about physically seizing your opponent's land while protecting your own turf — all while waiting for the sudden explosion of a 70-yard bomb. This morality play mirrors our American childhood. It also sells.
And it explains, Ganis said, the mass attraction to football at home and the fact that the game hasn't resonated as deeply beyond our borders.
"It goes back to a significant degree to what drives the passions of American sports fans," Ganis said. "We are a culture that grew up on a certain amount of conflict. We are a nation raised with an interest in physical confrontation, man against man."
What's more, the NFL is stocked almost exclusively with U.S.-born players, while the rosters in baseball, basketball and hockey are gaining a global flavor. That adds to the almost patriotic fervor that many fans hold for pro football, Theismann said.
"Football is totally American," Theismann said. "It's all about Americana."
The NFL built on those heartland values by emphasizing team over individual. On the field, the league cracked down on the players' "look at me" celebrations, penalized them for removing their helmets. In the front office, they created a brand around the teams as compared to the NBA, which runs on an economy fueled by superstars: Michael Jordan, Magic Johnson, LeBron James, Kobe Bryant and Shaquille O'Neal, to name several.
"In pro football, players come and go. They get injured, traded, become free agents," Ganis said. "So the NFL very intelligently focused its brand on team logos."
That high rate of turnover — the average NFL career lasts about four years — also influenced labor relations. With NFL players here and gone so quickly, the union is weaker than those in other sports. That, in turn, helped hatched a healthy partnership between previous commissioner Paul Tagliabue and the players, Ganis said.
"Tagliabue found a way to create leadership and work with the union in a way that was mutually beneficial instead of a zero-sum game," Ganis said.
The last work stoppage in the NFL came in 1987. In that period, however, the league staged games by bringing in replacement players.
A new collective bargaining deal was signed in 2006. With so many billions of dollars up for grabs, it almost defies logic that NFL labor talks have been defined not by greed and ego, but by negotiation and cooperation.
"Ownership understands the value of the player. But the players, having been through strikes before, know that ownership really doesn't need them," Theismann said. "Ownership could possibly rebuild the league reputation and the star power.
"Labor and management understand the value of working together as opposed to being polar opposites," Theismann said. "They see that maybe at some point you have to give up a little more, but the paramount thing is the success of the brand."