/ Source: The Associated Press
Former Foreign Minister Taro Aso declared his candidacy Friday to replace Japan's hospitalized prime minister, running as the conservative choice against dovish former Cabinet secretary Yasuo Fukuda.
Meanwhile, the ruling party came under pressure to call snap parliamentary elections so that the public could play a role in choosing the next premier.
Aso said he would run in the ruling Liberal Democratic Party's presidential race on Sept. 23. The winner is assured election as prime minister because of the LDP's majority in the lower house of parliament.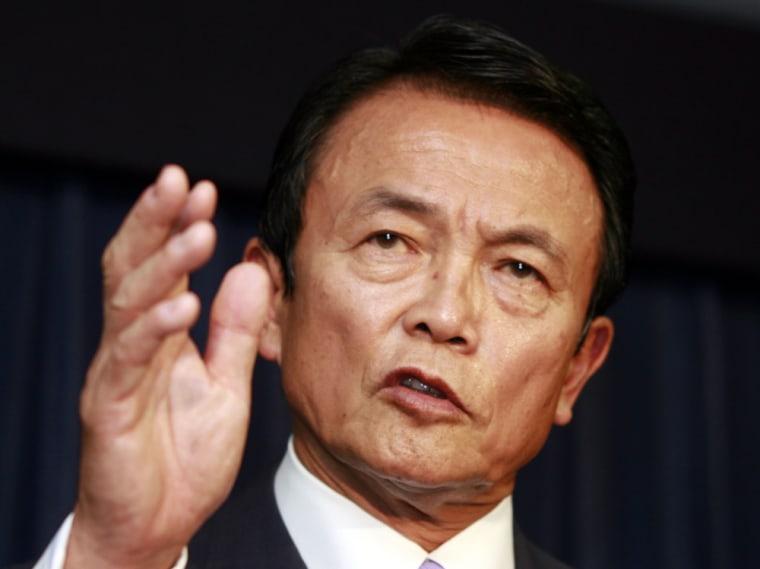 "We want to announce our policies to the people of Japan and the members of the party," Aso told supporters. "We want to have an open election."
Fukuda's candidacy
Fukuda, who served as chief Cabinet secretary under Abe's predecessor, also announced his candidacy Friday. He is a staunch supporter of closer ties with China, and opposes prime ministerial visits to a Tokyo war shrine accused of militarism.
"This is an emergency situation, so I will do what I must do," Fukuda, 71, told supporters at a Tokyo hotel. "I have a strong sense that I should do this for the country to move Japanese politics forward."
Fukuda, the son of a former prime minister, garnered the early support of Foreign Minister Nobutaka Machimura, and media reported popular former Prime Minister Junichiro Koizumi would back him. Finance Minister Fukushiro Nukaga announced Friday he would set aside his own ambitions to be prime minister and support Fukuda.
"I am of the same opinion as Fukuda about the importance of relations with Asia, and after talking with him, I decided to throw my support behind him," Nukaga said.
Abrupt resignations
Abe, 52, abruptly announced his resignation on Wednesday amid a parliamentary battle over his effort to extend the country's naval mission in the Indian Ocean. Japan is refueling ships there in support of U.S.-led forces in Afghanistan.
On Thursday he checked into a hospital for treatment for psychological stress and exhaustion, and was expected to remain for several days. However, Chief Cabinet Secretary Kaoru Yosano said Abe will hold power until a successor takes charge.
"Although Mr. Abe has expressed his intention to resign, the current Cabinet is responsible for affairs until the new prime minister is inaugurated," Yosano said. "So this means Mr. Abe remains in office until a new prime minister is chosen."
Yosano also attempted to calm nerves over the political uncertainty in Japan, saying administrative reforms initiated in recent years will continue under Abe's successor.
"Whomever is chosen, Japan's reform direction will be maintained in order to maintain prosperity and affluence in the future," he said. Still, he added, a successor might "fine-tune" those policies.
Push for lower house election
The ruling party, meanwhile, was facing greater pressure to call snap elections for the powerful lower house of parliament. The LDP lost control of the upper house in July elections to the resurgent opposition, led by the Democratic Party of Japan.
Democratic Party of Japan leader Yukio Hatoyama said it was fruitless at this point to allow the LDP to choose the next premier on its own.
"The prime minister will not have the mandate of the people," Hatoyama told reporters. "We should hold elections as soon as possible to judge the will of the public."
Fifty percent of respondents to an Asahi newspaper poll also favored a lower house election — up 11 percentage points from a previous poll at the end of July. The poll of 1,029 people said 41 percent supported the opposition, and 33 percent favored the LDP.
A similar poll taken by the Mainichi newspaper showed 59 percent of 773 respondents favoring a lower house election, up from 53 percent in a late August poll.
Neither poll provided a margin of error.
Scandals and gaffes
Abe's spectacular meltdown only a year after taking office was expected to have deep reverberations in upcoming parliamentary debates, and was likely to severely hinder the ruling party's ability to pass an extension of the Afghan mission.
Abe's support ratings in public opinion polls had sagged to about 30 percent, and he will leave behind a government known for scandals and gaffes.
Four of Abe's Cabinet ministers have resigned amid scandals, including one who quit this month just a week after being appointed. An agriculture minister committed suicide over a money scandal in May.