/ Source: The Associated Press
Retail sales posted a modest gain in August, helped by the biggest jump in auto sales in more than a year. But there are concerns that spending could falter as the steep slump in housing and financial market turbulence weigh on consumer confidence.
The Commerce Department reported Friday that retail sales increased 0.3 percent in August, compared to July, when sales had been up by 0.5 percent. The strength last month was led by a 2.8 percent jump in auto sales, the biggest increase since July 2006. But retail sales recorded the biggest decline in almost a year when car sales are stripped out.
In another sign of weakness, industrial production in August edged up by just 0.2 percent, a separate report showed. It was the poorest performance in three months and reflected a 0.3 percent drop in output at U.S. factories, the first decline in manufacturing after five straight increases.
Meanwhile, the government said that the current account, the broadest measure of trade, totaled $190.8 billion in the second quarter, down 3.1 percent from a $197.1 billion in the first three months of the year.
The trade improvement supported the view of economists that America's trade deficit, after setting records for five consecutive years, should finally begin to decline in 2007, helped by stronger overseas growth and a weaker dollar, which boosts the competitiveness of American products.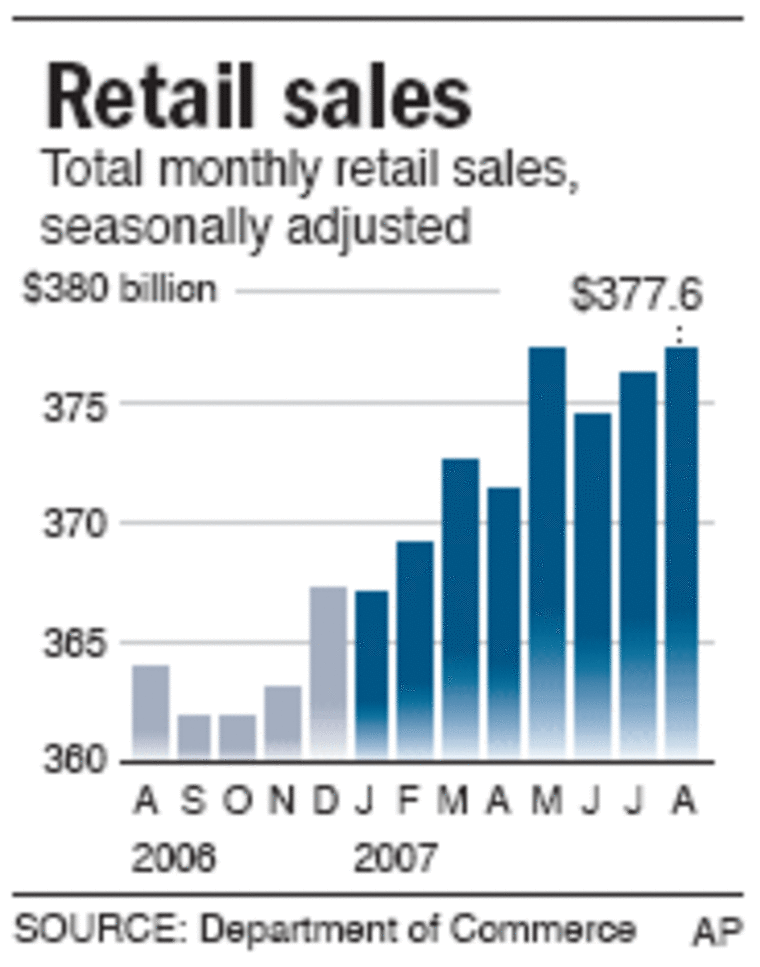 The 0.3 percent rise in retail sales was just half the increase that economists had been expecting and did not dispel worries that consumer spending, which accounts for two-thirds of total economic activity, could falter in coming months under the impact of a serious credit crunch and rising gasoline prices.
The Federal Reserve is scheduled to meet next Tuesday and there is a widespread belief that the central bank will cut a key interest rate for the first time in four years, hoping that cheaper credit will give the economy a boost.
Financial markets have been roiled since early August by rising worries that loans to consumers and businesses are becoming harder to obtain as banks and other lenders tighten standards. The credit crunch began with rising defaults on subprime mortgages, home loans provided to borrowers with weak credit. But those problems have since spread to other lending areas and have also roiled global financial markets.
The retail sales performance would have been much weaker without the big gain in auto sales in August. Excluding autos, retail sales would have fallen by 0.4 percent, the poorest showing in nearly a year.
Part of the weakness in August came from a 2.4 percent drop in sales at gasoline stations, reflecting declining prices. However, with oil rising to new records above $80 per barrel, analysts predicted that gasoline prices will start rising again, a factor that will mean consumers will have less to spend on other items.
Sales at department and general merchandise stores edged up 0.3 percent in August, reflecting strong back-to-school sales. Sales at furniture stores were up 0.5 percent but hardware stores saw sales decline by 1 percent. Sales at specialty clothing stores dropped by 0.1 percent.