Tsunami warning systems in the Indian Ocean have improved since the devastating 2004 Indonesian quake but still have many flaws and produce false alerts or miss potential threats, experts and officials said on Friday.
Authorities in nations ringing the Indian Ocean issued a series of tsunami alerts this week after a powerful quake hit Indonesia's Sumatra Island on Wednesday, followed by more than 40 aftershocks of between magnitude 4.9 to 7.8.
So far, there only appear to have been a few localized and non-fatal tsunamis in Sumatra, but experts said the region was lucky to have escaped a tsunami similar to the one off Indonesia's Aceh which killed more than 280,000 people in 2004.
Seismologist Mike Turnbull of Australia's Central Queensland University said authorities had not over-reacted this week.
"It would have been irresponsible not to issue the warnings because all the scientific evidence (was) available at the time when the warnings were issued," Turnbull said by telephone.
In Indonesia, any undersea quake measuring more than 6.3 on the Richter scale and less than 70 km deep automatically triggers a tsunami warning in earthquake centers and then a seismologist reviews the data before deciding whether to issue an alert.
Pariatmono, an official at Indonesia's research and technology ministry, said a warning, even if it was false, was better than none, but admitted to flaws.
"At the moment the system is not fully reliable, and that is why there are many false warnings," he said by telephone.
The lack of an effective warning system in the Indian Ocean was brutally exposed in 2004, particularly compared with the Pacific where U.S. and Japanese agencies are highly developed.
Neighboring Malaysia issued a tsunami warning on Wednesday, including alerting those on the resort island of Penang, which was hit by the 2004 tsunami.
Malaysian Science Minister Jamaludin Jarjis told Reuters he was "very happy" with the coordination between Indonesian and Malaysian authorities that shared real-time data.
Lack of money, expertise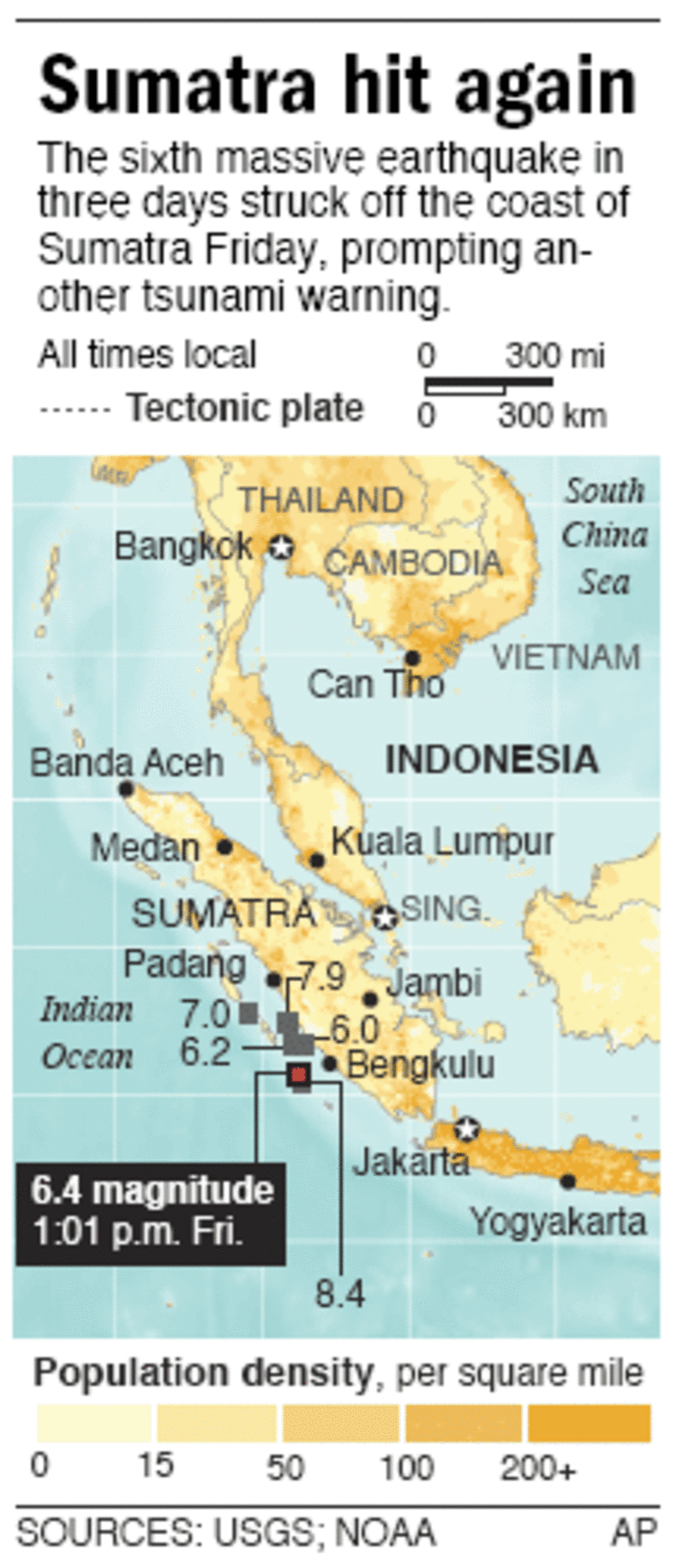 Indonesia is setting up a nation-wide tsunami early warning system due to be completed by the end of 2008. The system includes tsunami buoys and tide gauges on several offshore quake-prone points as well as sirens in populated coastal areas.
But the developing country often lacks money and expertise to get systems working glitch free.
Pariatmono also said little research had been done on the many types of quakes in Indonesia that could create a tsunami.
localized tsunamis were generated after Wednesday's quake in at least two areas in Bengkulu province, residents told Reuters correspondents, although there were no casualties.
"We have a siren, but it doesn't work because of power outages after the quake," said Marsan, village chief of Padang Bakung in Bengkulu province, which suffered a non-fatal tsunami after Wednesday's quake. Marsan said the villagers had fled after seeing the water pull back.
Tsunami alerts in Indonesia are issued by the country's meteorology agency and distributed via text messages and faxes, with TV and radio stations helping spread the word.
Less high-tech methods include speakers mounted on minarets on mosques, and beating hollow wooden or bamboo instruments to make a clattering warning sound.
Malaysia's Jarjis said the latest tsunami scare showed the regional warning system could be improved and suggested video cameras be installed on beaches and tide gauges.
But Turnbull said the emphasis should not lie on detection.
"Certainly we should have more focus on improving technology of detecting the tsunami but we should focus much more attention of how we get the message to the people.