/ Source: The Associated Press
Ten years after Congress ordered federal agencies to have outside auditors review their books, neither the Defense Department nor the newer Department of Homeland Security has met even basic accounting requirements, leaving them vulnerable to waste, fraud and abuse.
An Associated Press review shows that the two departments' financial records are so disorganized and inconsistent that they have repeatedly earned "disclaimer" opinions, meaning that they simply cannot be fully audited.
"It means we really can't put any faith in the numbers they use," said Ross Rubenstein, who teaches public administration at Syracuse University's Maxwell School.
The Federal Financial Management Improvement Act of 1996 requires, among other things, that the financial systems of major federal agencies "comply substantially" with generally accepted accounting standards. Each year, those agencies are required to release results of outside audits.
The review of financial statements from the federal government's 15 executive departments shows that most pass their audits, although many agencies — including NASA, the Coast Guard and FEMA — have been frequently cited for serious accounting errors.
The entire Homeland Security Department, with a $35 billion budget this fiscal year, passed its first audit in 2003 with strong stipulations but has failed every one since.
And the Defense Department, with a $460 billion budget this fiscal year, has never even come close to passing. Because that department makes up at least 20 percent of all federal spending, the entire federal government also has failed its audits since the congressional mandate took effect.
Agencies vulnerable to waste, fraud?
Failing an audit in any other venue could have dire consequences — a public company's stock could plummet, state and local governments could see bond and credit ratings sink. But for the federal government, effects are less direct because the U.S. Treasury is a guaranteed funding source.
Still, Tina Jonas, undersecretary and chief financial officer of the Department of Defense, and David Norquist, chief financial officer at the Homeland Security Department, agree that a disclaimer on an audit shows their agencies vulnerable to waste and fraud. Both said they have other checks in place aimed at controlling how money is spent but also acknowledged that resolving the audit problems would save their agencies money.
"The consequence to the public is the federal budget is conceivably larger than it needs to be. And there's no way of knowing, if it can't even be audited," said Ronald W. Johnson, a senior vice president at RTI International, a nonprofit research institute in Research Triangle Park, N.C. "Even if there are no financial consequences, there are political consequences."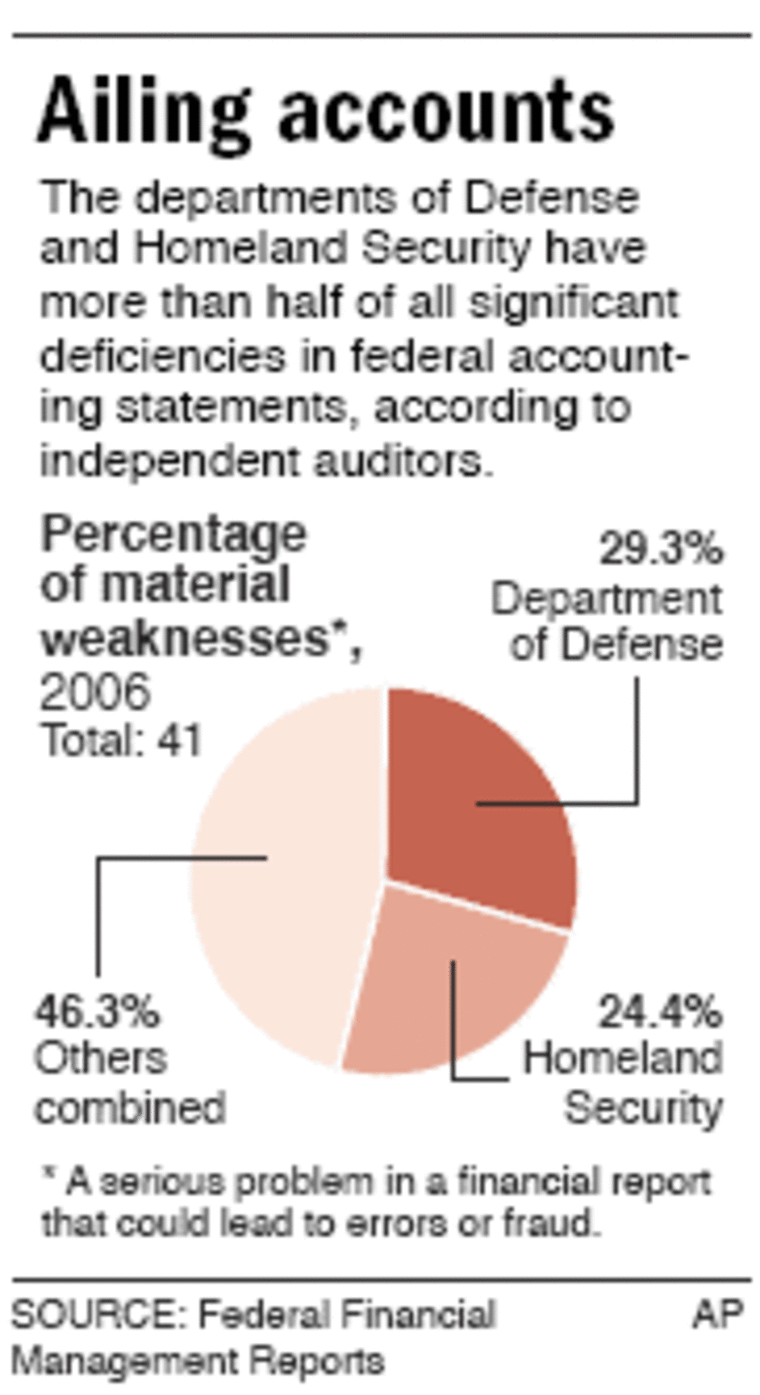 For example, federal officials regularly face considerable fire from Congress at budget time for failing to balance their books.
"The inability of Defense and Homeland Security to pass financial audits is costing taxpayers dearly. There is no accountability for billions in wasteful spending," said Rep. Henry Waxman, D-Calif., chairman of the House Oversight and Government Reform Committee. "Private contractors are getting rich, military equipment can't be tracked, and fraud is growing. The departments seem incapable of providing even the most basic level of accountability by balancing their financial books."
'A pretty consistent mess'
Robert Dacey, chief accountant for the Government Accountability Office, characterized the financial affairs of the two departments as "a pretty consistent mess."
Jonas concedes the Department of Defense has a larger problem than most other federal agencies because of its mission, size and historical resistance to keeping its books.
"I think about this as if we have an old house, and we've got really bad plumbing and really bad wiring, and we have to pass an inspection on stuff, so we have to modernize," she said.
$270 million in unsupported entries
At last count, accounting at the Defense Department is performed in 4,000 different business systems, Jonas said. And in its most recent audit, the department acknowledged that it had more than $270 million worth of unsupported accounting entries.
Jonas noted that there also have been what she called "significant successes." In 2001, the Pentagon had hundreds of inoperable accounting systems and no data standards. This year, she said, it received a clean audit opinion on $215 billion, or 15 percent, of its assets and $967 billion, or 49 percent, of its liabilities.
Established in 2002, the Department of Homeland Security faces slightly different challenges. Norquist, the agency's third chief financial officer, said that despite recent problems, officials have "a number of checks on our numbers and our budgets."
What there isn't, however, is a central financial management manual — something all other federal agencies have — that would enable auditors to check if Homeland Security is even meeting its own policies.
Nor is there a central accounting system: In 2005, after spending $52 million, DHS dropped a $229 million contract with BearingPoint to develop a single software accounting system after it became obvious it wasn't going to work. The department now plans to base its systems on those already in place at the Transportation Security Administration or Customs and Border Protection.
Norquist also likened his agency's situation to a house.
"If you left your front door unlocked, it doesn't mean your house got robbed. But you should be concerned if your front door is routinely left unsecured," he said.
Experts: Standards not appropriate
Some experts say the accounting standards for federal agencies themselves don't make much sense because they treat the government like a company, which buys and sells things, rather than a public entity, which collects taxes and spends whatever is needed. The federal government also doesn't have to account for required future payments, such as Social Security and Medicare.
"Even if they were getting clean bills of health on these audits, they only measure what's going on this year and don't talk about promises being made down the road," said Kent Smetters, former deputy assistant secretary for economic policy at the Treasury Department.
If those funds committed into the future are taken into account, the federal deficit this year would be about $2 trillion, not $158 billion, said Smetters, who teaches at the University of Pennsylvania's Wharton School.
"The bottom line is that you have the president's budget passed by Congress, and these agencies have a line in there of how much money they're going to get. And what these audits say is that they can't trace how that money actually gets spent," he said. "That's a problem."