/ Source: The Associated Press
Everybody in this little mountain community knew that Timothy Chandler had been arrested on child pornography charges. It was in the newspaper and all over the TV news.
Two of Chandler's neighbors decided to do something about it, police say. They were accused of trying to scare him off by setting fire to his tiny house tucked away in a hardscrabble Appalachian hollow.
Chandler, 53, escaped from the flames. But his wife was killed in what authorities were calling an example of vigilante justice.
"I really wish it wasn't me who got out," Chandler told Knoxville television station WBIR. "I wish it was her. She didn't deserve that."
Robert "Bobby" Bell, a 37-year-old construction worker, and Gary Lamar Sellers, a 39-year-old coal-mining equipment mechanic, were jailed on $1 million bond and charged with first-degree murder and arson.
Details of Chandler's arrest
After losing all his possessions in the Sept. 2 fire, Chandler was living in a Knoxville homeless shelter. His attorney, public defender Larry Bryant, said Chandler expects to enter a plea next month to charges he downloaded more than 100 pornographic pictures of young girls.
His mother-in-law found some of the pictures on a disk he had given her to copy computer programs in May. She tipped off police, and Chandler was arrested Aug. 20. Released on $100,000 bond, he came home a few days before the fire.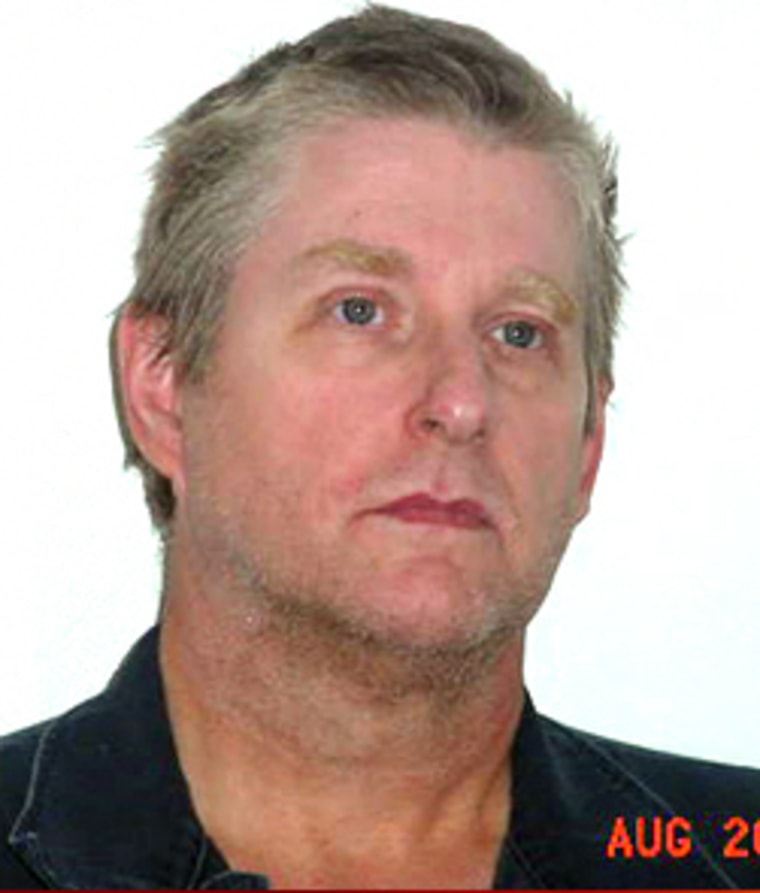 Sellers and Bell told police they did not intend for anyone to die. They just wanted to get Timothy Chandler out of the neighborhood because he was "a pervert," Chief Deputy Bill Lane said.
Sellers admitted driving the pickup truck used that night, but he claimed Bell set the fire, according to an affidavit. After lighting the blaze, the pair "drove to a close location where both men watched the residence burn."
Bell "feels like it was a very unfortunate incident, just like everybody else," said his court-appointed lawyer, Lief Jeffers. "This was not anything that was intended by any of the parties."
Sellers' attorney Jimmy Logan did not return a call for comment.
Other vigilantism cases
The fire is one of many examples of suspected vigilantism against sex offenders, ranging from harassment and arson to more violent crimes. A Nova Scotia man used Maine's sex offender registry last year to find and fatally shoot two registered sex offenders. Two convicted child rapists were killed in Washington state.
Helenwood, some 15 miles south of the Kentucky border, is a mountain community of about 800 people with an average household income of $17,700 — less than half the state average.
The Chandlers and both suspects all lived on Butler Lane, a twisting one-lane country road that runs past small fields, weathered houses, outbuildings and trailers, and rusting farm machinery. Homes are clustered so closely together that neighbors can keep an eye on each other from their back porch swings.
Oma Butler lives on a hill overlooking the now-charred one-bedroom home, which she rented to the Chandlers. She knows everyone involved and blamed the fire on a combination of alcohol, drugs and "no sense."
The Chandlers were a little secretive, Butler recalled, and covered their windows with plastic bags. But they were good renters for nearly eight years.
"They have always been real nice to me," she said. Timothy "seemed the happiest guy when I would see him."
Chandler has record in Ohio
Records indicate Chandler served 18 months in prison in Ohio for a 1990 conviction for gross sexual imposition, which typically involves fondling. But he's had no problems since.
Bell and Sellers have had frequent run-ins with the law over relatively minor offenses, including drinking and driving on a revoked license.
Detective Don Laxton said several people were "hollering names and so forth" outside the Chandlers' house a few hours before the fire began.
Butler didn't think anything of the noise then, but awoke later to the sound of a truck spinning its wheels "like it was in a deep mud hole." She saw the red pickup drive to a nearby hill, park and turn off its lights.
Soon after, her son came running in. "Mom, mom, the house is on fire!" he yelled. The house's porch "was burning from one end to the other. It was a-flaming," she said.
Her son ran to the house. He smashed a window to get Chandler out. Then they broke open a door so Chandler could race inside for his wife. She was unconscious when Chandler brought her out. He tried CPR, but Melissa "Missy" Chandler, 37, died at the emergency room.