As contract negotiations between automakers and the United Auto Workers union reach a critical stage, a historic restructuring of the auto industry's benefit costs is at the center of the complex talks. If such an agreement is sealed, the ramifications are likely to extend far beyond Detroit and have important implications for the rest of the economy, analysts say.
High health care costs are at the heart of Detroit's problems. General Motors, Ford and Chrysler are pushing hard for an overhaul, having long argued that the nearly $100 billion that union contracts require them to pay out for active workers, retirees and their families' health care add some $1,500 to the cost of building each car. This puts them at a disadvantage with their rivals from Asia, where the government is mostly responsible for workers' health care.
The UAW is considering a proposal to create a trust fund for retiree health care — called a voluntary employee beneficiary association or VEBA — that the automakers would fund. The fund would wipe away the health care liability from the automakers' balance sheets and for the first time put the union in charge of handling the investment fund — said to be worth $60 billion or more — and paying retiree health costs from it.
Such an agreement, which reports say was inspired by a similar deal at Goodyear Tire & Rubber, will likely have far-reaching implications for the broader manufacturing industry and the U.S. economy, according to Robert Laszewski, an expert on health policy issues and president of consulting firm Health Policy and Strategy Associates in Alexandria, Va.
With health care costs outstripping wage levels over the last few years, the benefits promised to workers in large, heavily unionized industries are no longer tenable, said Laszewski. If the UAW makes a deal with the automakers, more old-line manufacturing companies in the United States will follow suit, he said.
"The UAW is a really strong union, and it may be the last really effective labor union in the United States, so if they give up the ghost this is really going to be a watershed moment," Laszewski said. "If and when the UAW makes a deal with the auto companies there will be a template for all the rest, and it's really over everywhere."
However, a health care trust can run out of money, as happened to manufacturing giant Caterpillar in October 2004, leading to higher health care contributions for retirees. The level of funding for a GM trust, now under negotiation, is probably the current sticking point in talks, analysts say. The cash-strapped company can't afford to go pay too much, while the battered union can't sell its members on a funding level that's too low.
Rising health care costs are a crippling weight for the U.S. automotive industry, which is cutting costs and working to turn itself around after a series of strategic missteps that allowed overseas rivals, particularly large Asian manufacturers like Toyota and Honda, to steal large chunks of the American auto market.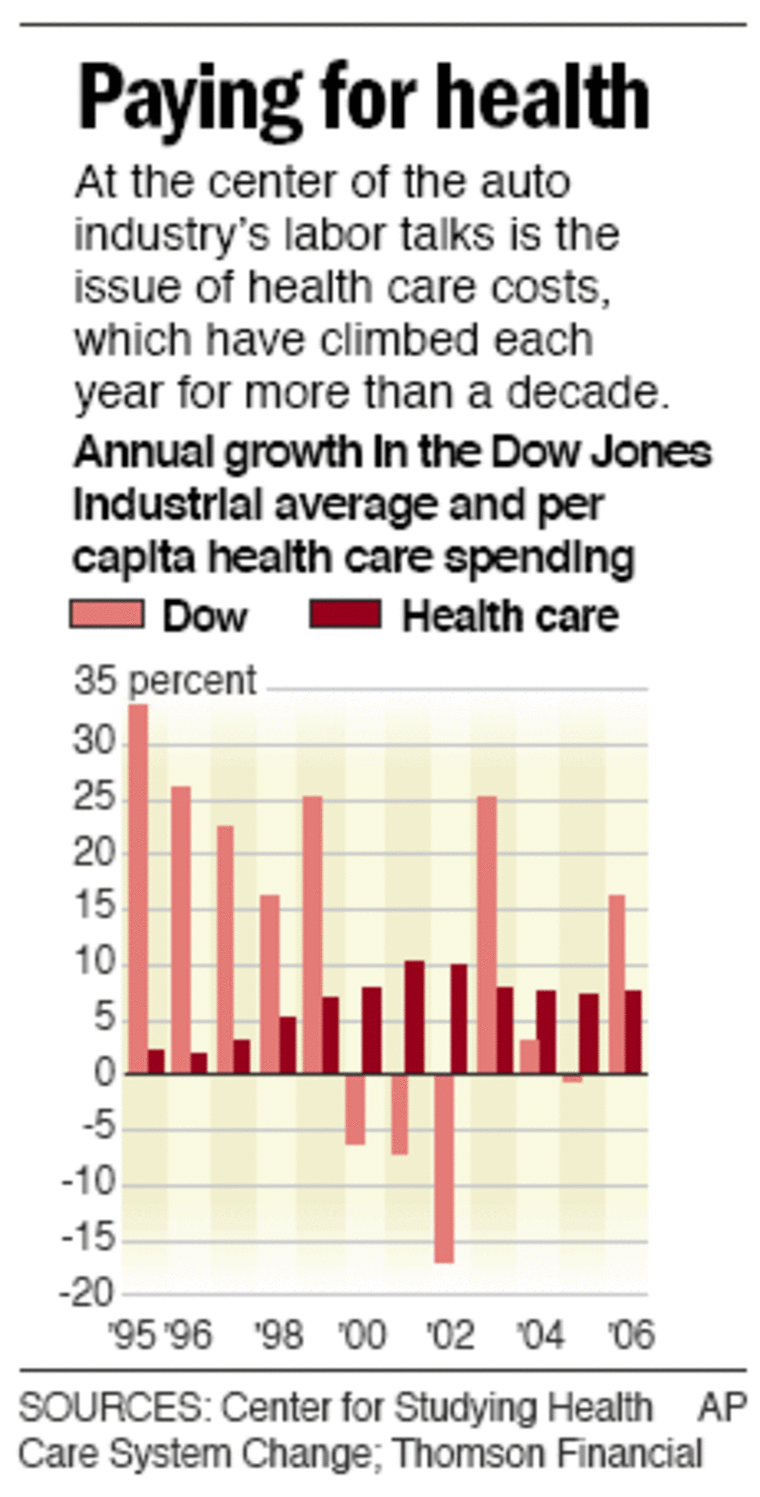 "To give an example of how much impact health care costs have, if GM and Toyota could swap health care costs, that would be the equivalent of five new products a year [for GM]," David Cole, director of the Center for Automotive Research, told CNBC. "[The U.S. automotive industry] needs good new product, and a lot of the new product is tied up in the cost of health care."
The payment of health care benefits has been enshrined in contracts between organized labor and big companies for many decades, notes Laszewski. Since World War II, most health care in the United States for those under 65 has been administered through employers, but those agreements are now on shaky ground because of the rising cost of health care in the United States.
Laszewski points to recent numbers from the Kaiser Family Foundation, a not-for-profit group focused on health care issues, that show premiums for employer-sponsored health insurance have risen about 8 percent on average over the last five years, while Americans' wages have increased about 3 percent.
Since 2001, the cost of health insurance has increased by 78 percent, according to the institute's study. The average premium for family coverage in 2007 is $12,106, with workers now on average paying $3,281 out of their paychecks to cover their share of the cost of a family policy.
"We have always known that employer-based health care was a ticking time bomb," Laszewski said. "We wondered when it was going to start coming apart, and now we're seeing that happen," he added, noting that the Kaiser Family Foundation shows the percentage of firms offering health benefits to employees has decreased from 69 percent in 2000 to 60 percent in 2007.
With health care costs a hot issue for employers, the UAW now has two choices, Laszewski said.
If it agrees to the health care trust, which analysts say will not contain enough money to fund the level of health care that the automotive industry now enjoys, it will ultimately have to force health care cutbacks on union member. The other option is to force the automakers to meet their health care obligations, but such a move runs the risk of driving one or more of the automakers into bankruptcy, risking huge job losses and the loss of all health care benefits.
"So the UAW has a tough decision," Laszewski said. "But if the union agrees to a VEBA it would be basically admitting that the health care benefits that the automotive industry has now are not acceptable, and that they have to take less — that's a huge admission."
However, if the automakers and the UAW agree on a health care pact, it could make UAW President Ron Gettelfinger a powerful — if unlikely — player in financial markets, as a fund as large as $60 billion would be equivalent in size to the 20th-largest pension fund in the United States, according to corporate governance expert Stephen Davis, of Davis Global Advisors Inc. in Madison, Conn.