/ Source: The Associated Press
On the Mississippi River below the verdant bluffs that mark the far southern Minnesota-Wisconsin line, the federal government is waging a multi-million dollar campaign against the elements.
For the last few weeks, the U.S. Army Corps of Engineers has transformed a 3-mile stretch of river into a floating construction zone, restoring and creating new river islands.
The goal: restore wildlife habitat lost to a half-century of erosion and, in turn, bolstering fishing, waterfowl migration and the overall health of the river's northern stretches.
No one has tried a restoration program of this size on such a large river, said Marvin Hubbell, regional manager for the project for the U.S. Army Corps of Engineers.
So far it's gotten favorable reviews from the engineering community and river lovers. Officials are considering it as a model for restoration on the Rio Grande as well as the Parana River in Brazil and the Yangtze River in China, Hubbell said.
The work on the Mississippi is part of a larger effort to create dozens of islands between Cairo, Ill., and the Twin Cities that's been going on for nearly two decades.
Gary Dillabar, 63, said he remembers when the Mississippi River near Stoddard, Wis., was an open expanse of brown water. Last year, the corps added three islands, and now the water is clearer and fish are spawning there.
"It's one of the few places today where government money is being used and shows a good, positive result," Dillabar said. "Those projects are going to be the savior of the river."
Winds, waves and erosion
Problems on the upper Mississippi began in the mid-1930s, when the corps installed dams that transformed it into a chain of shallow lakes. For a quarter-century the dams were a boon because they expanded fish habitat, corps biologist Randall Devendorf said.
But no one realized the wind whipped across much larger bodies of water, creating intense waves that eroded islands like never before.
A 5-mile portion of river between Brownsville and Genoa, Wis., lost 495 of its 625 island acres between 1939 and 1989, said Jim Nissen, a manager with the Upper Mississippi River National Wildlife and Fish Refuge.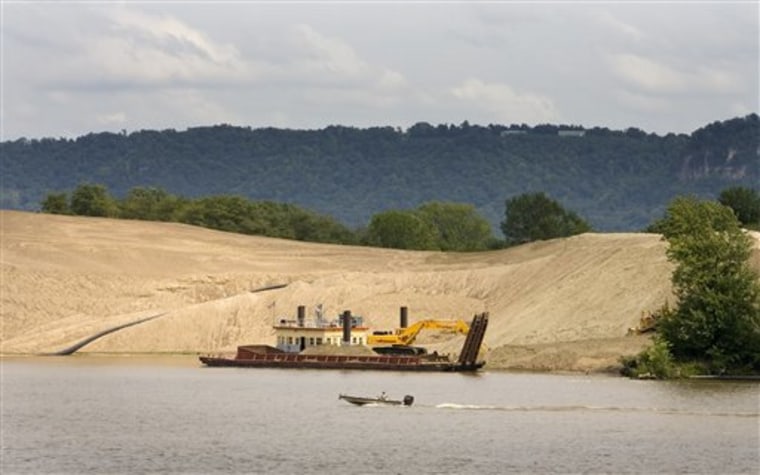 With island loss came more wind and suspended sediment, blocking sunlight aquatic plants need. As plants died, fish and waterfowl lost food and cover.
A number of Mississippi River states, including Wisconsin, Minnesota and Illinois, joined with the U.S. Geological Survey, the U.S. Fish and Wildlife Service and the corps in the late 1980s to revitalize the river's ecosystem.
They developed a strategy for about 1,200 miles of the Mississippi and Illinois rivers that called for reducing water levels to expose more land, monitor the river's health and use sediment to reinforce existing islands and build new ones.
The hope was the islands would block the wind and serve as a base for re-introducing vegetation, the first step toward enticing wildlife.
"It helps ensure we have a resource here we can pass on to our kids," Devendorf said as he watched three young bald eagles perch on a corps-built sand island near Brownsville.
The federal government has spent about $320 million on the monitoring and habitat restoration program since 1986, with about $35 million of that covering 19 island-building projects on the upper Mississippi and Illinois rivers, Hubbell said. In 1999, Congress re-authorized $33.5 million annually for the management program, with no end date.
Isles built elsewhere
The corps also is building islands in Chesapeake Bay and off Louisiana and Mississippi. Most of the new Mississippi River islands are rock and sand bars, but their designs have evolved.
At first, the corps built the islands high to withstand floods and reinforced them to combat erosion. Now they sit lower, making them more stable and natural-looking. Some are meant to erode in patterns to form pockets of wildlife-friendly water and sand flats.
There's no definite measure of whether the program is making a difference. But Nissen said aerial surveys show vegetation returning.
Bluegill samples taken from Onalaska to Genoa — where island building and depth reductions have occurred — increased from about 20 fish taken per 15 minutes in the late 1990s to about 60 fish per 15 minutes from 2002 to 2004, said Barry Johnson, chief of the aquatic sciences branch at the USGS' Upper Midwest Environmental Sciences Center in La Crosse, Wis.
It's not known for sure if the islands play a role, Johnson said, but other, untouched parts of river haven't seen such increases.
"It's worth it," said Marquette University associate engineering professor Charles Melching.