/ Source: The Associated Press
Wholesale prices fell in August by the largest amount in 10 months, reflecting a plunge in the price of gasoline and other energy products and the fourth straight month of falling food costs.
The Labor Department said Tuesday that wholesale prices fell by 1.4 percent last month, the best showing since a 1.5 percent fall last October. It was a much bigger decline than the 0.3 percent drop that had been expected and was led by a 6.6 percent plunge in energy costs, the biggest drop in more than four years.
Core inflation, which excludes food and energy, was also well under control, rising by just 0.2 percent. The good price performance should further ease concerns about inflation and give the Federal Reserve the leeway to cut interest rates to guard against the possibility of a recession.
Fed policymakers cut a key interest rate on Tuesday for the first time in four years in an effort to keep a steep slump in housing and widening credit market problems from derailing the economy.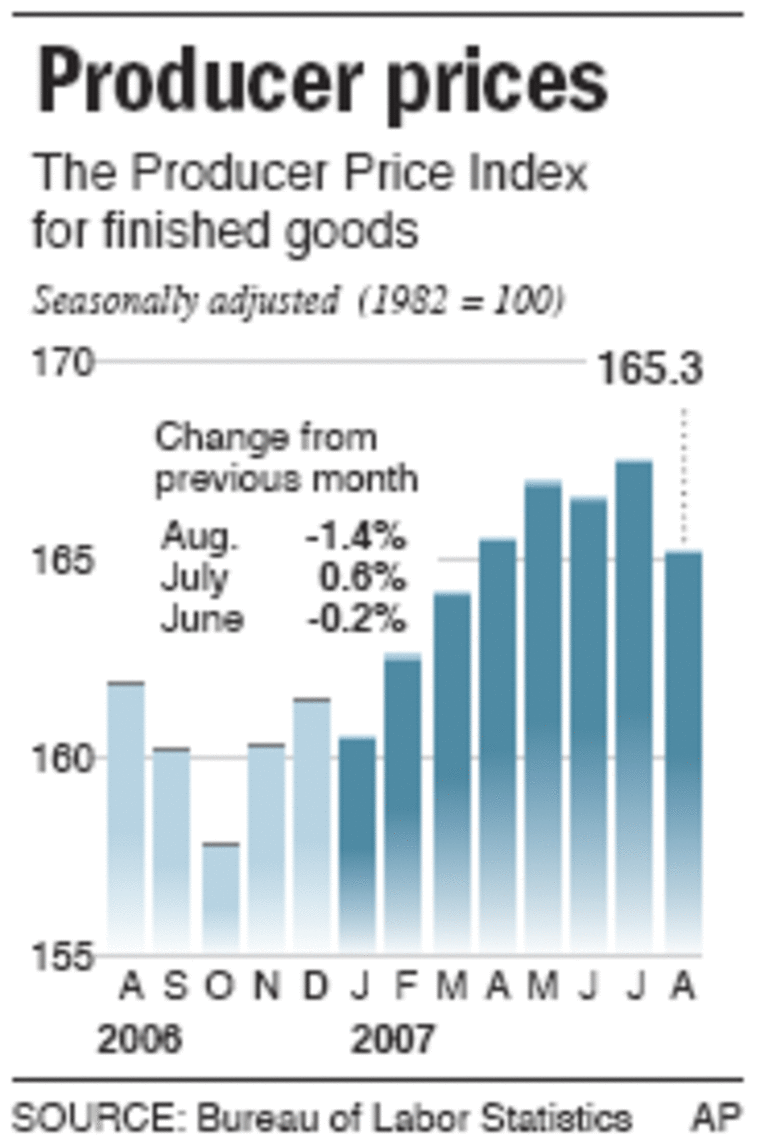 They reduced the federal funds rate, the interest that banks charge each other, by a bigger-than-expected half-point to 4.75 percent in a move that triggered a huge rally on Wall Street. The Dow Jones industrial average soared by 335.97 points to close at 13,739.39. It was the Dow's biggest one-day point gain in nearly five years.
The 1.4 percent drop in the department's Producer Price Index, which measures inflation pressures before they reach the consumer, more than reversed a 0.6 percent jump in wholesale prices in July.
The government will report on consumer prices on Wednesday and they also are expected to show that inflation pressures are slowing. Consumer prices rose just 0.1 percent in July.
The Fed pushed interest rates up for 17 consecutive times over a two-year period to try to keep inflation pressures from getting out of hand and then left rates unchanged for more than a year to see if its inflation-campaign had succeeded.
The 1.4 percent drop in wholesale prices was the third decline this year and left wholesale prices rising over the past 12 months by 2.2 percent. In 2006, core inflation rose by 1.1 percent.
The 6.6 percent plunge in energy costs was the sharpest decline since an 8 percent fall in April 2003. It reflected a 13.8 percent fall in gasoline prices, the biggest one-month drop since last September, and a record 8.5 percent fall in residential natural gas prices. Home heating oil costs plummeted by 6 percent.
Economists noted that crude oil prices have in recent days hit record highs above $80 per barrel, which could reverse the energy declines in coming months.
Food costs fell 0.2 percent in August, the fourth straight monthly decline. In August, vegetable prices dropped by 6 percent with declines also in the price of eggs and pork. Beef prices rose.
Outside of food and energy, the cost of passenger cars rose by 0.6 percent but the price of light trucks, the category that includes sport utility vehicles, fell by 0.9 percent and computer prices were down 3.2 percent.