In late 2006, Maria Teresa Berdondini was frantically juggling multiple clients hoping to lock in their dream villas for their 2007 vacations in Italy. July in Umbria? August in Amalfi?
Hardly. The Tuscany-based luxury travel consultant, owner of Tuscany by Tuscans, wasn't receiving requests for villas during the summer months. Instead, her upscale clientèle were asking for rentals in September and October.
"Italy is full of grand villas, and renting one is an authentic way to experience the country," she says. "But the secret to enjoying your visit here is to come in fall, when the mass of tourists are gone. In fact, upscale travelers who have visited Italy before don't even bother coming during the peak season [June, July and August]."
Going to Italy in the fall means travelers can avoid long lines at major tourist sites, such as the Uffizi Gallery in Florence, where the wait to enter can take more than two hours during summer. At St. Francis Cathedral, situated in Assisi in the Umbrian countryside, tourists might wait nearly an hour. Autumn travelers often don't have to make restaurant reservations, which are a must during the peak season. Fewer crowds mean that fall visitors can enjoy the luxury of greater flexibility and spontaneity when planning how to spend their time.
Another major benefit for fall renters? Milder weather.
"During the summer, temperatures in parts of Italy can reach well into the 90s, which is uncomfortable," says Martin Rapp, a senior vice president of leisure at Altour, a luxury travel consultancy in New York and Los Angeles. "Villa renters can be especially affected by the heat, since many villas are properties hundreds of years old that don't have air conditioning."
In September, October and even halfway through November, though, travelers to Italy can expect bright sunny days and weather in the 60s and 70s.
Dream destinations
While it's hard to find an area of Italy that hasn't been well traveled by tourists, Ancona in the Marches in the eastern part of the country still qualifies. The region is full of undiscovered, secluded beaches and dozens of wineries, such as Rosso Conero, known for its red conero. The area also has many discoveries for art lovers, such as the vast collection of Renaissance paintings in Palazzo Ducale in Urbino.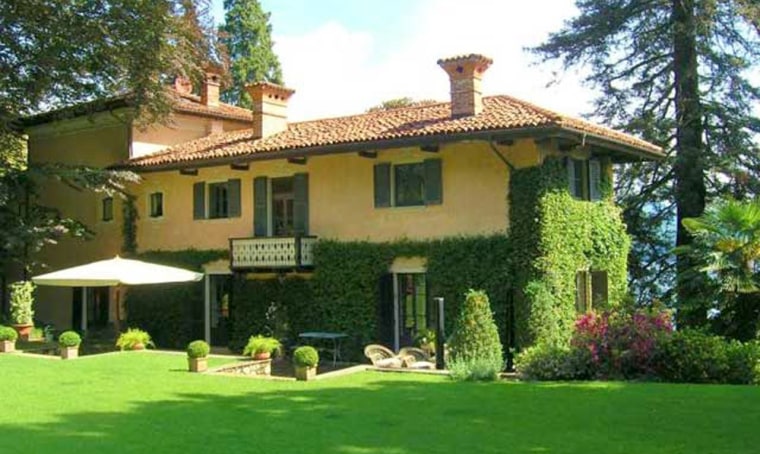 Visitors here may book Incantessimo, a seven-bedroom, six-bath villa which is built on Mount Conero and boasts views of the Le Marche region and the Adriatic Coast. It also has an outdoor Jacuzzi, an infinity pool and a large outdoor patio for al fresco dining. Another plus to being under-the-radar? This villa rents for just $4,000 a week, a relatively low price for a luxury property.
Villa Olmo, in the cobblestone-street town of Taormina in Sicily, ups the ante. For a weekly price of $23,800, travelers can rent this 11-bedroom, 11-bath villa built in a lush citrus valley that sweeps toward the Ionian Sea. It's owned by a Sicilian aristocratic family and is decorated with 16th- and 17th-century Italian antiques, terracotta tiles and volcanic stones. Views of the sea and Mount Etna, an active volcano, are clear from most rooms. There are several outdoor sitting areas and a swimming pool surrounded by jasmine and bougainvillea trees. Activities include climbing Mount Etna, boating or swimming in the sea, exploring nearby Catania (Sicily's second-largest city) and playing golf on the 18-hole course at Club Picciolo just 10 minutes away.
Tuscany is by far the most popular region in Italy in which to book a villa. Homes Away and Luxury Retreats, two rental agencies with a roster of villas all over the world, report that Tuscany is the most frequently booked private home-rental destination worldwide.
If you're willing to shell out $43,000 a week, you can stay in Viola, a luxury Tuscan villa that offers the best of the country and the city. It's less then 10 minutes from Florence but is located among olive groves and vineyards. It has six bedrooms, five marble baths, private landscaped gardens and is decked out in Florentine antiques. Two housekeepers and a chef tend to guests who may spend their days hiking and biking in the Tuscan hills or visiting Florence to take in the Uffizi Gallery. They can also scoop up exceptional leather goods at one of the many street stalls here.
The one benefit you won't get by renting a villa in the fall is saving money. Prices for rentals generally are the same in September and October as they are during the summer and don't start dropping 15 to 20 percent until November.
Still, you may decide saving a few bucks pales in comparison to enjoying Italy in its prime — with no crowds, lots of sunny days and a grand villa for you to call home.