/ Source: The Associated Press
Fish swam alongside the canoes residents were using to flee their flooded homes, riding the water gushing through the streets of this town in eastern Uganda.
Across Africa, torrential downpours and flash floods have submerged whole towns and washed away bridges, farms and schools. More than a million people have been affected by the rains since the summer, according to the United Nations. At least 200 people have been killed, and hundreds of thousands displaced in 17 countries.
In Uganda, one of the hardest-hit, humanitarian workers were trying to reach villages that have been cut off by water amid warnings of food crises and a rising risk of disease outbreaks.
"I've lost everything," Martha Amongin, 56, told The Associated Press on Wednesday in Magoro, a town in eastern Uganda that is surrounded by floodwater and has become inaccessible by road. "Life is going to be bad."
Driving rain pounded Amongin's hut for days until the structure gave way, disintegrating into a pile of mud and burying everything inside.
Worst floods in 35 years
The only route out of Magoro to reach a hospital or market is by helicopter, boat or wading through waist-high water for three miles. Earlier this week, the water was chest-deep, and residents said one person drowned trying to make the crossing.
Richard Okello uses his canoe to ferry people across the murky water.
"Some people are scared to get in the boat, they don't know water and they have never used a boat before," he said. "But what choice do they have?"
Indeed, Ugandans haven't seen floodwaters like this in more than 35 years, a disaster Amongin remembers well.
That time, at least, "the floods happened after we harvested our crops," she said from her new home — a mud hut much like her last one, but shared with 20 people instead of four.
This time, Amongin's cassava, potato and groundnut crops were washed away. "Now, we have nothing," the mother of two said.
The water also has brought much of Soroti, a 20-minute helicopter ride from Magoro, to a standstill.
Roads, crops washed out
When Soroti is dry, the roads are potholed but passable, and bicycles and buses are the best way to get around. Maize and cotton dot the landscape.
But the floods have washed out roads and crops during a potentially lucrative harvest season. Traffic police are stationed along high roads, urging vehicles to turn back. Bicycles are stuck in the sticky mud.
Tesema Negash, the World Food Program's country director in Uganda, said it was impossible to trust the weather.
"It's a beautiful day today but we don't know what tomorrow brings," Negash said, speaking under a clear, blue sky — just hours before the clouds descended again, sending a deluge of rain onto a drenched landscape.
It is difficult to say how much rain has fallen. Few African countries have meteorological services, and those that do only offer forecasting, lacking the staff and infrastructure to track weather in remote areas.
"The rains are set to continue and we are really concerned about the situation, because a lot of people are homeless and infectious diseases could emerge," Elisabeth Byrs of the U.N. Office for the Coordination of Humanitarian Affairs said by phone from Geneva.
Other affected countries include Somalia, which is struggling to quell an insurgency and to recover from a seemingly endless cycle of drought and flood.
Interior Minister Mohamed Mohamud Guled said this week that southern Somalia faced a "humanitarian catastrophe," because rivers had burst their banks, flooding farms and destroying crops. The rivers began flooding in late August following heavy rains in neighboring Ethiopia, he said.
On the other side of the continent, Ghana has also been heavily hit. Three regions in the north, the country's traditional breadbasket, have been declared an official disaster zone after whole towns and villages were submerged. Torrential rains between July and August killed at least 32 people and displaced a quarter of a million, the U.N. said.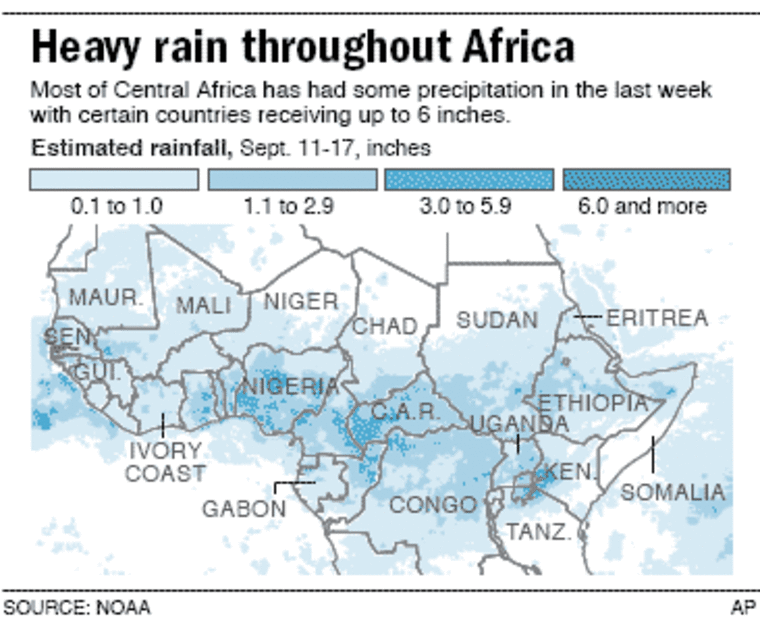 Tens of thousands displaced
Humanitarian workers are struggling to reach the neediest.
Governments say tens of thousands need aid in Kenya and Ethiopia, which was devastated by flooding last year as well.
In Sudan, refugees who had just returned at the end of a brutal civil war had to flee their homes again through waist-high waters in what the government called "the worst floods in living memory." So far, 119 people have died and tens of thousands been made homeless since the flooding began in mid-June, but the figure may be higher as much of its vast swampland is inaccessible except by air.
In the tiny west African nation of Togo, 20 people are dead and 66,000 displaced after a deluge washed away 100 bridges and seven dams in the last week.
In Burkina Faso, Amade Belem, who heads the country's national emergency management agency, said maize and millet farms were ruined.
"Our main concern is rehousing the population. We need food and medical supplies because it goes without saying that the conditions in which these people are living, there will be no shortage of disease," Belem said.
Charles Ngiratware, the mayor of western Nyabihu district in Rwanda, said nearby Gishwati forest used to hold in far more floodwater and flash floods were not common. It was about 52,000 acres in 1981, but pressure to clear land for farming means it was only about 1,500 hectares by 2002.
Fifteen people, mainly women and children, have drowned after flash floods in his district this week.