A seven-year, multimillion-dollar effort by the Library of Congress to gather American veterans' personal war stories is peppered with inaccurate information and fraudulent claims of heroism, critics say, casting doubt on its value as a historical record.
Staffers at the Veterans History Project on Tuesday were hastily removing from the project's Web site a number of references that bestowed the nation's highest military honor on soldiers who never won it, confirmed Matt Raymond, the library's director of communications.
The incorrect Medal of Honor listings are just the tip of the iceberg in a collection of 50,000 oral and written histories that also includes numerous other errors regarding everything from lesser medals to rank attained and whether or not the soldier was ever a prisoner of war, according to outside experts on the database.
"You can't tell what's historical fact and what's not," said Mary Schantag of POW Network, a Skidmore, Mo.-based group that tracks information on U.S. prisoners of war and exposes fraudulent POW claims. "It's a terrible tragedy. They've spent millions of dollars trying to record these stories, and they have no way of knowing which ones are true or not."
Tuesday's scrubbing of the Web site came as the result of a story by John Hoellwarth published online in the Marine Corps Times. Using information provided by Medal of Honor expert Doug Sterner, Hoellwarth's story named 24 men who were listed on the Veterans History Project Web site as Medal of Honor recipients but who did not receive the award.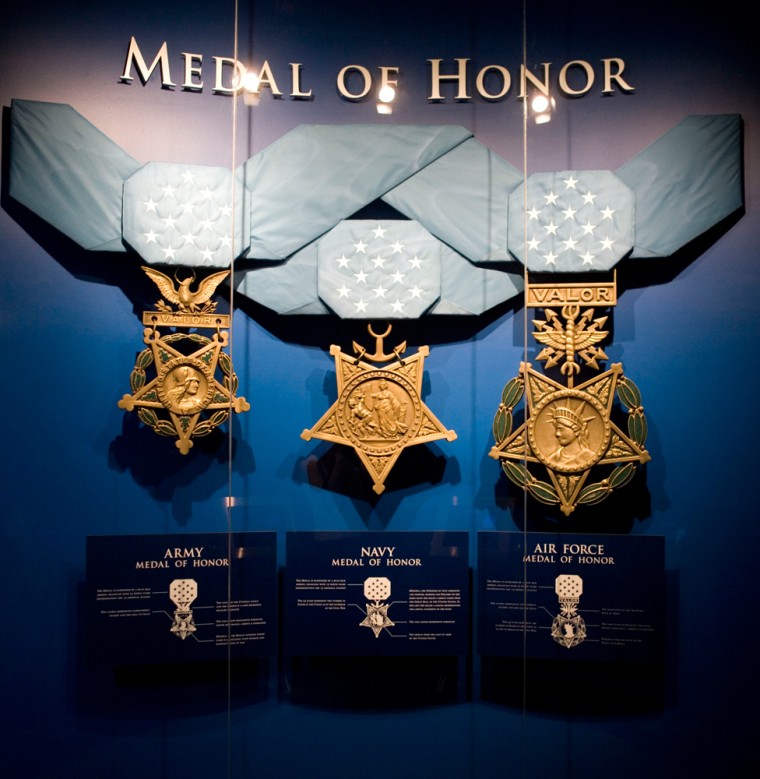 Permanently established by Congress in 1863, the Medal of Honor is given only for the highest acts of valor in combat by members of the U.S. armed services. For all the millions of soldiers, sailors and fliers who have fought under the American flag in the past 144 years, the medal has been awarded to just 3,463. There are only 109 living recipients of the medal. Just two have been awarded during the Iraq war, both posthumously to men who sacrificed their lives to save their fellow soldiers.
Hoellwarth, who has outed numerous phony military heroes over the past two years, starting with a fake two-star general in Louisiana, was stunned by Sterner's data. "This Library of Congress stuff, I've never seen anything like it. That's incredible," said Hoellwarth, who served with the Marines during the invasion of Iraq.
The library's Raymond told msnbc.com that "as soon as this issue was brought to our attention, the staff immediately began to do some additional verification measures." Raymond called the erroneous Medal of Honor listings "largely the result of innocent mistakes," such as transcription errors or faulty recollections.
Sterner and Schantag were not buying that. First, Sterner pointed out, the Veterans History Project only contained histories of 49 purported Medal of Honor recipients, meaning just shy of half were incorrect. In addition, they said, their review showed at least 32 participants in the project were wrongly credited with Distinguished Service Crosses out of 100 such listings, and 14 out of 150 entries improperly claimed the Navy Cross. And of 144 participants who said they were Vietnam-era POWs, at least 45 were not, they said.
"Clerical errors to this extent are unsatisfactory," Sterner said. "While everyone may make a mistake now and then, when 50 percent of the individuals listed by the Library of Congress as Medal of Honor recipients are not, that is gross negligence if the fault is even partially due to data entry errors."
Inflated résumés and outright lies
Sterner, himself a decorated Vietnam vet, and Schantag, whose husband was wounded while serving as a Marine in Vietnam, said they believe what they've uncovered on the Library of Congress Web site is part of a virtual epidemic of former service members inflating their war records and lying about their honors.
"Over the last 10 years, I've had to deal with hundreds of these people on a regular basis," said Sterner, a Denver community college professor who runs a Web site devoted to honoring genuine recipients of the Medal of Honor.  "I try not to get too involved in these things because my real deal is to tell the story of the real heroes, but when the fakers come up, they have to be dealt with."
Sterner recently helped expose the fraudulent Vietnam service resume of a Massachusetts Indian tribe leader, Glenn Marshall, and pushed for passage of last year's Stolen Valor Act, which now makes it a federal crime to claim military honors that one did not receive.
Raymond said that although the Veterans History Project has a staff of 25 and an annual budget of $2.5 million, veterans' recollections are gathered entirely by unpaid volunteers. Project director Bob Patrick told the Marine Times that information about medals is not checked before it is published, although some attempts to verify Medal of Honor claims have been made "in the past," the last some 18 months ago.
But Raymond said serious checking "would be impossible" anyway. "There are 50,000 oral histories that are involved in the Veterans History Project, it's got a very small staff and it gets at the philosophical underpinning of what an oral history project is. … It's not intended to be a historical record. They are personal, firsthand accounts."
Sterner said it would be easy to check Medal of Honor claims since the list of all recipients is widely published on the Internet. And Schantag said that the names of the 691 American servicemen known to have been held as POWs by North Vietnam and to have returned alive to the United States also can be easily found.
They agreed that other commonly fraudulent military claims, such as whether or not soldiers served in special forces, what medals and ranks they attained, and what battles they fought in, can only be verified by obtaining official service records. As a start, they argue for the creation of a national database to compile and list the awards.

An additional safeguard
And Schantag said that the Library of Congress could easily require participants in the Veterans History Project to fill out paperwork authorizing release of their entire service records in the event that questions are raised about their accounts.
While they applaud the intent behind the Veterans History Project and the vast majority of its content, they also point to suspicious accounts of heroics on the Library of Congress Web site and elsewhere that sound like scenes from a "Rambo" movie, medal collections that don't jibe with campaign ribbons, and other possibly fraudulent material.
Hoellwarth said military fakery seems to occur in cycles and can often spark big news stories on the local level. He has been surprised at the lack of response so far to his story on the Veterans History Project. "I thought it was gong to go nuclear. I get up this morning, nothing."
Schantag was happy to see the story and whatever attention results from it because "these phonies are changing history and somebody's got to stand up and say this is wrong. … The more you meet the real heroes, the more you meet the young men coming home from Iraq missing limbs, and then you see these stories and then you hear these claims, you get madder and madder."