/ Source: Forbes Traveler.com
High-end luggage companies today answer to many masters, including airlines and global aviation security bodies, like the Transportation Security Administration, that constantly change air travel rules, and the gods of fashion and luxury, who are increasingly worshipped worldwide.
To comply with carriers' and security organizations' rules on the size of carry-on baggage and size and weight of checked bags, luggage companies are redesigning bags, using new, lightweight materials and frames.
"After Sept. 11, one of the things we have to fight all the time is weight," said Ken Hinman, vice president of sales, marketing and product development for Hartmann. "We have to mix fashion with durability, and try to make our luggage lightweight enough."
One of Hartmann's responses to such weight constraints is its new Wings collection, for men and women, in lightweight canvas. Finished with 24-karat gold hardware, it comes in a variety of sizes, including pieces that can fit into the overhead compartment of a regional or private jet.
Restrictions on the size of bottles of liquids travelers can carry onto flights have created somewhat of a cottage industry: Hartmann's Wings canvas bags come with a TSA-compliant, clear, flexible, plastic pouch, while Tumi gives buyers of some of its styles a TSA-compliant kit with four, spill-proof plastic bottles in a clear, Ziplock pouch. ESPA is packaging 27 of its high-end spa products in TSA-compliant travel sizes that come with a clear, plastic Ziplock bag, while Pitotubes is selling under-three-ounce, TSA-compliant travel bottles for personal care products like shampoo, lotion or perfume.
Alan Krantzler, vice president of product management and merchandising for Tumi, finds travelers today also want their luggage to serve multiple purposes. "They tend to need multi-purpose bags that offer more flexibility," and hold everything from clothing and a laptop to business cards and a PDA, he says.
Stylishness is also becoming increasingly important: Companies like Hartmann are creating lines that are fashion forward, such as its new Luxe luggage in plum with chocolate polka-dots. Tumi earlier this year hired David Chu, founder of the popular Nautica sportswear company, to be its executive creative director, while Samsonite is attempting to revive its brand globally by hiring Alexander McQueen, the hot British couturier, to design a new "Black Label" luggage collection.
Tumi's Krantzler finds his company's customers are looking for more luxurious luggage than in the past. Its LXT line, which was introduced last year and has leather trim, polished, silvertone hardware, and a quilted, satin lining, has sold like hot cakes, he said, despite the fact that it is "up to 100 percent more expensive than our core product line. People aren't batting an eyelash at the price. There's a really strong appetite for product that has more design, better quality and details."
How can you find the right piece of luggage for your needs?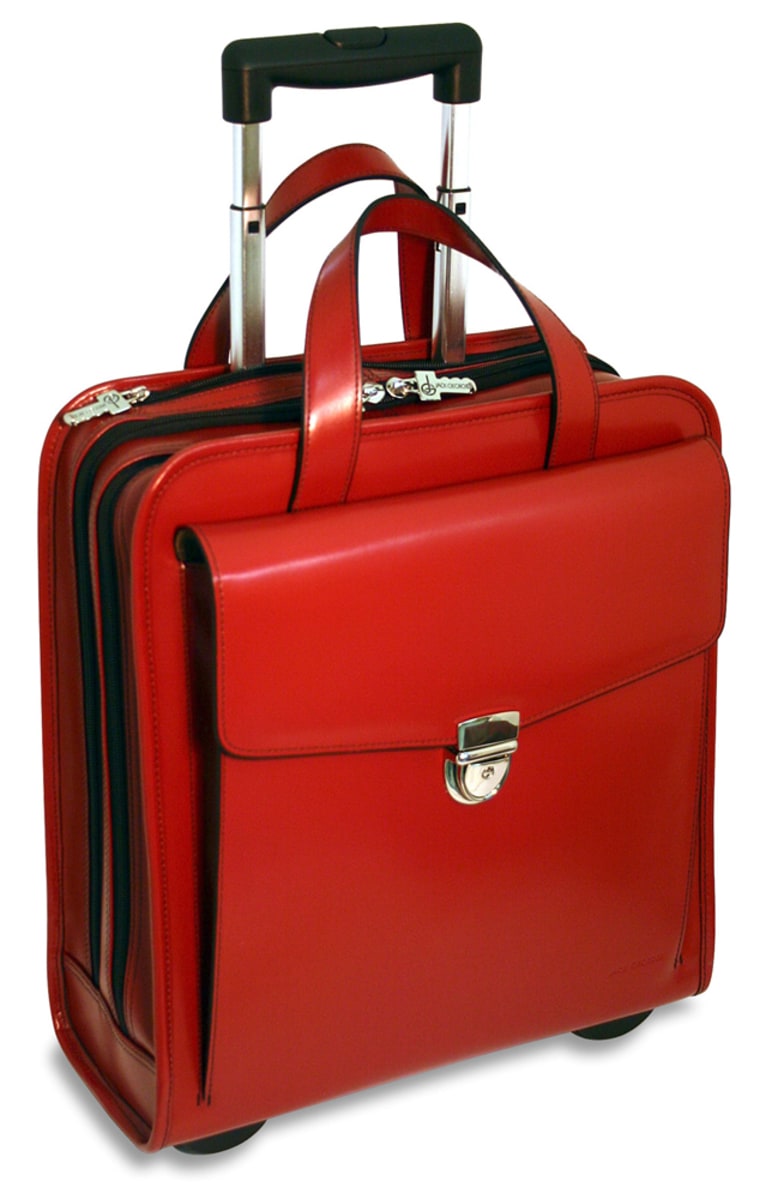 Michele Marini Pittenger, president of the Travel Goods Association, a trade group of luggage manufacturers, suppliers and retailers, suggests you first determine what purpose your bag will have to serve. Is it for business or vacation, for an overnight or weekend trip, or a month-long sojourn? Will it need to accommodate electronics? Will it be used for airplane or car travel, for commuting to work by public transportation, or for walking?
"The answers to all those questions will determine what type of bag to look for, and you can then take a look at what style and colors are available, and which you prefer," she said.
Pittenger also recommends creating a wardrobe of luggage to fit your personal needs.
"You may have a duffel bag for quick overnight trips, a wheeled suitcase that can be carried on board an airplane, and a larger suitcase if you take vacations that are longer than a week. And if you have a laptop, you can buy a bag that will accommodate it, like a backpack, combination handbag and laptop bag, or a wheeled business case," she said.
Krantzler, of Tumi, considers a luggage purchase a long-term investment, and suggests others do so, too.
"People think of luggage as a utilitarian purchase and often shortchange it because they only think of using it for the next trip or two. It behooves them to think of it as something that will protect their $2,000 suits and expensive shoes. Having a really good piece of luggage is really kind of basic, whether you're traveling for business or pleasure," he said.
Here is a cross-section of the latest styles in luggage and travel accessories, with the European flair of Louis Vuitton, Victorinox and Alexander McQueen, and all-American, star power of Hartmann, Tumi and Zero Halliburton.