In a city riven with sectarian bloodshed, workers at a 13th century Baghdad mosque mark the Muslim holy month of Ramadan by feeding the poor and preserving a bygone spirit of co-existence.
The Sunni mosque of Abdul Qadir al-Gailani feeds hundreds of people a day during Ramadan, providing an evening meal for observant Muslims who fast from dawn to dusk.
And after four years of communal violence in which tens of thousands of Sunni and Shiite Muslims have been killed, the mosque's soup kitchen remains an oasis of tolerance.
"I can't live away from the kitchen. It's my peaceful world. We Sunnis, Shiites and Kurds, are all living as brothers and never discuss our sect. We are all Iraqis," said Abu Saif, a Shiite who has worked at the mosque for more than 17 years.
Alongside him was Haj Hameed, a Kurd who has cooked in the kitchen for a quarter century, and Sunni Arab employee Mahmoud al-Barazanchi.
The diversity in the kitchen is matched in the crowd of Sunnis and Shiites who queue outside, metal pots in their hands, for a generous serving of lentils, chicken and rice.
'Here, and only here'
"It's here, and only here, that no one pays attention to whether we're Sunnis or Shiites," Abu Saif said, breaking into tears at the mention of Iraq's violence. "I wish one day I could sleep and wake to find my country acting the same."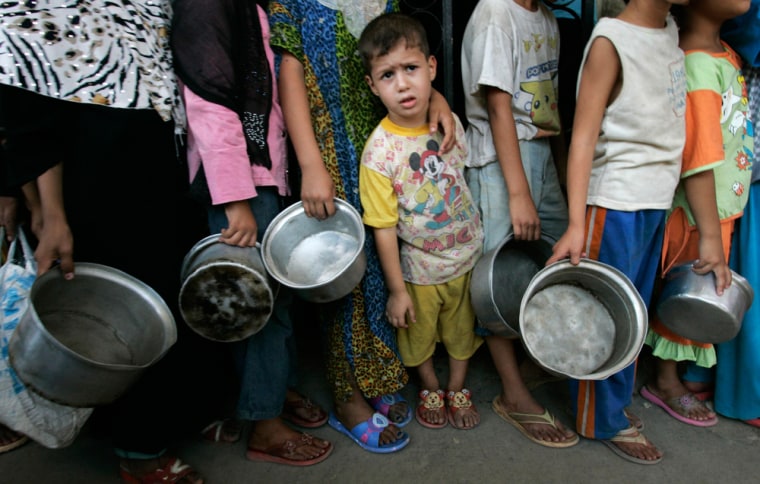 Violence has plagued Iraq since the U.S.-led invasion to topple Saddam Hussein in 2003. But the bombing of a revered Shiite shrine in the city of Samarra in February 2006 marked a turning point in communal relations, igniting a wave of bloodletting between majority Shiite and minority Sunni Arabs.
The depth of the violence leaves some Iraqis nostalgic for Saddam's era despite the wars, economic sanctions and brutal authoritarianism they endured under his rule.
"The kitchen ... is a small Iraq of peace and harmony," Barazanchi said. "Before 2003 we used to have wonderful times in Ramadan when we gathered in the mosque to take the evening meal to break our fast."
"But now we are locked inside homes just like prisoners."
Wielding a long wooden stick, Barazanchi stirred a thick broth of lentils and chicken, cooking in a huge pot.
Donations down after wealthy donors flee
In previous years the mosque had resources to prepare twice as much food, Abu Saif said, but donations have fallen away.
Wealthy businessmen who used to support the Ramadan soup kitchen have fled the country and the mosque receives no aid from the government.
In another change, food for the evening meal is distributed at 2 p.m., five hours before the prayers which mark the end of the daily fast, because few people feel safe on the streets in the evening.
"Before, Ramadan was full of joy and blessings. We used to take food and break the fast inside the mosque in groups. But now we fear car bombs and killing and we rush to take the food back home," said Umm Mohammed, waiting patiently in line.
The mosque is famed as the burial place of Sufi Sheikh Abdul Qadir al-Gailani, and a dome built by Ottoman Sultan Suleiman the Magnificent still stands in the mosque complex.
But outside, the minaret bears the scars of Baghdad's recent turmoil. Scaffolding covers its top and broken concrete and rubble surround the base, still not repaired after a May truck bombing outside the mosque which killed 24 people.
"If you ask me about Ramadan I would tell you the daily violence in Iraq and the bitterness of losing beloved people made us forget the taste of this month," said Alaa Hamza, a Shiite as he queued for food.