/ Source: The Associated Press
Leaders of the search for Steve Fossett further scaled back the aerial operation Wednesday but insisted they were not giving up on finding the millionaire adventurer, who has now been missing for 17 days.
Following the lead of the Nevada Civil Air Patrol on Monday, the Nevada National Guard on Wednesday sent its helicopters back to their home bases, where they will remain on standby to respond to any new leads. The search has stretched across a section of western Nevada and California twice the size of New Jersey.
"This is not a stand-down. We are not giving up," Civil Air Patrol Maj. Cynthia Ryan said Wednesday. "It's a scale-down. No one is abandoning anything."
"I think everyone would still like to hold out some hope that he is out there and still alive," she said.
But given the dozens of aircraft that have been committed to the effort and hundreds of thousands of dollars spent, the search "has to be lead-driven at this point," Ryan told reporters at the Minden-Tahoe Airport, about 40 miles southeast of Reno.
The operation is still being treated as a search and rescue as opposed to recovery, said Chuck Allen, a Nevada Highway Patrol trooper.
The command center also was being shifted Wednesday to the state emergency operation center in Carson City.
Hotel magnate Barron Hilton and Fossett's wife, Peggy, continue to finance an aerial search, with approximately eight aircraft flying Wednesday, Ryan said.
Adventurer set world records
Fossett hasn't been seen since he took off Sept. 3 in a single-engine plane from a private airstrip at a ranch owned by Hilton about 80 miles southeast of Reno.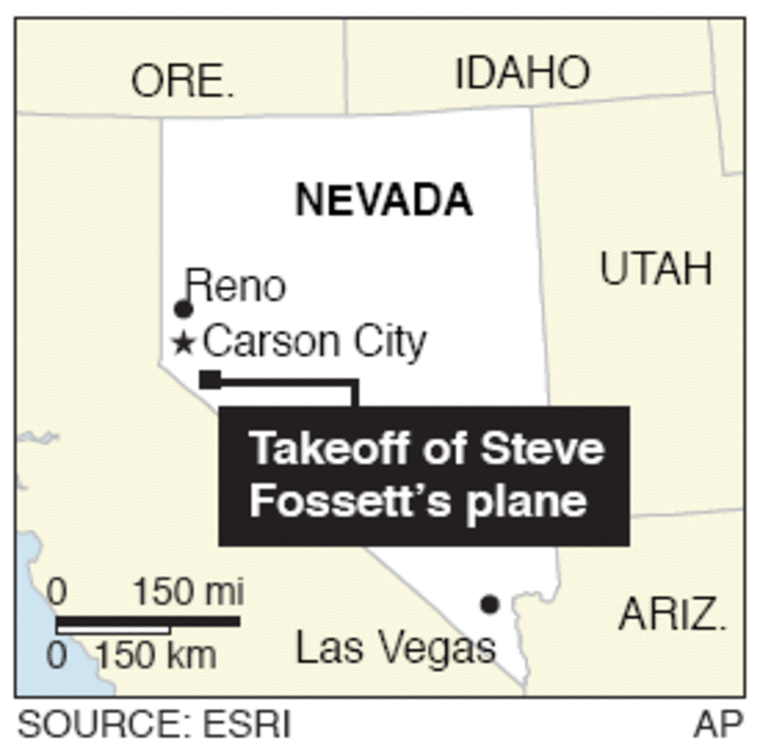 It was supposed to be a short ride in the lightweight aerobatic plane.
Fossett, who made millions as a commodities broker in Chicago, is the first person to circle the globe solo in a balloon. He has also swum the English Channel, completed the Iditarod Sled Dog Race and scaled some of the world's best-known peaks.
Brig. Gen. Amy Courter, Civil Air Patrol acting national commander, said she too maintains hope that Fossett will be found alive.
"We have seen cases in which people have survived much longer than this," she said, "and in consideration of the extraordinary accomplishments Mr. Fossett has made in his lifetime, we are hopeful that this will be another achievement to add to his memoirs."