/ Source: a href="http://www.washingtonpost.com/wp-srv/front.htm" linktype="External" resizable="true" status="true" scrollbars="true">The Washington Post</a
Blackwater USA, the private security company involved in a Baghdad shootout last weekend, operated under State Department authority that exempted the company from U.S. military regulations governing other security firms, according to U.S. and Iraqi officials and industry representatives.
In recent months, the State Department's oversight of Blackwater became a central issue as Iraqi authorities repeatedly clashed with the company over its aggressive street tactics. Many U.S. and Iraqi officials and industry representatives said they came to see Blackwater as untouchable, protected by State Department officials who defended the company at every turn. Blackwater employees protect the U.S. ambassador and other diplomats in Iraq.
Blackwater "has a client who will support them no matter what they do," said H.C. Lawrence Smith, deputy director of the Private Security Company Association of Iraq, an advocacy organization in Baghdad that is funded by security firms, including Blackwater.
The State Department allowed Blackwater's heavily armed teams to operate without an Interior Ministry license, even after the requirement became standard language in Defense Department security contracts. The company was not subject to the military's restrictions on the use of offensive weapons, its procedures for reporting shooting incidents or a central tracking system that allows commanders to monitor the movements of security companies on the battlefield.
"The Iraqis despised them, because they were untouchable," said Matthew Degn, who recently returned from Baghdad after serving as senior American adviser to the Interior Ministry. "They were above the law." Degn said Blackwater's armed Little Bird helicopters often buzzed the Interior Ministry's roof, "almost like they were saying, 'Look, we can fly anywhere we want.' "
A Blackwater spokeswoman referred questions about how the company is regulated to the State Department.
Richard J. Griffin, assistant secretary for diplomatic security, said in a statement that State Department security contractors are routinely briefed on rules for the use of force. When a shooting incident occurs, he said, it is reviewed by the U.S. Embassy's Regional Security Office. "Anyone who fails to live up to our standards will be removed from the contract," Griffin said.
Joint commission
On Wednesday, the State Department announced that it will form a joint commission with the Iraqi government to examine issues related to private security.
In Baghdad, Prime Minister Nouri al-Maliki promised that Blackwater guards would be held accountable for what he called "a big crime" in the weekend violence. Iraqi officials have threatened to expel Blackwater from Iraq over the incident, in which at least nine Iraqis were killed.
"We will not allow Iraqis to be killed in cold blood," Maliki said. "There is a sense of tension and anger among all Iraqis, including the government, over this crime."
The confrontation between the Iraqi government and Blackwater, based in Moyock, N.C., has illuminated the uneven and largely dysfunctional regulatory system intended to govern tens of thousands of hired guns operating in Iraq.
A one-paragraph subsection to a 2004 edict issued by the Coalition Provisional Authority, the now-defunct U.S. occupation government, granted contractors immunity from the Iraqi legal process. This edict is still in effect. Congress has moved to establish guidelines for prosecuting contractors under U.S. law or the Uniform Code of Military Justice, but the issue remains unresolved.
Six other cases?
"It's a lot of people with guns who are under no real law, and that's very troublesome," said Sen. James Webb (D-Va.), who has advocated greater oversight of private security companies. "Ninety-five percent of the people who are doing this are honest, ethical and moral, but the fringe that isn't, it's very difficult to see the legal construct that will hold them accountable."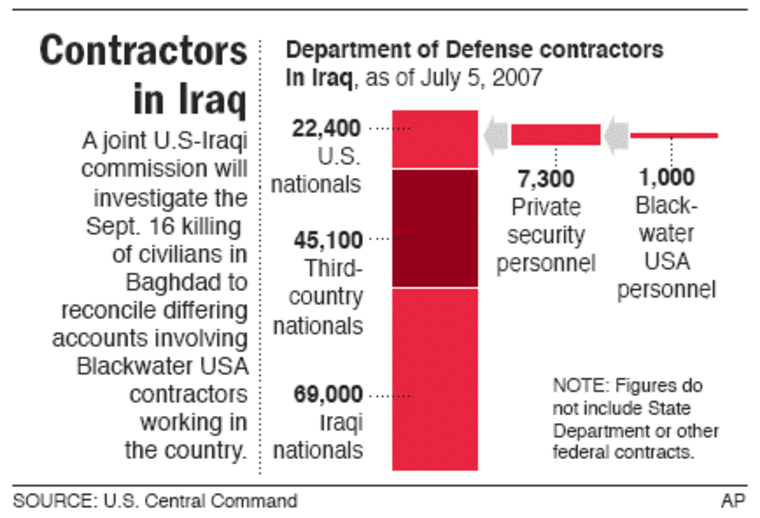 Interior Ministry officials have said they had received information on six previous cases in which Blackwater guards allegedly opened fire on civilians, more than any other company.
Blackwater's conduct at times inflamed tensions inside the Interior Ministry, Degn said. On May 24, Degn was evacuated from the building after an armed standoff between Interior Ministry commandos and Blackwater guards, who had shot and killed an Iraqi driver outside the gates. U.S. and Iraqi officials feared the incident might lead to retaliatory attacks against Americans.
"They are part of the reason for all the hatred that is directed at Americans, because people don't know them as Blackwater, they know them only as Americans," said an Interior Ministry official who spoke on the condition of anonymity because he feared for his safety. The official, interviewed before Sunday's incident, said, "They are planting hatred, because of these irresponsible acts."
Problems of accountability

The use of private security skyrocketed in Iraq after the March 2003 invasion because of troop shortages and growing violence. U.S. authorities have no idea how many hired guns operate in the country; estimates range from 20,000 to 50,000 or higher.
To a large degree, the companies regulate themselves. Lawrence T. Peter, director of the Private Security Company Association of Iraq, which represents at least 50 security companies, also serves as a $40-per-hour consultant on security issues to the Pentagon's Defense Reconstruction Support Office, which issues contracts.
Peter, during an interview in Baghdad, said that while serving as an adviser to the Coalition Provisional Authority he wrote the initial drafts of Memorandum 17, dated June 26, 2004, which established operating guidelines for security companies and remains "the extant law for private security contractors in Iraq."
The rules on use of force are introduced in capital letters with the statement: "NOTHING IN THESE RULES LIMITS YOUR INHERENT RIGHT TO TAKE ACTION NECESSARY TO DEFEND YOURSELF."
A separate document, CPA Order 17, dated June 27, 2004, granted the private security companies immunity from Iraqi law.
The CPA administrator, L. Paul Bremer, left Iraq the next day after transferring authority to an interim Iraqi government.
Vetting of security companies in Iraq remains so lax that another organization, the International Contractors Association, has offered to help companies discern experienced guards from those who lack qualifications. "If people won't regulate us, we will regulate ourselves, and we will do so professionally," said Jaco S. Botes, a South African contractor who heads the association.
"If the industry goes unchecked, it will implode — that's just the logical way of things to happen," he said. "It's like a landslide. It will grow and grow until everybody is just fed up."
Greater accountability
Over the past year, the military has issued a series of "fragos," or fragmentary orders, designed to impose greater accountability on security contractors operating under Defense Department contracts. Blackwater was not covered because it reported to the State Department.
The new rules included procedures for the registration of weapons and streamlined the reporting of shooting incidents. The U.S. military's director of security for the Green Zone, where approximately three dozen private security firms are based, has conducted sweeps that netted hundreds of unauthorized weapons.
The military also required companies to obtain operating licenses through the Interior Ministry to operate legally in Iraq. The licenses added another layer of accountability: Licensed companies were given colorful numbered decals to attach to the sides of their armored vehicles, clearly identifying them as belonging to a security firm.
The licensing process has been fraught with problems. Companies have complained about corruption and delays and said they feared handing over sensitive personnel and weapons data to an Iraqi ministry infiltrated by sectarian militias.
But the U.S. military and many registered companies argued that it was the only way to legitimize the industry. "We try to comply with all rules and decrees they produce," said Sam Jamison, the convoy manager for ArmorGroup International, a British security firm that protects nearly one-third of all nonmilitary convoys in Iraq. "If you come to someone else's country, and you don't abide by their laws and regulations, it's just the height of arrogance. We may not always like it but we will comply with it. We can't ask the Iraqi people to respect the rule of law if we don't do it ourselves."
None of the new orders applied to Blackwater, which has received $678 million in State Department contracts since 2003 and operates under the department's authority.
"I'm not gonna go chasing after non-DoD organizations, going, 'Uh, you didn't submit an incident report for this,' " said Maj. Kent Lightner of the U.S. Army Corps of Engineers, who monitors shooting incidents involving private security contractors under Defense Department contracts.
Peter, of the private security firms' advocacy group, said the rules that govern companies often depend on who issued their contract. "There's a different regulatory environment depending on who you work for," he explained.
'Heavy-handed' tactics

On March 31, 2004, four Blackwater employees were ambushed while escorting kitchen equipment through Fallujah. A mob shot and burned them, then hung two corpses from a bridge over the Euphrates River. To date, at least 25 Blackwater employees have been killed in Iraq.
The Fallujah attack, a turning point in the war, also led to fundamental changes in the private security industry. The military, which had been unaware that Blackwater was operating in Fallujah, created the Reconstruction Operations Center to track thousands of armed civilians on the battlefield.
Military and private security officials described the operations center as a success, with one omission: Blackwater, which played a role in its creation, does not participate.
Blackwater is not required to report its movements to the military. "There is no oversight or coordination of Blackwater by the U.S. military," said Jack Holly, a retired Marine colonel who oversees several private security firms as director of logistics for the U.S. Army Corps of Engineers.
Blackwater has said that it uses its own internal tracking system that is visible to both the military and the State Department.
Holly said Blackwater angers the Iraqis: "Their aggressive attitude is not what you would say is trying to mitigate disagreements between two societies." Earlier this year, he said, Iraqi employees on the national rail system were so intimidated that they refused to meet State Department officials escorted by Blackwater guards.
Holly said the State Department was partly to blame for what he described as Blackwater's "heavy-handed, almost arrogant" tactics. "It's obviously condoned by State and it's what State expects, because they have contract oversight and if they didn't like it they would change it," he said.
State Department officials said Blackwater is overseen by the agency's Bureau of Diplomatic Security. After several interview requests earlier this year on how the agency regulates Blackwater and other private security contractors, a spokesman e-mailed responses to written questions.
"State Department personnel, including contracting officers, routinely meet with private security contractors both on the ground in Iraq and in Washington D.C., and coordinate with other U.S. federal agencies and the Iraqi government with regard to compliance issues," the department said.
After the incident this May 24, in which Blackwater guards shot and killed an Iraqi driver outside the Interior Ministry, the Blackwater team was surrounded by Interior Ministry commandos with AK-47 assault rifles. The Blackwater guards refused to provide their names or details of the incident. A U.S. military convoy happened on the scene and an officer tried to mediate.
Eventually, a State Department official arrived, according to a security company representative familiar with the incident. The Blackwater team was allowed to return to the Green Zone.
Later, both Blackwater and the State Department initially denied that the shooting occurred. The company and agency officials then confirmed that the incident had taken place but defended the guards, saying they had followed the rules on the use of force.
The State Department said it planned a thorough investigation. Four months later, no results have been announced.
Protection 'at all costs'
"Blackwater has no respect for the Iraqi people," the Interior Ministry official said. "They consider Iraqis like animals, although actually I think they may have more respect for animals. We have seen what they do in the streets. When they're not shooting, they're throwing water bottles at people and calling them names. If you are terrifying a child or an elderly woman, or you are killing an innocent civilian who is riding in his car, isn't that terrorism?"
Ann Exline Starr, a former Coalition Provisional Authority adviser, said she traveled in Iraq first with a military escort, then with guards from Blackwater and another State Department-contracted security firm, DynCorp International, as security in Iraq deteriorated. The shift was startling, she said. The soldiers drank tea and played cards with the Iraqis. The security contractors, on the other hand, moved more aggressively, their only focus protecting Exline Starr.
"What they told me was, 'Our mission is to protect the principal at all costs. If that means pissing off the Iraqis, too bad,' " she recalled.
Exline Starr said that most of the guards were highly professional but that their mission was different and appeared to be contrary to the U.S. government's overall goal of winning over Iraqis. She said she approached senior managers for Blackwater and DynCorp "to express my concern over the importance of maintaining relationships that have been nurtured for over six months." The companies took a more low-profile approach after the discussions, she said.
Chester Schultz, a former Blackwater guard from Fenton, Mich., said the company's goals differ from those of the military and the State Department.
"Unfortunately, the rules and regulations are way different than they're applied, and people are not held accountable, for the most part," he said. "I'm not saying it's a bunch of cowboys, but it's a different job. We're not paid to go out and find and eliminate the insurgents. Our job is to keep people alive and safe, and do what we need to do."
Degn said he believed that the Iraqi government was trying to hold up Blackwater as "a symbol." If the government can bring the company to heel, he said, all the other private security companies will have to follow.
"It's a symbol of the rift that still exists between both governments," he said. "The Iraqis are trying to establish their own authority. And if they do this, they can show the world that Blackwater is not untouchable. And that the U.S. is not the ultimate authority in their country."