/ Source: The Associated Press
U.S. economic growth may slow in coming months, a research group said Thursday, indicating a clampdown in credit markets is taking its toll on the broader economy.
Signs that the job market may be improving, and the Fed's aggressive move to lower rates earlier this week, may help offset the credit squeeze, however, analysts said.
The Conference Board said its index of leading economic indicators dropped a sharp 0.6 percent in August, slightly higher than the 0.5 percent fall analysts were expecting. The drop came after a revised 0.7 rise in July. While the index has jumped up and down in recent months, the cumulative change in the index over the past six months has increased 0.5 percent.
Also on Thursday, the Labor Department said jobless claims declined last week by 9,000, the lowest level in seven weeks. Analysts were expecting a slight rise in claims.
While the latest 0.7 drop in the leading economic indicators index is "an ugly number," Aaron Smith, senior economist at Moody's Economy.com said it may simply reflect the immediate effects of a tight credit market in August. He said lower interest rates, after the Fed cut a key rate a half-point to 4.75 percent on Tuesday, should brighten the economic outlook.
The Conference Board report tracks 10 economic indicators. Only one of those indicators, real money supply, advanced in August.
The negative components, starting with the largest, were consumer expectations, unemployment claims, stock prices, building permits, vendor performance, manufacturers' new orders for non-defense capital goods, interest rate spread, and manufacturers' new orders for consumer goods.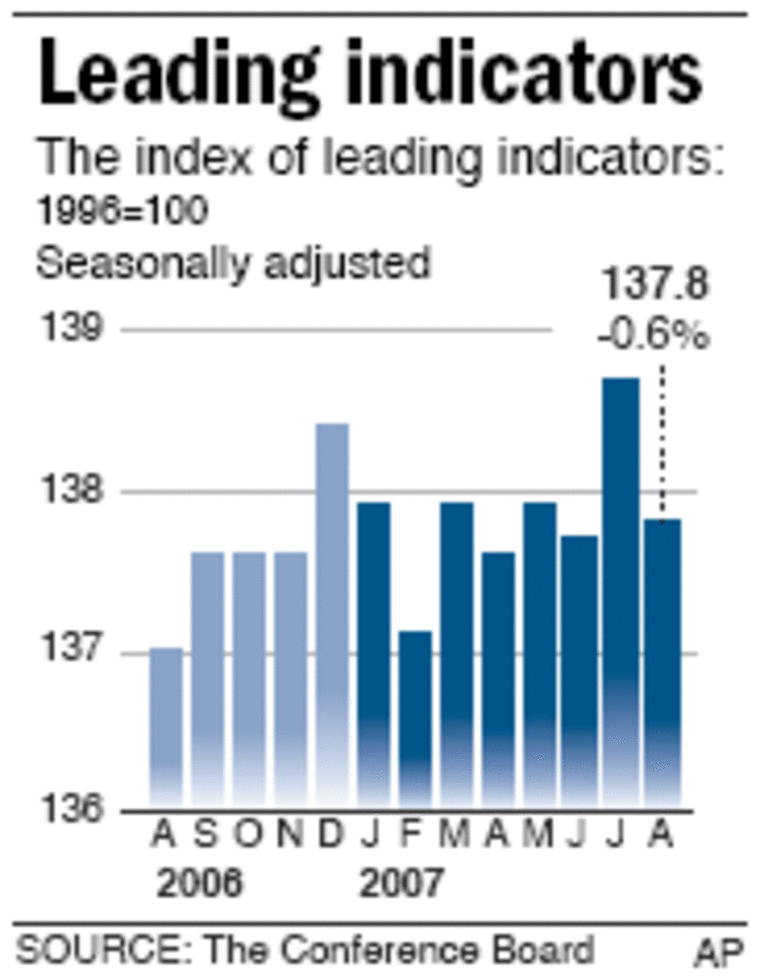 Weekly manufacturing hours held steady.
The report is designed to forecast economic activity over the next three to six months.
The index rose a revised 0.7 percent in July, after slipping 0.1 percent in June. The erratic pattern reflects the ongoing uncertainty over the impact of the credit crisis on the overall economy.
"Economic growth is likely to continue in the near term, although at a slower pace," said Ken Goldstein, labor economist for the Conference Board.
For growth to continue, however, Goldstein said there will be two potential hurdles to overcome — business confidence and the "wealth effect," which has been hit by falling home prices.
"This loss of household assets, if combined with weak employment growth, could have a negative impact on consumer spending going forward," Goldstein said.
The Conference Board report was taken before the Fed's rate cut Tuesday, a move that sent stocks soaring. The bigger-than-expected cut was an effort to ensure the country isn't pushed into a recession by turbulence in the financial markets.
The credit crisis started with rising defaults in subprime mortgages — home loans made to people with weak credit histories. Analysts believe these problems, along with declining consumer confidence, could lead to a recession.