/ Source: Forbes Traveler.com
Sandy Carlyon has searched for tigers on "elephant-back," jumped into the ocean and swam with dolphins, explored caves in New Zealand, carried camping gear up to 14,000 feet in Bhutan, bumped along in a 4x4 in Botswana and flown over Victoria Falls in a two-seater plane.
"It's about as close as you can get to being a bird," says the 67-year-old of the latter experience. A resident of Purlear, N.C., Carlyon has traveled six times with AdventureWomen, a Bozeman, Montana-based tour company celebrating its 25th anniversary this year. Owner Susan Eckert—whose trips have included conversations (as opposed to "table talk") with cannibals in New Guinea—specifically established her business for women in their 50s, which she considered an unserved market in the travel industry. In fact, you must be older than 30 to take one of her trips.
"The average age of the women [on the AdventureWomen trips] is about 55, and they don't necessarily want to come with people who are their kid's age," she explains.
"I have yet to be the oldest on any of their trips," says client Camilla Nielsen of Chicago, who, at 69, has traveled across the Sahara and in Kenya on camel.
"I believe in doing things I wouldn't do myself," says Nielsen, whose husband treated her to an AdventureWomen trip to northern India for her 50th birthday. "I never thought of myself as an adventurous woman," she says. "When my husband gave me the gift, it was kind of like opening Pandora's box." She has since been on more than 16 AW trips. The scariest moments she recalls were walking across a suspension bridge in Nepal and negotiating a section of a cliffside trail in New Zealand that was so narrow she had to turn sideways. It was so unnerving, Nielsen says, that she briefly considered turning around and walking solo the day-and-a-half distance back to their starting point.
Janet Ridgway of Claremont, Calif., has taken six trips with Adventures in Good Company, a women's tour company headquartered in Baltimore. At 56, she climbed California's highest summit, Mt. Whitney at 14,494 feet. She has since hiked in the Grand Canyon, canoed in Minnesota, backpacked the Appalachian Trail, climbed Kilimanjaro in Tanzania and the Grand Tetons in Wyoming and hiked Patagonia in Argentina and Chile.
"I like to expose myself to activities and environments different from daily living patterns," Ridgway says. "AGC attracts extremely nice traveling companions—well-educated, physically fit, curious, stimulating individuals with whom it is enjoyable to spend time while broadening one's horizons."
Comparatively a youngster at 49, Patty Gabris, a flight dispatcher for United Airlines in Chicago, has completed eight trips with Adventures in Good Company since 2002.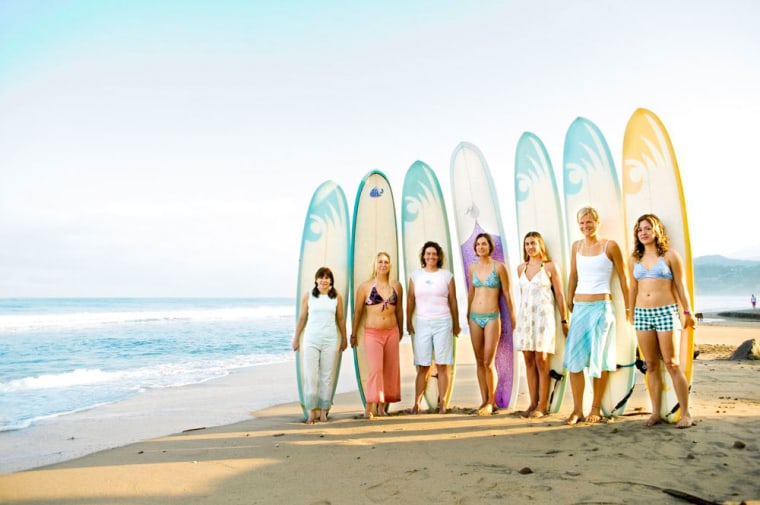 "There have been a difficult areas in the trips where I have exceeded my confidence zone," Gabris says. She travels with her husband, but he does not like to hike, so she enjoys the company of other adventurous women hiking hut to hut in British Columbia or making the seven-and-half-day climb up and day-and-a-half descent down Kilimanjaro.
Gabris theorizes that the reason most of her traveling companions are well past their twenties is because older women with established careers have the time and money required for exotic travel.
Marian Marbury, owner of Adventures in Good Company, should know. She's been guiding since 1988 and started her company in 1999. Women, she says, spend their lives taking care of others and are ready to rediscover their adventurous side, while younger women opt for spa vacations. She also finds the female-only environment allows women to explore their potential.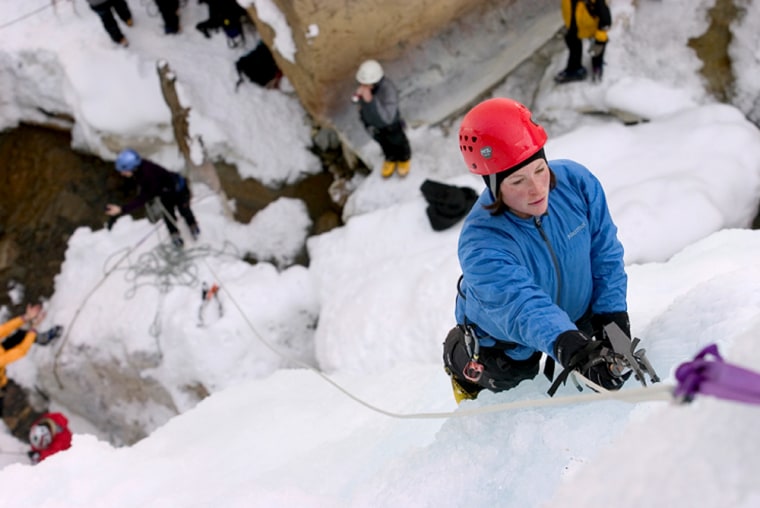 "They do things that they would not do when men are around them," she says. "Guys jump right in and do things like setting up camp, carrying canoes, and starting fires. [Without men around], they have to do everything—and they do it. They learn skills, and then they feel really proud and pleased."
Although AGC's rock-climbing adventure in Joshua Tree National Park may be the most mentally challenging, Marbury says her most physically challenging trip is the week-long Grand Canyon hike, which requires participants to hike along rocky trails with 40-pound packs down into the canyon and then back up 3,500 feet with 30-pound packs.
Women with a bent for adventure—even those younger than 30—can find travel opportunities by Chicks With Picks, an Ouray, Colorado-based company that offers ice-climbing/alpine skills clinics and has partnered with Alala! Women's Mountain Adventures, a British Columbia-based travel company. In December/January, the two groups offer a trip to the Southern Alps of New Zealand. Rather than spending New Year's Eve wearing a sequin dress and drinking champagne at midnight among a sea of people in a nightclub, truly adventurous women can spend the eve in a hut on a glacier, take lessons in belaying and rescue anchors, whiteout navigation and crevasse rescue, and then climb the local peaks.
Extremely Patagonia offers women-only adventures in January, February and March that include ice climbing, trekking, building igloos, whitewater rafting, and kayaking among the glaciers.
If the thought of ice leaves you cold, perhaps you'd like to hang ten on the waves off the coast of Mexico, hone your roping skills in Montana, scale a rock face in Joshua Tree National Park or bungle through the jungle in Costa Rica. For the multi-tasking woman (a redundant term if ever there was one), many tour companies offer multi-sport trips.
For example, Seattle-based Adventure Divas plans a 13-day trip to Peru (May 24-June 6, 2008) that includes horseback riding through Incan ruins, mountain biking, canoeing, parrot-spotting, and trekking to Machu Picchu.
While alpha males may not want to boast about their male-bonding experiences (presumably for fear of seeming less alpha, less male or both), alpha females are proud to espouse their own relationship-building.
"There's a woman I met on my first trip," Gabris says. "We have gone on a few trips together. She lives in Tennessee. We will hook up almost every year."
"When you meet at the airport, you are strangers," Carlyon says of her AdventureWomen trips. "And in a few days, you feel like sisters."