/ Source: The Associated Press
It wasn't so long ago that the McDonald's fast-food empire looked as stale as a burger left under a heat lamp too long.
Sales were decreasing, new products weren't catching on and McDonald's Corp. was vilified by consumer activists, nutritionists and others as Americans got fatter and fatter. Even its seemingly bulletproof stock staggered to barely $12 a share in 2003.
Now, thanks to a combination of improved menus, better marketing and deft management, business is cooking like never before.
The comeback may not be news to anyone who has queued up at a McDonald's drive-through recently. But the fact that the sales resurgence not only continues to sizzle after more than four years but has spread internationally is a surprise to experts.
"A couple of years ago everyone was down on them," said Bob Goldin, an analyst at Chicago-based food consultancy Technomic Inc. "Now it's hard to find people who are really hard critics of the company."
The latest evidence of the brand's renewed popularity came last week when the Oak Brook, Ill.-based company said August same-store sales rose a stellar 8.1 percent worldwide and exceeded the year-earlier total in U.S. restaurants for a 53rd straight month. Recent product introductions — premium coffee, snack wraps and salads — all contributed to the domestic surge.
Anti-Americanism over the Iraq war hasn't eaten into global sales, either, despite the golden arches' close association with Uncle Sam abroad. The increase was 12.4 percent in its Asia/Pacific, Middle East and Africa restaurants and a noteworthy 6.1 percent in Europe, where the turnaround didn't take hold until recently.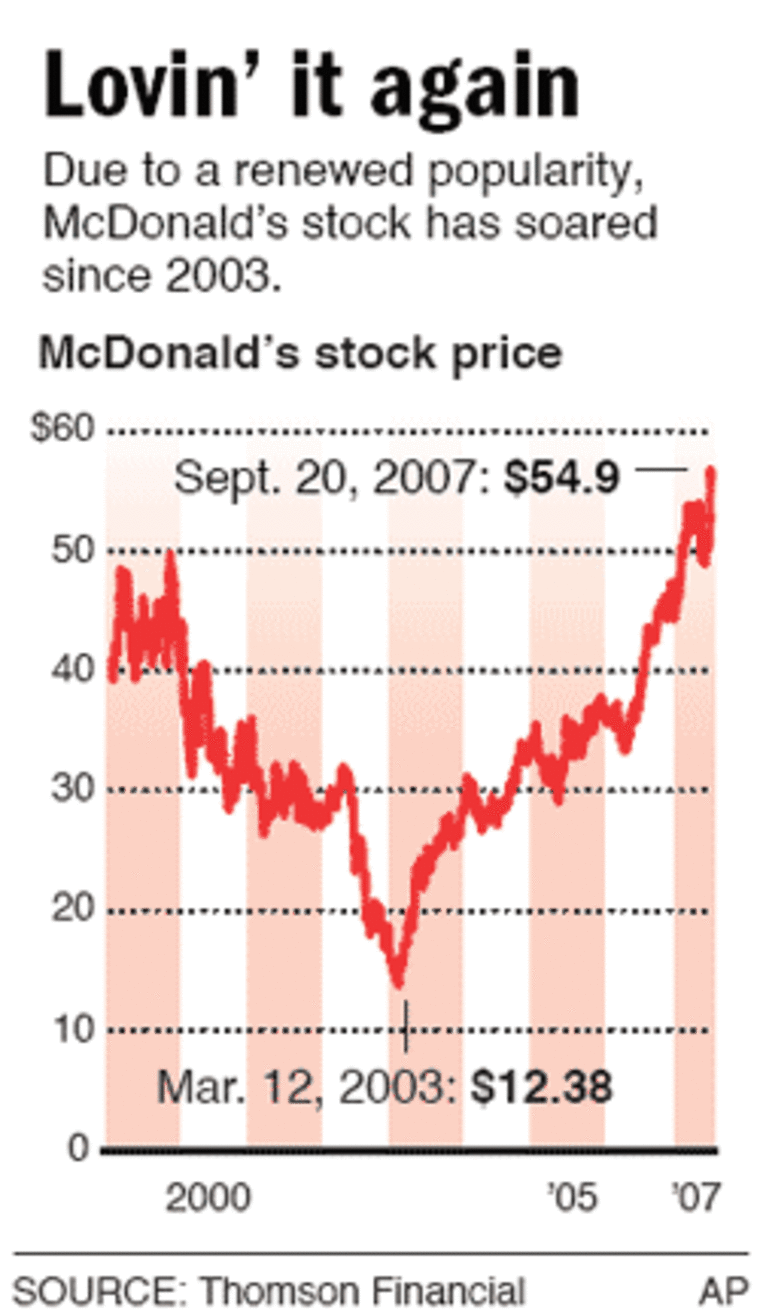 "Consumers' attention span is pretty short," said Lakshman Krishnamurthi, a marketing professor at the Kellogg School of Management at Northwestern University. "As long as you have a good product that people like, people are going to go and eat it."
Even shareholder activists have gone quiet after having the company on the defensive over its lagging stock price. Its stock has soared to all-time highs above $55 since it announced its largest-ever dividend increase Sept. 13 and pledged to return $15 billion to $17 billion to shareholders through dividends and share buybacks by the end of 2009.
Targeted in recent years by lawsuits claiming its food contributes to child obesity, McDonald's remains vulnerable on nutritional issues. It took a public skewering from several books and movies: "Fast Food Nation," "Super Size Me" and "Chew On This."
McDonald's lagged behind competitors and has moved slower than promised in switching to a cooking oil free of artery-clogging trans fat for its fries — a change it has yet to complete.
But industry observers credit it for adding healthier products such as entree-sized salads, fruit and yogurt parfait and grilled chicken sandwiches instead of just crispy, as well as apple slices and juice for kids.
"Let's be honest, their business is still driven by burgers, fries and cokes," said Goldin. "But consumers have options when they walk into those restaurants."
Even a public health advocate who has called McDonald's fries nutritionally "disastrous" and cringes at McGriddles breakfast sandwiches has grudging praise for the company's changes.
"I think McDonald's has recognized that nutrition is a very important issue to parents and others," said Michael Jacobson, executive director of the nonprofit Center for Science in the Public Interest. "While they've added some junky foods to their menu, they've also added some healthier foods."
McDonald's also has heavily promoted its healthier menu choices even if salads are far outsold by double cheeseburgers. The options lampooned in "Super Size Me" are gone, nutritional information is available on its packaging as well as its Web site, and McDonald's has been touting career opportunities at the company as a way of fighting the derisive "McJob" stereotype.
Those moves may all be clever marketing, but they're also a sign of McDonald's increasing responsiveness, according to industry observers.
"Before they didn't necessarily want to acknowledge criticism," said Morningstar analyst John Owens. "Now they're meeting it head-on. I think consumers appreciate that."
The McDonald's executives who crafted the turnaround plan in early 2003 — then-CEO Jim Cantalupo, Charlie Bell and Jim Skinner — called for a sharper focus on what customers wanted, according to spokesman Walt Riker.
The strategy, which also has seen McDonald's slow its international buildup, renovate U.S. restaurants and stay open later, is still maintained after Skinner became chief executive November 2004; Cantalupo died of a heart attack that April and Bell stepped down seven months later as he was dying of cancer.
"The most important thing is to listen to our customers," Riker said. "That's been a significant factor in our direction and revitalization."
The company listens to its critics, too, and has tweaked its environmental, animal welfare and nutritional practices over the years in response to volleys from such groups as Greenpeace and People for the Ethical Treatment of Animals.
McDonald's is currently wooing an even more important demographic — moms — in its quest to show its commitment to food quality and nutritional balance. A panel of moms visits its supplier facilities, restaurant kitchens and other sites to learn about its food quality.
Tonia Welling of Bentonville, Ark., who serves on the panel, has been won over. She says she and her family now have their own "Chicken Nuggets, Apples and Milk Night" at a local McDonald's.
"I never would have thought of them as someplace to get healthy, fresh food," Welling said Wednesday from Swedeboro, N.J., where she was touring a McDonald's produce supplier. "I wasn't aware of how much variety they have in what they offer."
Joel Whalen, a marketing professor at DePaul University, said the McDonald's brand is strong enough to suffer through slumps but the company has done a good job adding healthier options and advertising them loudly without straying too far from its burger-and-fries roots.
"Great brands remain true to their core," he said. "You can't go changing your image too much."