/ Source: The Associated Press
In the end, the first nationwide strike against General Motors Corp. in 37 years came because the United Auto Workers want something that GM will find difficult to promise: Job security.
UAW officials said the 73,000 UAW members who work at about 80 U.S. facilities for the nation's largest automaker didn't strike Monday over what many thought would trip up the talks: A plan to shift the retiree health care burden from the company to the union. They said they also didn't strike over wages.
They said union members walked out because they want GM to promise that future cars and trucks such as the replacement for the Chevrolet Cobalt small car or the still-on-the-drawing board Chevrolet Volt plug-in electric car will be built at U.S. plants, preserving union jobs.
The strike puts GM, which is restructuring so it can better compete with Asian automakers, in a bind as some of its new products begin to catch on with consumers. But it also means workers are taking a big risk _ giving up pay and slowing down GM in an uncertain economy.
"Job security is one of our primary concerns," UAW President Ron Gettelfinger told reporters Monday afternoon after talks broke off and the strike began. "We're talking about investment and we're talking about job creation" and preserving benefits, he said.
Talks resumed a short time later as sign-carrying picketers marched outside plant gates, but weary bargainers stopped to rest around 8 p.m. Talks were to resume Tuesday morning.
Worker Anita Ahrens burst into tears as hundreds of employees streamed out of a GM plant in Janesville, Wis., just after the strike began at 11 a.m. EDT.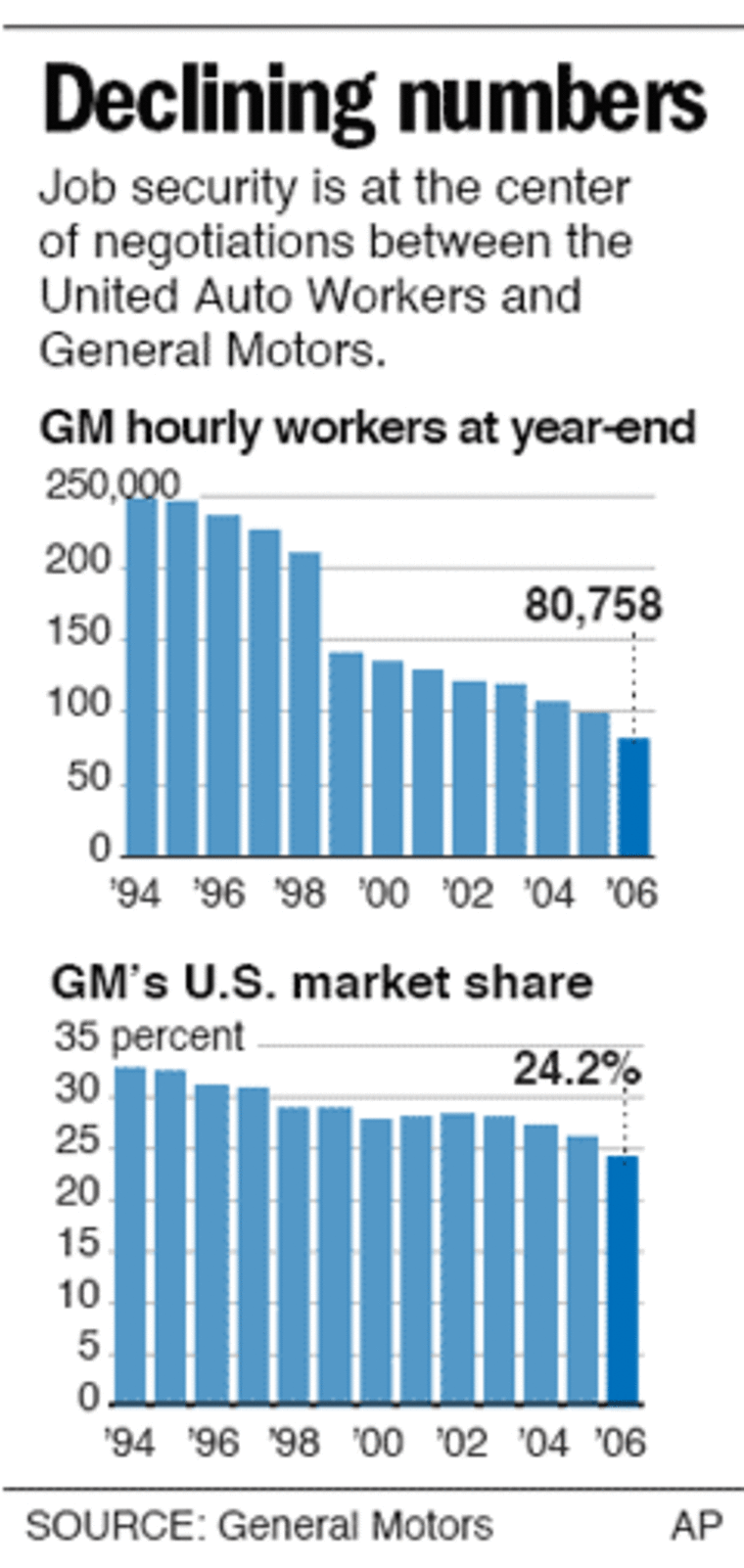 "Oh my God, here they come," said Ahrens, 39. "This is unreal."
Ahrens has seven years at the plant, where she works nights installing speakers in sport utility vehicles. She waited Monday for her husband, Ron Ahrens, who has worked there for 21 years.
The couple has three children, including a college freshman, and Ahrens worried about how they would pay their bills.
"This is horrible, but we're die-hard union, so we have to," Ahrens said. "We got a mortgage, two car payments and tons of freaking bills."
The striking workers will receive $200 a week plus medical benefits from the UAW's strike fund. The union had more than $800 million in that fund as of last November, according to the UAW's Web site.
The UAW, Gettelfinger said, is willing to talk about taking money from the company to form a trust that would be responsible for billions of dollars in retiree health care costs.
GM wants the trust, called a Voluntary Employees Beneficiary Association, or VEBA, so it can move much of its $51 billion in unfunded retiree health care liabilities off the books, potentially raising the stock price and credit ratings. It's all part of the company's quest to cut or eliminate about a $25-per-hour labor cost disparity with its Japanese competitors.
"This strike is not about the VEBA in any way, shape or form," Gettelfinger said. "We were more than eager to discuss it," although he said no agreement had been reached.
Industry analysts said initially the strike would have little impact on consumers because GM has sufficient inventory stockpiled for most of its products.
But Monday afternoon, the Teamsters transportation union said its 10,000 automotive transport members would not cross UAW picket lines to deliver GM cars and trucks.
GM reported that it had just under 950,000 vehicles in its inventory at the end of August, about 35,000 below the same time last year.
Tom Libby, senior director of industry analysis for J.D. Power and Associates, said even a short strike could hurt the company because its new crossover vehicles, the Buick Enclave, GMC Acadia and Saturn Outlook, are selling well and in short supply.
"The momentum they've established for those products would be interrupted if there's a supply interruption," Libby said. "There's not a lot of inventory available to sell down. So they need to keep that pipeline full."
Libby called the Enclave and Acadia a success story for GM because they don't stay on lots for long and they sell at or near full price.
"GM, financially, they don't have a lot of cushion," he said. "I just think it's going to hurt both sides in the long run."
GM had about a 65-day supply of cars and trucks as September began, versus a 71-day supply at the same time last year, said Paul Taylor, chief economist for the National Automobile Dealers Association. The Enclave, he said, is at a tight 24-day supply.
The strike will cost GM about 12,200 vehicles per day or 760 per hour, according to the auto forecasting firm CSM Worldwide of Northville.
If the walkout goes beyond 36 hours, CSM expects vehicle production in Canada to be affected because of a lack of U.S.-built engines and transmissions.
The walkout could further damage the image of the UAW, David Cole, chairman of the Center for Automotive Research in Ann Arbor, said shortly before the strike began.
"What it says is the union is the same old militant organization," Cole said. "What is a real concern is buyers that punish a union by not buying the products they build."
Cole said the UAW leadership may need a strike to show members that it did all it could to get the best deal.
"They're in a bit of a box, in that they need some drama to get an affirmative vote on this," he said.
GM likely has threatened to pull investments out of the U.S. if the union does not agree to its terms, he said.
Gettelfinger, in his post-walkout news conference, said the union has done a lot to help the struggling GM, including health care givebacks in 2005. But during the weekend, he said GM's stance hardened.
"It was going to be General Motors' way at the expense of the workers," Gettelfinger said. "The company walked right up to the deadline like they really didn't care."
Gettelfinger said the union didn't want to strike.
"Who wins in a strike? But again, you can be pushed off a cliff, and that's what we feel like happened here," he said.
GM spokesman Dan Flores said the automaker was disappointed in the union's decision.
"The bargaining involves complex, difficult issues that affect the job security of our U.S. work force and the long-term viability of the company," he said. "We remain fully committed to working with the UAW to develop solutions together to address the competitive challenges facing GM."
GM shares fell 20 cents to $34.74 in trading Monday.
The last national strike against GM was in 1970 and lasted 69 days.
An agreement between GM and the UAW would become the pattern for pacts with Ford Motor Co. and Chrysler LLC.
The negotiations come at a difficult time for both the automakers and the union. Detroit's automakers lost a collective $15 billion last year.
The union also is feeling pressure. UAW membership has fallen from a high of 1.5 million active members in 1979 to around 576,000 today.