/ Source: The Associated Press
The cherished dinner hour void of telemarketers could vanish next year for millions of people when phone numbers begin dropping off the national Do Not Call list.
The Federal Trade Commission, which oversees the list, says there is a simple fix. But some lawmakers think it is a hassle to expect people to re-register their phone numbers every five years.
Numbers placed on the registry, begun in June 2003, are valid for five years. For the millions of people who signed onto the list in its early days, their numbers will automatically drop off beginning next June if they do not enroll again.
"It is incredibly quick and easy to do," Lydia Parnes, director of the FTC's bureau of consumer protection, said in an interview with The Associated Press this week. "It was so easy for people to sign up in the first instance. It will be just as easy for them to re-up."
But Rep. Mike Doyle, D-Pa., says people should not be forced to re-register to keep telemarketers at bay. Doyle introduced legislation this week, with bipartisan support, to make registrations permanent.
"When someone takes the time and effort to say 'I don't want these kinds of calls coming into my house,' they shouldn't have to keep a calendar to find out when they have to re-up to keep this nuisance from happening," Doyle said in an interview.
The FTC built the five-year expiration date into the program to account for changes, such as people who move and switch their phone number.
"Just like a regular person who needs to clean out their address book every so often, the commission felt that was something that was important to do with the registry," explained Parnes.
Doyle, however, points out that the list is purged each month of numbers that have been disconnected and reassigned to new customers. He called the FTC's position on the need for an expiration date "completely bogus."
People can register their home and cell phone numbers or file complaints at http://www.donotcall.gov or by calling 1-888-382-1222.
The registry prohibits telemarketers from calling phone numbers on the list. Companies face fines of up to $11,000 for each violation.
Organizations engaged in charitable, political or survey work are exempt. Companies that have an established business relationship with a customer also may call for up to 18 months after the last purchase, payment or delivery.
In the first week of the program, people signed up 18 million numbers. The registry now has more than 149 million phone numbers.
"I think it's fantastic," said Bonnie Darling of Arlington, Va. Darling placed her name on the list this year after being flooded with calls from roofing companies, chimney sweeps and construction businesses. She has not heard from those companies in months.
Darling is not worried about the five-year expiration. She said she expects it to be just as easy to register as it was a couple months ago.
But Eileen Feldman of Needham, Mass., thinks the expiration date is "ridiculous."
"If you wanted to keep your numbers on there for a lifetime, you should have that option," said Feldman, who placed her phone number on the registry when the program first began. "There's no reason I should need to remember to register every five years."
The FTC plans a consumer education program next spring on the re-registration process.
While polls have shown consumers reporting far fewer unwanted phone calls, some telemarketers continue to violate the law.
Since the registry began, the government has filed cases against more than 30 companies, resulting in $8.8 million in civil penalties and $8.6 million in redress to consumers and forfeitures.
Most of the penalties were paid by satellite television provider DirecTV Inc., as part of the largest settlement in the program's history.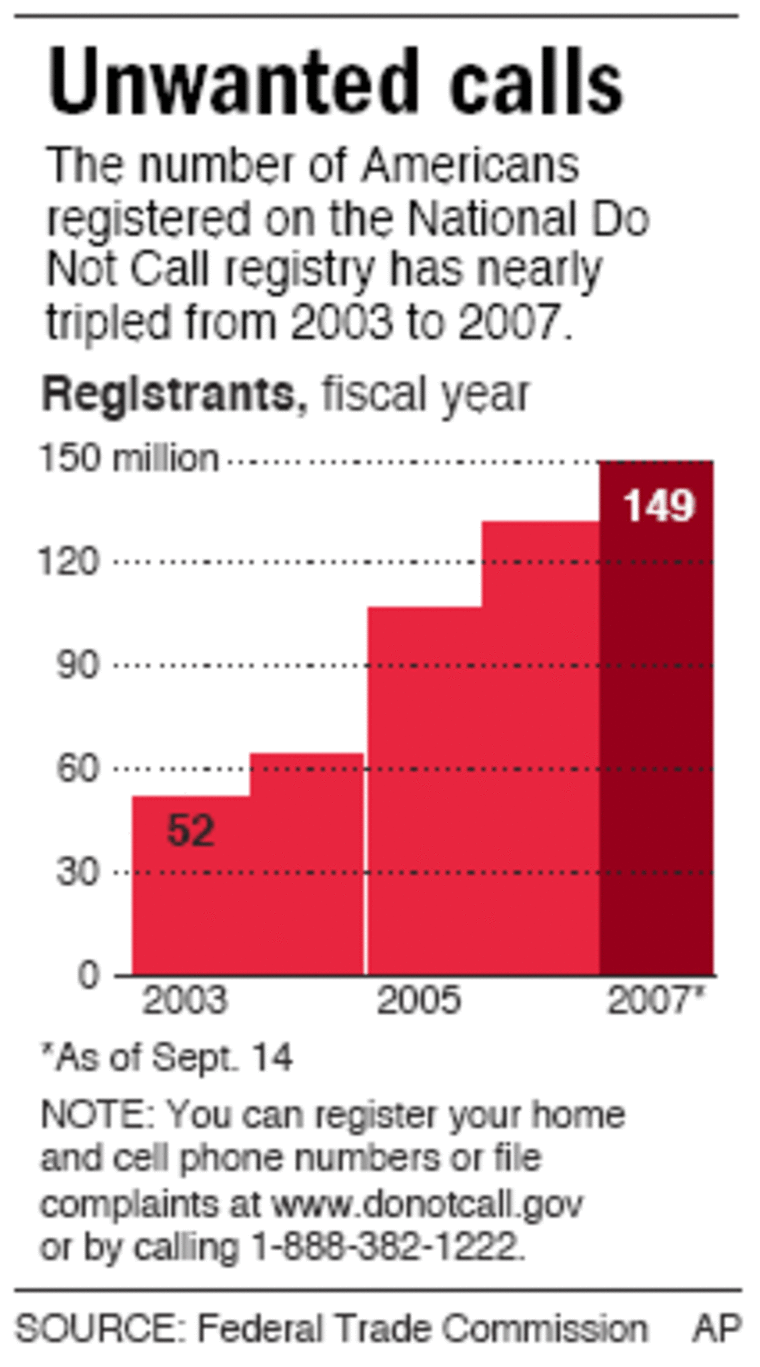 DirecTV agreed to pay $5.3 million in December 2005 to settle charges that it and several telemarketing companies it hired had called numbers on the list. The company said then that it had stopped working with those telemarketers and taken steps to avoid calling numbers on the list.
Telemarketers are required to pay an annual subscription fee to access the FTC list so those numbers can be blocked from their dial-out programs. The companies also must update their own calling lists every 31 days to ensure there are no numbers from the registry on them.
The annual subscription fee for the list costs $62 for each area code, with a maximum cost of $17,050 for access to all U.S. numbers on the list.
The FTC reported this year that 6,824 companies and other entities paid $21.7 million in fees to access the database in fiscal year 2006. All told, 15,218 entities have paid $59 million in fees to access the database since the program's inception.
Most of the fees charged by the government are used to support the Do Not Call program.
More information
Information on the House bill, H.R. 3541, can be found at .