Convenience, comfort and time — they're precious commodities for business travelers. And yet the commercial flights high flying executives rely on are usually devoid of all three.
You don't have to travel frequently to know that flight delays are at an all-time high. Throw in the pain of security lines, overbooked flights and limited schedules, and it's no wonder that the Federal Aviation Administration expects general aviation hours, or private flying, to increase 59 percent by 2020.
As part of the fastest growing segment of the aviation industry, business aviation — private jet charter in particular — has undergone a major overhaul in the past decade, becoming the saving grace of business travelers.
Initially, travelers wanting to charter a private jet could do so fairly easily if they were located in a high-traffic region, such as the New York City area.
But if a customer based in Columbus, Ohio needed to get to Detroit and a jet wasn't readily available, the situation got messy. Operators would sub-broker until perhaps a third broker could get his hands on a plane. All three brokers, of course, would charge for their services. The jet also would likely have to be repositioned in order to get to the customer in Columbus — racking up another fee.
"There wasn't a consistent product in charter," says George-Ann Rosenberg, a spokesperson for Bombardier Skyjet, a private aviations solutions provider. "It was just very scattered, mostly mom-and-pop type operations."
About 10 years ago, companies including Skyjet, resolved to fix the problems. They became one-stop shops, aggregating pre-screened charter operators that had been rated by the aviation authorities, and developed online booking systems. And then Sept. 11 happened.
"People just got really nervous about flying commercially," says Gary Mansour, founder and CEO of Avion Private Jet Club, a members-only private charter service. "The airlines lost their first-class market and everyone migrated, if they could afford it, to private aviation. If they couldn't, they sat there and just waited for something else to come along."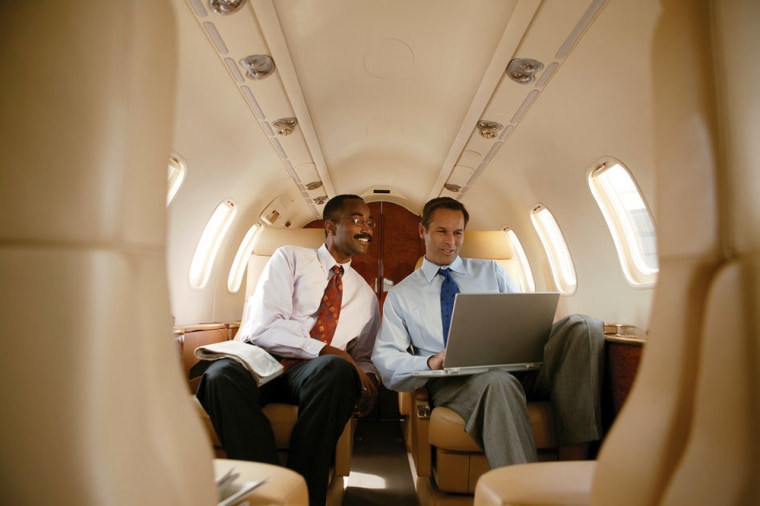 The wait was worth it, with the private jet industry now offering business travelers options that are increasing daily, providing them with the convenience, comfort and time they need. A trip that might have taken two days commercially can now be executed in a few hours via a private jet charter. As a result, Wynona Dyer, president of private jet brokerage Altour Air, estimates that 75 percent of her clientèle charter private jets for business purposes.
The entry point for most is an ad-hoc or on-demand charter, which lets people hop on a jet when and where they want. For the constant traveler, there's also the jet card, which sells chunks of air time in advance. Unlike on-demand charters, jet cards and charter membership programs allow customers to pay for guaranteed availability and a predictable hourly rate.
And for business travelers who are rarely on the ground, there is fractional jet ownership, in which customers buy a share of an aircraft. To improve on this service, NetJets, a fractional ownership provider, has eliminated the repositioning fee for its domestic and international destinations.
Of course the rising use of private jet charters by business travelers isn't limited to the United States. London-based Hunt and Palmer has offices around the world to shuttle global executives.
Sandy Boyer, a corporate sales executive for Hunt and Palmer, says banks use the executive aircrafts to hit European financial centers, sending analysts to road shows that can include seven cities in three days. Oil and gas companies also frequently charter to access remote destinations in Africa and South America. The Far East is booming too, Boyer says, with virtually all of the customers chartering private jets there traveling for business.
Just as private jet chartering has evolved, so have its amenities. Avion Private Jet Club, for example, uses a per-seat program on its pre-scheduled flights between Los Angeles and New York in which members pay a flat rate. They may have to share the plane, but the aircraft is a spacious corporate jet with a flight attendant, catered food by Wolfgang Puck and private complimentary sedan service. With those kinds of perks what's an extra body or two?
And while use of private jets was once considered an extravagant executive perk, that stigma has begun to dissipate.
"It isn't just a luxury anymore," Rosenberg says. "It's really a 'boy does that make sense' kind of thing."