In a bold move, the United Auto Workers union did something it hasn't done for nearly 40 years on Monday, ordering its 73,000 members who work for General Motors off car production lines and out of warehouses around the country, protesting the "one-sided" nature of its labor contract negotiations with the top U.S. automaker.
Analysts expect GM to be able to ride out the first strike in the U.S. automotive industry since 1970, so long as it is a short one. According to estimates, the strike will cost the automaker $100 million per day. A brief work stoppage would be a symbolic gesture — a negotiating tactic to send a warning to the struggling U.S. automaker as it hammers out the details of a new labor contract. But a prolonged strike may cause deeper financial problems, analysts say.
Monday's move by the UAW strike confounded many observers who had expected the two sides to agree on a deal helping GM to shed its $5 billion annual health-care bill.
Until Monday, all the talk surrounding the renegotiation of labor contracts had focused on a proposal to create a trust fund for retiree health care — called a voluntary employee beneficiary association, or VEBA — that the automakers would fund, wiping away the health care liability from the automakers' balance sheets and for the first time putting the union in charge of handling and paying retiree health care costs.
But as UAW President Ron Gettelfinger was quick to point out at a news conference Monday morning, the talks did not stumble over the decision to establish a health care trust. Instead, Gettelfinger complained about "one-sided negotiations" over job security, which he said was the top unresolved issue.
"For the strike to come now seems strange," said Rebecca Lindland, senior automotive analyst at consultancy Global Insight.
"Our speculation is they have pretty much agreed on the big health care issue and they're now grappling with the traditional things these contract negotiations usually deal with — things like job security, wages and negotiations around layoffs," Lindland added. "There's also the issue of how much production goes overseas and outside the UAW's jurisdiction to places like Mexico."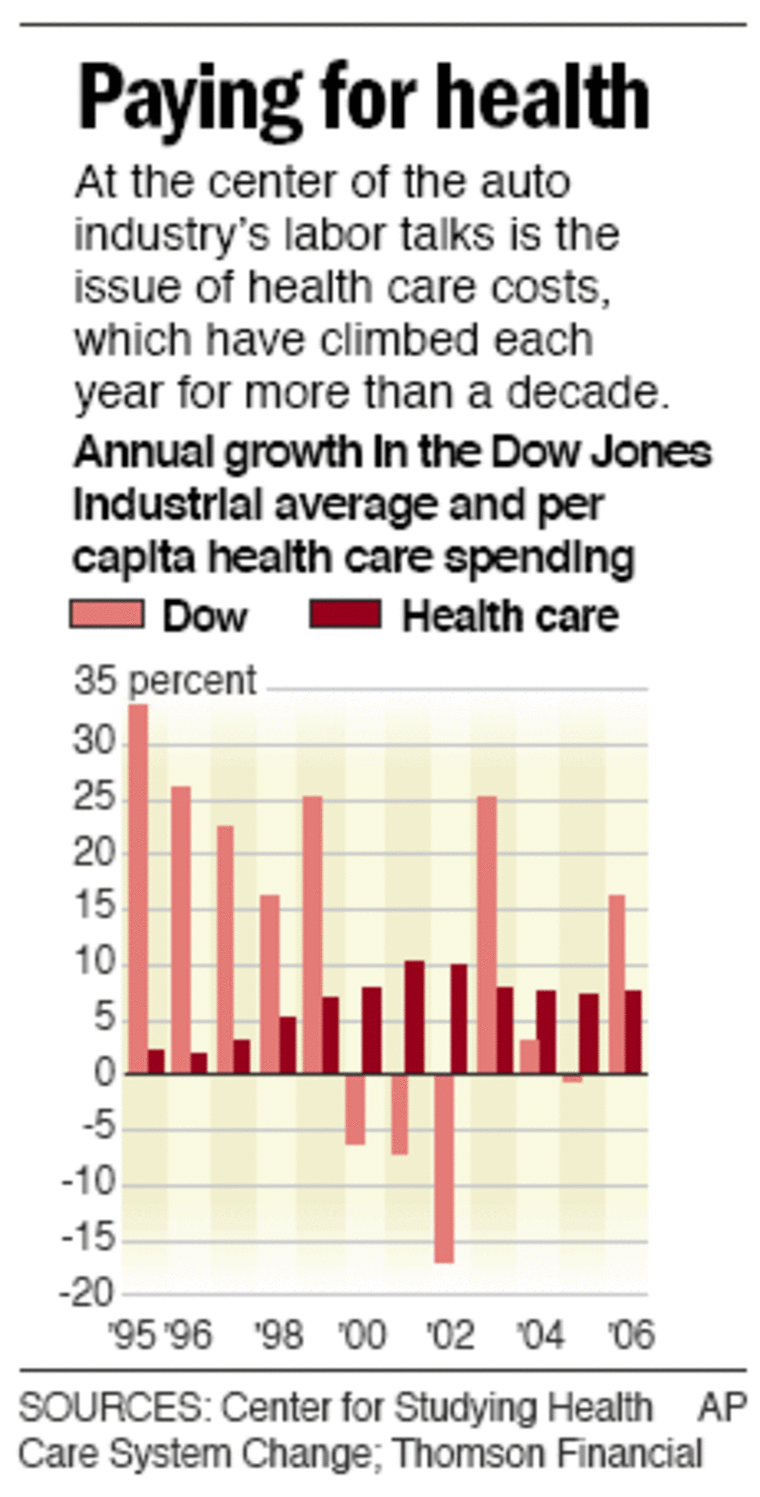 A token strike would not seriously impact GM, as it has plenty of cash on hand to endure a short strike, Lindland said. But a longer walkout of several days, or several weeks, would certainly impact GM negatively, she added. GM has a healthy amount of new manufactured cars on hand, but carmakers have worked to keep their inventories low to reduce costs, so a strike of more than a few weeks could be a problem for the automakers. "This really hurts the car dealers and the customer a lot because carmakers are stuck with the cars they have on their lots," Lindland said.
Paul Taylor, chief economist for the National Automobile Dealers Association, said GM is in good shape in relation to its commercial customers, with 65 days' worth of overall light vehicle inventory according to data from Wards Auto, which tracks the industry. That level is close to ideal, he said, adding that GM has a healthy 90 days' worth of pickup trucks available.
However, GM only has a 24-day supply of its popular Buick Enclave, a new crossover SUV that is getting good press and seeing a lot of demand, Taylor said. The crossover SUV segment is the only broad category of light vehicles that is growing, he added.
It's not just the Enclave that would be at risk. According to Edmunds.com, an automotive information Web site, shoppers may have a hard time finding other models with low inventories, like the GMC Acadia, the Saturn Sky and the Saturn Vue.
"Generally, there will a lasting loss of market share if there is a long work stoppage," he said. "A week is OK, but a month starts to be problematic. There are other popular vehicles and new cars being launched, so more than a week or two starts to create difficulties for GM's production schedule."
If the strike lasts longer than a week or two, it could cost GM billions of dollars and stop the momentum the company was building with some of its new models, several industry analysts project.
A strike of two weeks or less would not hurt GM's cash position and would actually improve its inventory situation, Lehman Brothers analyst Brian Johnson said Monday in a note to investors. But a longer strike would be harmful, causing GM to burn up $8.1 billion in the first month and $7.2 billion in the second month, assuming the company can't produce vehicles in Mexico or Canada, Johnson wrote.
Taylor notes that U.S. auto sales are already softening, with many Americans putting off buying a new car given the slowdown in the housing sector, which is raising monthly mortgage payments for some owners and reducing home values for others. U.S. car sales are expected to be down from an annual rate of 16.5 million units last year to 16.1 million in 2007, according to Wards data.
"So we are expecting a soft year in light vehicle sales and the strike will exacerbate that," Taylor said. "[This is] a brutally competitive industry in which a consumer is used to a large selection of cars and trucks, and now there is a bigger group of automakers manufacturing [profitable] full-size pickups than several years ago, so it's important that a strike be stetted quickly in what is already a weak retail environment."
A long strike also brings risks for the once-mighty UAW union, which is fighting for relevance as its membership shrinks. If a strike drives GM into bankruptcy, a bankruptcy judge may decide to abrogate all unionized workers' healthcare benefits.
"It's very unlikely because the company has plenty of cash on hand, but if GM goes bankrupt it would be whole new ball game for the UAW," Lindland said. "They are a long way from that, but if the strike goes on, every day they get a little bit closer."
The outcome of the current contract talks between the UAW and GM is seen as crucial to efforts by the three big U.S. automakers — GM, Ford and Chrysler LLC — to recover from combined losses of $15 billion last year and fierce competition from Asian rivals that has driven their U.S. market share below 50 percent.
GM, Ford and Chrysler are seeking concessions from the UAW to improve their competitive position with industry heavyweights like Toyota and Honda.
The automakers say the nearly $100 billion that union contracts require them to pay out for active workers, retirees and their families' health care add some $1,500 to the cost of building each car, putting them at a disadvantage with their rivals in Asia, where the government is mostly responsible for workers' health care.