The ice sheet covering Greenland, a mass so big it would raise sea levels by 20 feet if it vanished, continues to melt and high-altitude areas saw their fastest melt rate in two decades of recording, researchers reported Tuesday in a peer-reviewed journal.
"This record melting index in those areas came as a bit of a surprise, showing us, once again, the extreme variability and complexity of these processes," NASA researcher and study co-author Marco Tedesco said in a statement issued by NASA.
"Increases in the overall melting trend over Greenland have an impact that stretches beyond its icy shores," he added. "Aside from contributing to direct sea level rise, melting especially along the coast can speed up glaciers since the meltwater acts like a lubricant between the frozen surface and the bedrock deep below. The faster glaciers flow, the more water enters the ocean and potentially impacts sea level rise."
Using satellite data dating back to 1988, the researchers found that this last summer's melt at high altitudes, defined as 1.2 miles and above, was 150 percent above average.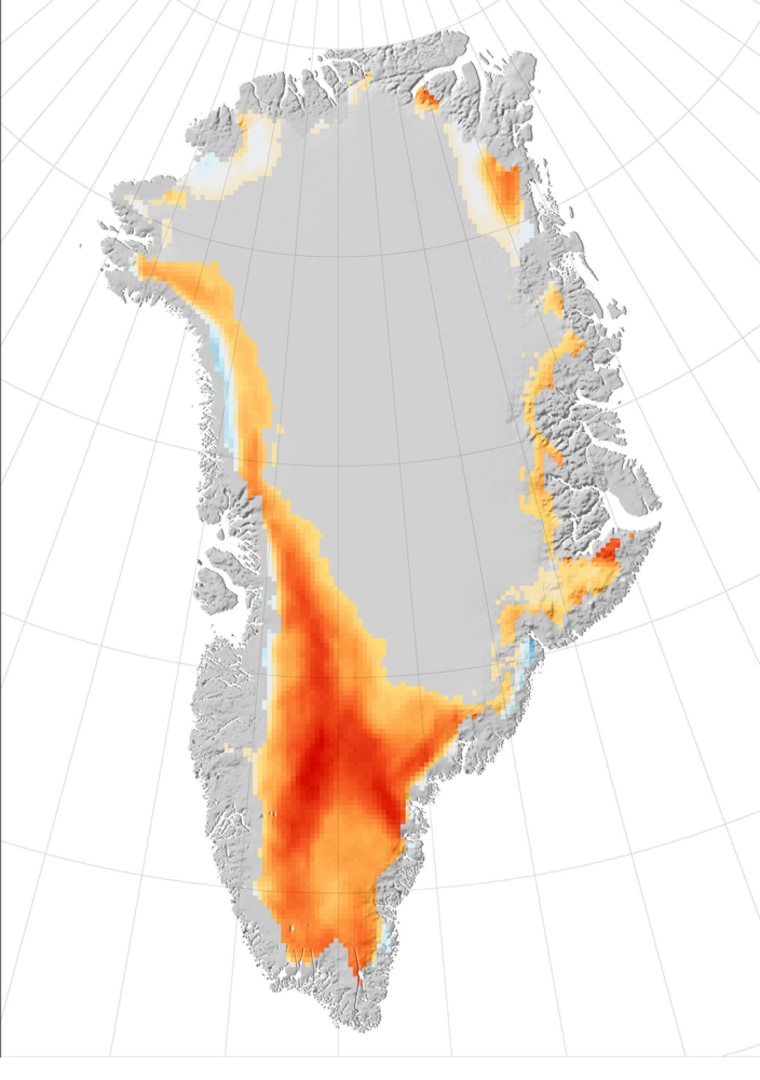 "Melting over those areas occurred 25-30 days longer this year than the observed average in the previous 19 years," NASA said.
"When snow melts at those high altitudes and then refreezes, it can absorb up to four times more energy than fresh, unthawed snow," said Tedesco. "This can affect Earth's energy budget by changing how much radiation from the sun is absorbed by the Earth versus that reflected back into the atmosphere. Refrozen snow can also alter the snow density, thickness and snow-water content."
The findings were published in the American Geophysical Union's Eos newspaper.
The melt index in lower altitude areas was higher than average by 30 percent, placing 2007 in fifth place for the highest melting index after 2005, 2002, 1998 and 2004.
The index comes from multiplying how long melting took place by the area where the increased melting took place.
Melting in April and May in high-altitude areas was very low, but in June melting jumped unexpectedly and led to the record melting index for the year, said Tedesco, who has co-authored other studies on increased snow melting on Greenland and Antarctica.
The total amount of melt from Greenland into the seas is still small, but some experts fear it could cause significant sea level rise within a century, possibly even just a few decades. Antarctica is considered more stable but has even more ice tied up on its landmass that could conceivably melt into the seas.