/ Source: msnbc.com news services
Myanmar security forces, trying to end the biggest protests against military rule in 20 years, raided two Buddhist monasteries in Yangon on Thursday and arrested monks leading the demonstrations, witnesses said.
Overnight, they arrested Myint Thein, the spokesman for opposition leader Aung San Suu Kyi's political party, family members said. Unconfirmed reports said other members of the National League for Democracy were also arrested.
At least two monasteries, hotbeds of the pro-democracy movement, were raided by security personnel during the night but details were not immediately available, two sources close to the scene said on condition an anonymity, fearing reprisals from the government.
On Wednesday, security forces opened fire on Buddhist monks and other pro-democracy demonstrators for the first time in a month of anti-government protests, killing at least one man and wounding others in chaotic confrontations across Yangon.
Dramatic images of the protests, many transmitted from the secretive Southeast Asian nation by dissidents using cell phones and the Internet, riveted world attention on the escalating face-off between the regime and its opponents.
Clouds of tear gas and smoke from fires hung over streets, and defiant protesters and even bystanders pelted police with bottles and rocks in some places. Onlookers helped monks escape arrest by bundling them into taxis and other vehicles and shouting "Go, go, go, run!"
Monks may be among dead
The government said one man was killed when police opened fire during the ninth consecutive day of demonstrations, but dissidents outside Myanmar reported receiving news of up to eight deaths.
Some reports said the dead included monks, who are widely revered in Myanmar, and the emergence of such martyr figures could stoke public anger against the regime and escalate the violence.
As the stiffest challenge to the generals in two decades, the crisis that began Aug. 19 with protests over a fuel price hike has drawn increasing international pressure on the isolated regime, especially from its chief economic and diplomatic ally, China.
The United States and the European Union issued a joint statement decrying the assault on peaceful demonstrators and calling on the junta to open talks with democracy activists, including detained opposition leader Aung San Suu Kyi, a Nobel Peace laureate.
"What's going on in Burma is outrageous," Secretary of State Condoleezza Rice said.
U.N. expresses concern
The U.N. Security Council met in private to be briefed on developments, and issued a brief statement expressing concern about the violent response to demonstrations.
U.N. Secretary-General Ban Ki-moon, who was sending a special envoy to the region, urged the junta "to exercise utmost restraint toward the peaceful demonstrations taking place, as such action can only undermine the prospects for peace, prosperity and stability in Myanmar."
There was no sign the government had any intention of backing down, and monks said the violence would not deter them from pressing on with what has become the most sustained anti-junta protest since a failed 1988 democracy uprising. In that crisis, soldiers shot into crowds of peaceful demonstrators, killing thousands.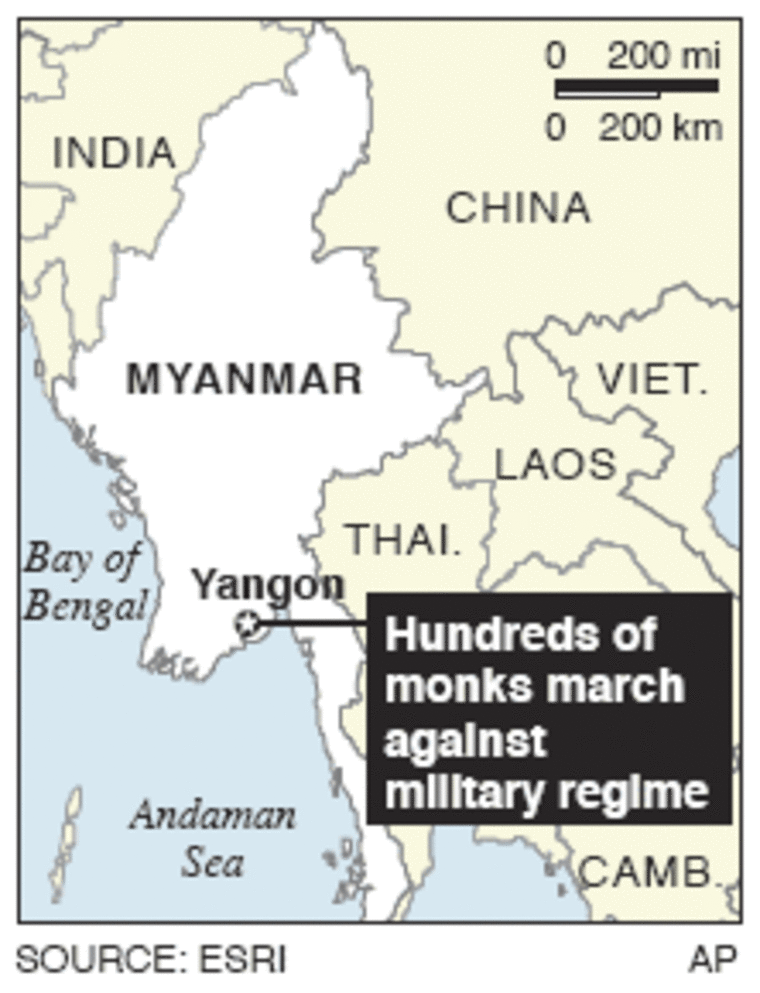 John Dale, an associate faculty member of George Mason University's Institute for Conflict Analysis and Resolution, said the involvement of monks had made it clear the demonstrations would not peter out and it was surprising the military held back this long.
"Now that it's turned violent, there's high-risk activity," Dale said. "The regime signaled they are sincerely prepared to use violence."
Gatherings banned
The junta issued an edict late Tuesday banning gatherings of more than five people, but the order was ignored by democracy activists and the public alike Wednesday.
The number of protesters seemed a bit lower than on Tuesday, but thousands massed at the golden Shwedagon Pagoda, including monks in cinnamon robes, students, members of Suu Kyi's democracy movement and activists waving flags emblazoned with the fighting peacock — a symbol of Myanmar's democracy movement. Large crowds of bystanders also gathered to watch.
Police fired tear gas and made some arrests trying unsuccessfully to scatter the demonstrators. Protesters marched off toward the Sule Pagoda in the heart of Yangon, but were later blocked by military trucks and security officers with riot shields, clubs and guns. Groups of marchers then fanned out into other streets, chased by security forces.
First mass arrests
Officers fired warning shots and tear gas trying to disperse the main group and began dragging monks into army trucks — the first mass arrests since protests against the military dictatorship erupted Aug. 19.
Reporters saw some monks beaten, and an exile dissident group said about 300 monks and other protesters had been arrested in small clashes across Myanmar's biggest city.
There were reports of destruction of property but it was unclear whether it was done by demonstrators or pro-junta thugs who were seen among the soldiers and police. Witnesses said a mob burned two police motorcycles.
Myanmar's government said security forces fired when a crowd that included what it called "so-called monks" refused to disperse at the Sule Pagoda and tried to grab weapons from officers. It said police used "minimum force."
The junta statement, read on state radio and television Wednesday night, said a 30-year-old man was killed by a police bullet. It said two men aged 25 and 27 and a 47-year-old woman also were hurt when police fired, but did not specify their injuries.
Witnesses known to The Associated Press reported seeing two women and one young man with gunshot wounds.
Conflicting death toll reports
Exiled Myanmar journalists and democracy activists released reports of higher death tolls, but the accounts could not be independently confirmed.
Khim Maung Win, deputy editor of the Democratic Voice of Burma, an opposition-run shortwave radio service based in Norway, said five monks and three civilians were reported killed and at least four seriously injured.
Zin Linn, information minister for the Washington-based National Coalition Government of the Union of Burma, which is Myanmar's self-styled government-in-exile, said at least five monks were killed.
An organization of exiled political activists in Thailand, the National League for Democracy-Liberated Area, said three monks had been confirmed dead and about 17 wounded.
Technology keeps momentum going
Such reports, as well as photos and video taken covertly and then sent over the Internet and by other means, have helped keep the momentum of the protests going. Transmitted back into the country, the dissident views counter reports from state-controlled media ridiculing demonstrators.
Voice of Burma's chief editor, Aye Chan Naing, said activists were using the Internet and cell phones to funnel news out of Myanmar. He declined to discuss details because that could help the military disrupt the messages, saying the junta already had cut some cell phone service.
Naing said activists sometimes transmitted video one frame at a time over the Web and also hid information within seemingly innocuous e-mails.
Bystanders join demonstration
During the marches in Yangon, bystanders joined with protesters to stand up to security forces, driving them back with a barrage of bricks and bottles that scattered debris and broken glass on the street.
Demonstrators tried to shame one group of soldiers by chanting: "You are the army of the people, we are feeding you! Be just to us!"
When words failed to move the 70 soldiers and the crews of two fire trucks being used for crowd control, people began hurling stones and the line gave way to allow protesters through, many of them monks headed back to their monasteries.
"They will kill us, monks and nuns. Maybe we should go back to normal life as before," said a young nun, her back pressed against the back of a building near the scenes of chaos. But a student watching the arrival of the demonstrators said, "If they are brave, we must be brave. They risk their lives for us."
The two asked that their names not be used for fear of reprisals.